The 2004 vintage in Galicia was a normal, healthy one, devoid of the intense wilting heat of 2003 or the rain soaked dampness of 2002. Consequently, the 2004 Lusco Rias Baixas Albarino is a classic Albarino and a textbook example of this estate's and the Rias Baixas' most illustrious white wine. The 2004 Lusco recalls the essence of spring, when the first breathe of warm vernal air begins to dispel winter's chill. Thus, the 2004 Lusco offers up delicately perfumed scents of forsythia, pear, and wild flowers, all of which tantalize the nose and rouse the soul to the annual awakening. Indeed, the scent of this beguiling Albarino is as seductive as its flavor, which recalls a hardy draught from a cold mountain spring unto which flower petals and citrus blossoms have secretly fallen. However, what is, perhaps, most impressive about the 2004 Lusco Albarino is how well it drinks now. Still in its infancy, this Albarino will improve further for at least two more years. In short, the 2004 Lusco Albarino is a white wine to dispel the outmoded notion that Spain only makes great red wines. We suggest you consume this sophisticated Albarino only moderately chilled (about 45 degrees F) in order to revel fully in the viticultural glory of Spain.
Fresh fish and the finest fruits de mer provide excellent accompaniments to the 2004 Lusco Albarino. Given Lusco's strong personality and considerable underpinning, we highly recommend it as an accompaniment to spicy fish stoups, bouillabaisse, cioppino, and other tomato based Mediterranean style fish stews. Presently, sautéed shrimp in a fresh, moderately spiced tomato sauce tops our list of prime companions to the 2004 Lusco Albarino. However, most baked, grilled, or sautéed white fish, seafood kebobs or chowders offer considerable enjoyment in the company of the well bred 2004 Lusco Albarino. This is a wine that begs for interesting and intriguing dishes to truly shine. In fact, Albarino is rarely relied upon as a sit around and sip kind of wine. It is at its best with robust foods, even spicy hard to match selections, because it is difficult to overshadow. Eclectic cuisine and fusion fare provide equally exciting complements, too. So, be bold, be daring and enjoy the gustatory adventure that Lusco provides. Enjoy!
Lusco is the passion of Jose Antonio Lopez, the most important figure in the Rias Baixas. For more than two decades, Jose Antonio has been the "Superman" behind the resurrection of the once nearly extinct Albarino varietal and the leading champion of the entire Rias Baixas appellation of Galicia, which lies along the lofty ridges of Spain's verdant northwest corner. Jose Antonio began the revival of Galicia's fabled Albarino varietal some two decades ago as founder and managing partner of the Morgadio estate. There he succeeded in recalling an obscure viticultural region to worldwide awareness by creating dry, fully ripe Albarino wines, which critics have likened to Viognier, southern France's most expensive and compelling white wine. In order create the ultimate Albarino - very dry, exotic, intense and wholly unique - Jose Antonio struck out on his own in 1996 with the acquisition of the renowned, mature twelve-acre, southeast-facing Albarino vineyard of Pazo Pineiro. Along with the acquisition of the region's most notable vineyard, Jose Antonio, also, purchased the nearby 16th century manor house (Pazo), whose meter-thick walls provide ideal insulation against temperature extremes, to serve as his winery. Lusco, from the Galician word for the pensive moments of anticipation and reflection just before dawn and dusk, presently produces the most riveting of all Albarino wines.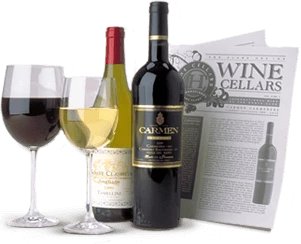 Enjoy Limited Production Estate
Bottled Wines
Discover limited production estate bottled wines such as Vergenoegd's internationally
acclaimed 2005 Cabernet Sauvignon, imported exclusively for our members.
DISCOVER OUR FOUR CLUBS