Rubesco is easily Lungarotti's most recognizable wine internationally and the wine upon which Giorgio Lungarotti built his reputation for quality and staked the fortunes of his beloved Umbria. With that said, Lungarotti's 2009 Rubesco Rosso di Torgiano stands out as one of this iconic producer's finest Rubescos. True to form, the 2009 Rubesco comes across as a supremely polished, medium-bodied wine that unfolds at first almost imperceptibly in the glass. Yet, ultimately this Rubesco reveals the full spectrum of its personality, replete with tempting aromas of ripe red cherries, sweet tobacco, violets and cloves, all of which follow through in the mouth to delight the palate before culminating happily in a radiant finish. A blend of 70% Sangiovese, 20% Canaiolo, and 10% Colorino, the 2009 Rubesco bears some resemblance to the finer wines of Chianti Classico. However, the 2009 Rubesco easily outperforms many of its more famous Tuscan cousins in neighboring Chianti Classico. For optimal enjoyment, we suggest allowing the the 2009 Lungarotti Rubesco at least thirty minutes of aeration before serving it at cool room temperature (60°-65° F) in the company of a fine meal.
The 2009 Lungarotti Rubesco pairs easily with everyday fare as well as haute-cuisine. The Lungarotti family enjoys pairing Rubesco with pasta, risotto, barbecue, roasted meats and a variety of natural cheeses, all of which suit us as well. From our own experience, Chicken Cacciatore makes an especially fine accompaniment to Rubesco, as the wine highlights the variety of flavors in the dish without overwhelming them. Kale Risotto prepared with sweet Vidalia onions and Parmesan cheese offers another tasty complement to the 2009 Rubesco. A Chipotle Steak Sandwich provides a tasty accompaniment, too, as does a Veal Strip Steak served with roasted root vegetables. For an interesting vegetarian accompaniment, a terrine made of Gorgonzola cheese, figs, and pecans is hard to resist. Buon Appétito!
Since its inception in the early 1960s, Lungarotti has served as Umbria's model wine estate. Begun by Giorgio Lungarotti, who is now widely acknowledged to be the father of modern viticulture in Umbria, the present Lungarotti estate comprises 250 prime hectares (618 acres) in the area of Torgiano. The Lungarotti vineyards are situated at varying altitudes on the slopes of the hills above the Tiber River. As early as the 1960s, Giorgio Lungarotti experimented with zone planting and continued this all important work throughout the 1990s. The soil of the area is a unique combination of ancient sediment from a vast lake that once covered the region and tufa rock, a form of limestone renowned for producing fine wine.
Today, the Lungarotti estate rests in the capable hands of Giorgio Lungarotti's daughter Chiara and her sister Teresa Severini. Chiara is an agronomist in her own right, having earned a degree in agriculture from the University of Perugia and pursued further studies in enology in Bordeaux. Their mother, Maria Grazia Marchetti Lungarotti, studied art in Rome and has become a well-known advocate of the rich cultural history of Torgiano and nearby Perugia. Maria Grazia has also been instrumental in the establishment of two world class museums in Umbria, the Wine Museum and the Museum of Olives and Oil, both of which pay testimony to the more than 5,000 year history of the cultivation and production of wine and olive oil in Umbria.
The Lungarotti estate produces a myriad of fine red and white wines, but the winery's two most important offerings remain Rubesco, a juicy red wine made from Sangiovese and Canaiolo, and Torre di Giano, a distinctive dry white wine of elegance and breed from Vermentino, Trebbiano and Grechetto grapes.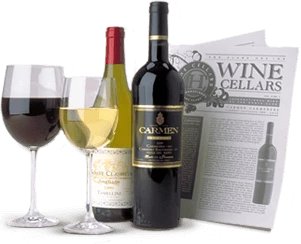 Enjoy Limited Production Estate
Bottled Wines
Discover limited production estate bottled wines such as Vergenoegd's internationally
acclaimed 2005 Cabernet Sauvignon, imported exclusively for our members.
DISCOVER OUR FOUR CLUBS