Luca's 2014 Paraje Altamira Malbec sets itself well above the competition. This is definitely no run of the mill Malbec, but a smooth, polished wine of splendid proportion. Permeated by real cachet, finesse, and layers of savory dark cherry, cassis, violet, unsmoked tobacco and vanilla flavors, the 2014 Luca Paraje Altamira Malbec offers authentic drinking pleasure while at the same time raising the bar on Malbec. If most Argentine Malbecs were this good, Cabernet producers would have to take to the hills, literally and figuratively, and there wouldn't be a drop of Malbec left to drink in Argentina or elsewhere. Although neither huge in stature nor overtly tannic, the 2014 Luca Paraje Altamira Malbec offers tremendous flavor coupled with grace and vitality. For optimal drinking pleasure we suggest serving Luca's splendid 2014 Paraje Altamira Malbec at cool room temperature (no more than 64° F) after thirty minutes or more of aeration. This of course presupposes a patient taster who possesses enough self-control not to just dive right in. Enjoy!
In Argentina, meat, not surprisingly, is nearly always the recommended accompaniment to Malbec, Argentina's signal varietal. Consequently, beef, beef, and more beef would likely be the resounding response to any question regarding what food to serve with the 2014 Luca Paraje Altamira Malbec, and that would be a fine choice but not our only choice. Luca's complex, hedonistic style of Malbec pairs equally well with poultry and game birds. Seared Duck Breast with Cherries in a Port wine sauce provides ample testament to this juicy Malbec's ability to adapt. But if beef remains your go to accompaniment, our preferences lean to the finest Prime Rib au jus served with a potato soufflé or Grilled Filet Mignon with a Portabella Mushroom risotto. Grilled Stuffed Veal Chops served with roasted Red Bliss potatoes and caramelized Brussels sprouts with pancetta also make tantalizing companions to Luca's sophisticated Malbec. For those who eschew meat, there is Eggplant and Zucchini Parmigiana, lentil soup with carrots and root vegetables, or a heart-healthy white bean chili served with ripe avocado, crusty French bread, and hard Pecorino cheese. And a plain empty glass will suffice as the sole companion to Luca's 2014 Paraje Altamira Malbec and, perhaps, be the only invitation you may desire. Buen Provecho!
Laura Catena grew up in the most renowned wine-making family of Mendoza, Argentina. Laura's father, Dr. Nicolás Catena, was one of the first winery owners in Mendoza to realize Argentina's enormous viticultural potential and to concentrate on producing quality rather than quantity in the vineyard and wine cellar. Many called him "loco," yet four decades later the wine drinking world reveres Dr. Catena and applauds his enormous research and painstaking efforts to bring quality Argentine wines to the world market. There would be little clamor today for fine Malbec without Dr. Catena's work. Fortunately, the apple does not fall far from the tree. Laura Catena has begun her own wine venture, Luca, and taken Argentine wine to an even higher level.
Although Laura now splits her time between Mendoza and San Francisco (where she practices medicine, serves as a university professor, and raises three children) her heart still rests in Argentina and winemaking of the highest quality. In Luca, named for Laura's first-born son, Laura has realized her dream of creating small quantities of impeccably made Argentine wines from individual vineyards and terroirs. Made in true artisan fashion, each limited production of Luca wine hails from extraordinary fruit from very low-yield, high elevation, family-owned vineyards. Together with Luca's celebrated winemaker, Estela Perinetti, Laura creates a surreal Malbec Paraje Altamira (this month's feature), from a very old high altitude vineyard, Beso de Dante, an exquisite blend of Malbec and Cabernet that rivals the best that Bordeaux has to offer; world class Chardonnay (G Lot) that rivals the finest Meursault from Burgundy; as well as exceptional individual varietal offerings of Pinot Noir, Malbec, and Syrah.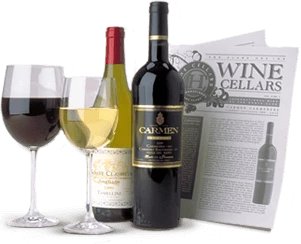 Enjoy Limited Production Estate
Bottled Wines
Discover limited production estate bottled wines such as Vergenoegd's internationally
acclaimed 2005 Cabernet Sauvignon, imported exclusively for our members.
DISCOVER OUR FOUR CLUBS