Luca's barrel-fermented Burgundian-style 2013 G Lot Chardonnay hails from a deserted, rock-strewn vineyard in the Gualtallary district, an isolated patch of vineyard at the very top of Mendoza's Uco Valley. Like the finest vineyards in Burgundy and Champagne, Gualtallary enjoys a relatively cool climate and its soil is well-drained and rich in limestone, making it an ideal site for the cultivation of Chardonnay. The Gualtallary (hence the name G Lot) provides cool temperatures and long hang times, precisely the ingredients needed to develop exceptional aromas and flavors in Chardonnay. The bright straw-colored 2013 Luca G Lot Chardonnay offers a mesmerizing bouquet of freshly picked white peaches, tangerines and orange zest infused with deft touches of hazelnut and spice. On the palate, the wine's entrancing olfactory continues to work its magic. The elegant, medium-bodied 2013 G Lot glides across the tongue and gracefully fills the mouth with a delightful mélange of succulent Chardonnay fruit as well as an intriguing cornucopia of mineral and nut flavors that recall the finest wines of Meursault. Elegant, flavorful and endowed with impeccable balance, G Lot's bright acidity and understated oak tones frame the wine but never dominate, all of which allow Luca's 2013 G Lot to shine brightly. Given Laura Catena's commitment to quality and consulting Meursault guru Jean-Mac Roulot's expert advice, one shouldn't be surprised by the quality, style or the 93 Points awarded the 2013 Luca G Lot Chardonnay by Wine Advocate. For optimal drinking pleasure we suggest only moderate chilling (40° F) of G Lot before serving. Like all great white Burgundies and the finest New World Chardonnays, the 2013 Luca G Lot will benefit from a few minutes of aeration, and it will continue to bloom in the glass hour after hour, if afforded the opportunity.
The world-class 2013 Luca G Lot Chardonnay is equally satisfying to sip and savor on its own as it is welcome at table in the presence of the finest cuisine. With Luca G Lot's entrancing bouquet and wealth of integrated flavors, it makes an ideal dinner party companion. Sea Bass prepared with a red pepper beurre blanc served over creamy tarragon infused polenta provides a delicious seafood pairing with this exceptional Chardonnay. Grilled Shrimp, served in a roasted red pepper and thyme sauce over Asparagus Risotto, makes another fine accompaniment. In light of Luca's Burgundian style and supreme balance, French classics such as Suprême de Volaille aux Champignons (Breast of Chicken with Mushrooms in Cream) and Sautéed Veal Medallions with mushrooms and cream offer superb companions to the 2013 Luca G Lot Chardonnay. It also pairs beautifully with lobster and poached salmon. For those who don't want to fuss, perfectly aged cheeses accompanied by sliced Bosc or Bartlett pears make easy to prepare, yet satisfying accompaniments to Luca's exquisite Chardonnay. Enjoy!
Laura Catena grew up in the most renowned wine-making family of Mendoza, Argentina. Laura's father, Dr. Nicolás Catena, was one of the first winery owners in Mendoza to realize Argentina's enormous viticultural potential and to concentrate on producing quality rather than quantity in the vineyard and wine cellar. Many called him "loco," yet four decades later the wine drinking world reveres Dr. Catena and applauds his enormous research and painstaking efforts to bring quality Argentine wines to the world market. There would be little clamor today for fine Malbec without Dr. Catena's work. Fortunately, the apple does not fall far from the tree. Laura Catena has begun her own wine venture, Luca, and taken Argentine wine to an even higher level.
Although Laura now splits her time between Mendoza and San Francisco (where she practices medicine, serves as a university professor, and raises three children), her heart still rests in Argentina and winemaking of the highest quality. In Luca, named for Laura's first-born son, Laura has realized her dream of creating small quantities of impeccably made Argentine wines from individual vineyards and terroirs. Made in true artisan fashion, each limited production of Luca wine hails from extraordinary fruit from very low-yield, high elevation, family-owned vineyards. Together with Luca's celebrated winemaker, Estela Perinetti, Laura creates world class Chardonnay (G Lot) that rivals the finest Meursault from Burgundy, as well as exceptional varietal offerings of Pinot Noir, Malbec and Syrah. Two other very special offerings, Beso de Dante, an exquisite blend of Malbec and Cabernet, and Nico, a tiny production of Malbec from very old vines also emanate from Luca.
Luca wines set themselves above their rivals by offering power, complexity and finesse all in one package. By the Catena family's own admission, "Laura is continually inspired by the synthesis of cultures in her own family, and this international inspiration infuses the style and quality of her wines." Moreover, each Luca wine is the ultimate expression of its terroir and reflects the importance of expert vineyard management, skilled winemaking , and the quest for quality at any cost.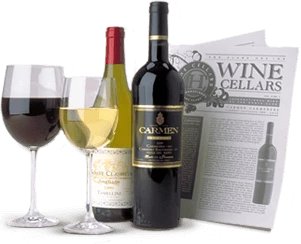 Enjoy Limited Production Estate
Bottled Wines
Discover limited production estate bottled wines such as Vergenoegd's internationally
acclaimed 2005 Cabernet Sauvignon, imported exclusively for our members.
DISCOVER OUR FOUR CLUBS