The 2015 Losada Vinos de Finca Bierzo Godello is still in its infant stage, yet it has already begun to amaze those fortunate enough to find a bottle of Losada's very limited Godello. Losada's Godello offers a bright straw-colored robe, tantalizing aromatics, and plenty of flavors in a balanced, harmonious format. Clean and focused in its bouquet, the 2015 Losada Bierzo Godello offers up savory scents of lemon zest, white fruits, and spice along with a racy minerality that lends vibrancy – all of which add to the wine's sensual appeal. The wine's vivacity continues on the palate, where white peach, melon, and subtle spice tones spread their welcome. All this goodness adds up to a delightfully fragrant, elegant, and hauntingly beautiful glass of white wine. The 2015 Losada Godello will benefit from a few minutes of aeration and a little time in the glass to shed its initial chill. We suggest that you take time to appreciate this wine's seductive nature and tremendous palate appeal. For optimal enjoyment, we prefer serving Losada's 2015 Bierzo Godello only moderately chilled (40º-45º F). Enjoy!
In many ways Losada's finely crafted 2015 Bierzo Godello resembles fine white Burgundy, a hypothetical blend perhaps of Pouilly-Fuissé and village Puligny-Montrachet, but such comparisons rarely do either wine justice. With that said, Losada's 2015 Godello can hold its own with many of the more renowned white wines of France, especially when it comes to accompanying seafood, poultry, hearty salads, and creamy pasta dishes. Losada's Godello also doubles as a splendid aperitif. A simple, spit-roasted chicken with butter and herbs will showcase this Godello's many attributes, as will flavorful chicken salads, prepared with grapes, walnuts, and herbs such as rosemary. A supreme seafood salad, prepared with scallops, shrimp, crab, tuna, crunchy red and yellow bell peppers and a zesty aioli, also provides good company and a tasty treat with Losada's charming 2015 Godello. Sea scallops, seared lightly and then sautéed with white wine, lemon juice, butter, parsley, and fresh Mediterranean herbs, offer another superb accompaniment to this wine, especially when served over creamy angel hair pasta infused with Asiago or Manchego cheese. Seafood paellas and a classic fish stew such as Cioppino pair nicely, too. Crispy apple and pear slices paired with a variety of creamy cow's milk cheeses won't disappoint in the company of Losada's 2015 Godello, either. Buen Provecho!
Losada Vinos de Finca opened its doors in 2004 and remains the handiwork of the renowned Amancio Fernández. For more than a decade, Amancio has fashioned many of Bierzo's greatest Mencia wines and is now also crafting one of Bierzo's finest Godellos (this month's feature).
Losada Vinos de Finca was founded in the heart of Bierzo by Amancio and his partners to craft the finest Mencia and Godello in all Bierzo, a goal many believe he has already attained. Ancient Mencia vines, some of which are 100 years of age, surround the estate's ultra-modern winery. Moreover, all of Losada Vinos de Finca's vines are cultivated organically, which strictly limits yields and assures the utmost elegance, balance and purity in Losada's wines.
Unquestionably, Losada Vinos de Finca's wines receive meticulous care. The estate's red wines undergo malolactic fermentation in French oak using natural yeasts and barrel age to perfection, while the estate's Godello is matured in a combination of tank and oak barrel so as not to overwhelm the subtle, haunting flavors of the delicate Godello grape variety. Losada fashions only one premium Godello and four distinct red Bierzo Mencia wines, each from vines of varying ages and vineyard parcels. Losada's flagship Mencias include the Altos de Losada and La Bienquerida offerings, which vie for the highest ratings from international critics. If you have never tasted a Losada wine from Amancio Fernández, it is time you did.
Godello is a white grape variety that is indigenous to northwest Spain but was almost extinct in the 1970s. Godello can also be found in northern Portugal where it is known as Gouveio. However, it is in Galicia, Spain's cool northwestern province that sits beside a rugged Atlantic coast, and Bierzo that Godello reaches its full perfection. Some of the finest examples of Godello emanate from the Valdeorras appellation. Brought back from near extinction in the past thirty years, Godello has reclaimed its traditional standing as one of Spain's three exceptional white grape varietals (Albariño and Verdejo being the other two stars) with a total plantation of nearly 3,000 acres.
Godello, like many other grape varieties, is known by a litany of names. It has more than a dozen synonyms, including Agodello, Berdello, Godella, Ojo de Gallo, Trincadente, and Verdello. Yet, no matter the synonym, Godello requires a cool climate and thin, slate soils to thrive. Typically fresh, aromatic, and terroir-driven, Godello receives only limited ageing in oak barrels, and for that it is all the better. Nevertheless, it is capable of ageing for many years in the bottle, not unlike the finest examples of Chardonnay and Riesling. Elegance, freshness, and purity set within full, complex, mineral-rich flavors are Godello's calling cards.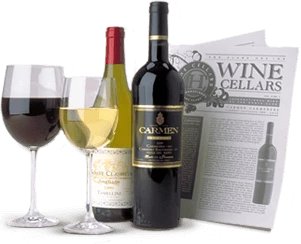 Enjoy Limited Production Estate
Bottled Wines
Discover limited production estate bottled wines such as Vergenoegd's internationally
acclaimed 2005 Cabernet Sauvignon, imported exclusively for our members.
DISCOVER OUR FOUR CLUBS