The 2010 Loca Cariñena Tempranillo provides testament to the winemaking acumen at Grandes Vinos Y Viñedos as well as the superb growing conditions in Cariñena during the 2010 vintage. The 2010 vintage proved to be an exceptional one throughout much of northern Spain and was rightly rated excellent by Cariñena's regional Governing Council. Consequently, the 2010 Loca bursts on the scene with a bright cherry robe flecked with purple highlights. It follows up on its opening act with an amplifying bouquet of ripe berry fruit, subtle spice, and gentle minerality. It offers excellent varietal character and a smooth mature mouth feel from a three month hiatus in French oak barrels. It finishes clean and fresh with pleasant persistency and just enough zip to let you know it will continue to improve for another year or so in bottle. In short, enjoy this balanced, beautiful Tempranillo at cool room temperature (60°-65° F) after just a few minutes of aeration.
Although Tempranillo is not usually a sit around and sip kind of wine, the 2010 Loca Cariñena Tempranillo will turn more than a few heads without a morsel of support. Nonetheless, tapas, frittatas, and antipasti consisting of green and black olives, cheeses, and cured meats such as Jamon Serrano or more readily available Italian meats such as prosciutto capicolla, pepperoni, and salami will only serve to increase the pleasure of a glass of Loca. Hamburgers, pizza, and pastas will do justice to Loca as well. However, one of our favorite companions to good Tempranillo is a thick chicken or turkey soup made with root vegetables and served with freshly grated parmesan cheese. For more adventuresome eaters, why not serve Loca cool and pair it with a jambalaya or spicy bean dish. Loca is also a natural party wine and a superb partner to roasted chicken and beef, grilled vegetables, and most Spanish cheeses. Manchego, Mahon, and Zamarano pair especially well with Loca and require little or no preparation. Enjoy!
On a recent trip to Spain we met Nieves Beamonte, the charming and passionate Export Director of Grandes Vinos Y Viñedos, and she introduced us to her firm's wines. Grandes Vinos Y Viñedos is the largest winery in Cariñena and for that matter the largest winery in the entire autonomous region of Aragon. This staggering venture with state of the art winemaking facilities opened its doors in 1997 to serve the burgeoning cooperatives of Aragon. Frankly, Aragon was not our first scheduled stop on this trip, but we make a point never to judge a book by its cover or a wine by its point of origin, at least not until we have had the chance to taste it. And taste we did, and to our surprise and delight, several outstanding gems came to our attention. Loca, this month's feature, was one of those precious little nuggets.
What Grandes Vinos Y Viñedos does best is bottle small lots of old vines from individual growers. Loca is one of the winery's small specialty bottlings that we found simply too delicious to pass up. It is made from 100% hand harvested Tempranillo, a rarity in Cariñena where Garnacha and Cariñena varietals predominate. Loca comes from the best selection of Tempranillo grapes from un-irrigated high mountain vineyards at the highest point of Villanueva.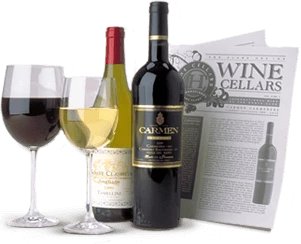 Enjoy Limited Production Estate
Bottled Wines
Discover limited production estate bottled wines such as Vergenoegd's internationally
acclaimed 2005 Cabernet Sauvignon, imported exclusively for our members.
DISCOVER OUR FOUR CLUBS