The North Fork of Long Island juts into the sea, surrounded on three sides by water, much like Bordeaux's Médoc, the home to France's most renowned Merlot and Cabernet Sauvignon based wines. And thanks to the glacial deposits of the last Ice Age, the soil of the Médoc and North Fork bear more than a faint resemblance to each other. Aged for 18 months in French oak barrels, the 2007 Lieb Cellars North Fork Merlot sports a deep garnet color with hints of purple. Moreover, the wine more than holds its own among its Bordeaux counterparts. An enticing nose of mulberry, balsam, and cocoa powder is followed by refined notes of sweet fruits. On the palate, the wine is rich and savory with black cherry, plum and cedar flavors that caress the mouth with a smooth, supple feel, before gentle, round tannins frame the wine and guide it easily down the throat. The 2007 Lieb Cellars Merlot hails from an excellent vintage, so while delicious to drink now, it will undoubtedly continue to mature in the bottle for several more years. For optimum enjoyment, we suggest serving this sophisticated Merlot at cool room temperature after 15-20 minutes of aeration.
Like its Bordeaux counterparts, classic New World Merlot such as the 2007 Lieb Cellars North Fork Merlot merits the talents of a good chef or serious home cook. Loin lamb chops, lean cuts of beef topped with an herb infused mushroom sauce, whole roasted chickens with a savory sage stuffing, and tender veal chops, provide tasty accompaniments to Merlot and mature red Bordeaux wines. Roast Long Island duckling, served with a simple orange or blackberry glaze would not only be a superb local dish to serve with the Lieb Cellars Merlot, it earns our top pick to accompany Russell Hearn's exceptional offering. Dark chocolate truffles topped with sea salt (it tastes way better than it sounds) and fine un-crusted French cheeses such as Port Salut make excellent companions to this classic Merlot, too, without the fuss. Bon Appétit!
As one leaves the din of Manhattan and crosses a traffic-clogged bridge or emerges from the bowel of one of the seeping malodorous tunnels that connects New York's Manhattan Island to Long Island and its notorious expressway, the cacophony of the world's financial capital hardly abates, making any pastoral image of the North Fork of Long Island appear like a distant mirage. It will be another 50 miles or more before the factories, noise and suburban sprawl begin to fade completely away and one catches the first glimpse of green pine forests, followed by neatly tended sod farms. Further east, the expressway will melt into a two lane road dotted with colonial farm houses and the gleaming blue of Long Island Sound, glimpsed through rows of vineyards. The meticulously tended vines are laden with fruit, the air is fresh with a light sea breeze and the sun is warm and bright. Now you know you have arrived on the North Fork of Long Island, the warmest and sunniest spot in all New York State.
Having grown up on Long Island and passed many a happy day on the island's North Fork, it has long been my hope that one day we would feature Long Island wines. The long awaited day has come with the introduction of Lieb Cellars Reserve Merlot.
Lieb Cellars is an 85-acre sustainably farmed vineyard located on the North Fork of Long Island, some 80 miles east and light years away from New York City. Lieb was founded in 1992 and released their first line of Reserve wines in 1999 under the direction of Australian-born winemaker Russell Hearn, with the winery's Pinot Blanc and the Blanc de Blancs sparkling wine quickly gaining national recognition. The next year, Lieb opened their first tasting room on the North Fork of Long Island in Mattituck, NY. As the winery gained notoriety for its well-crafted wines, Lieb Cellars began to expand production, and, in 2004, introduced a second line of wine, the Bridge Lane series: lighter, fruitier everyday wines at more affordable price points than the winery's Reserve series.
In 2012, Lieb Cellars opened a second tasting room on the rustic, rural Oregon Road in Cutchogue, NY, and merged with Premium Wine Group, the custom crush facility where Lieb produces their wine. An East Hampton tasting room opened in 2014, establishing Lieb as the first and only North Fork vineyard with a tasting and retail space in the Hamptons.
But Lieb Cellars wines have traveled much further afield and garnered more than local attention. Today, Lieb Cellars wines are distributed in New York City, Boston, Philadelphia, Newport, Chicago and Shanghai, China. Lieb Cellars also produces two private labels for celebrity-chef Tom Colicchio's Craft restaurants and the Topping Rose House. Moreover, Lieb Cellars consistently produces exceptional Pinot Blanc, Chardonnay, Sauvignon Blanc, Merlot, Cabernet Franc, and a host of other wines including a sparkling wine for discerning palates.
Lieb Cellars belongs to the Long Island Sustainable Winegrowing Association, whose members pledge to farm according to sustainable agricultural practices that call for the following: avoidance of herbicides, use of organic fertilizers, preservation of topsoil, replenishment of nutrients on a disciplined schedule, conservation of wildlife habitat, hand-tending and harvesting of the vines, and keeping fruit yields intentionally low. Such practices come through loud and clear in Russell Hearn's pure vibrant wines.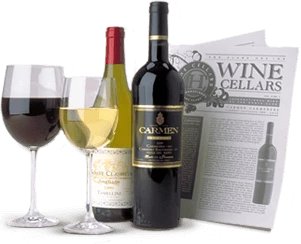 Enjoy Limited Production Estate
Bottled Wines
Discover limited production estate bottled wines such as Vergenoegd's internationally
acclaimed 2005 Cabernet Sauvignon, imported exclusively for our members.
DISCOVER OUR FOUR CLUBS