Bright and sun-splashed in color, the 2021 Le Colonne Costa Toscana Vermentino IGT evokes halcyon days under the Tuscan sun. Scented with the fresh aromas of green apple, white peach, and juicy citrus, the 2021 Le Colonne Costa Toscana ingratiates itself to the taster long before the very first sip. Crackling and crisp in the mouth, it displays laser-like precision as it delivers invigorating herbal and fruit flavors shot with juicy acidity and a distinct minerality, which carry straight through to a long and refreshing finish. Although still in its infancy, the 2021 Le Colonne Costa Toscana Vermentino is already beautiful to behold. Enjoy this superb Tuscan Vermentino moderately chilled (40°-45° F) now and over the next several years. Anticipated maturity: 2022-2025.
The effusive, juicy 2021 Le Colonne Costa Toscana Vermentino IGT makes a splendid companion to seafood, salads, poultry, and smoked meats such as bacon, pancetta, and salami. The wine's distinct flavors and fresh acidity also make it a premier aperitif before bringing a second glass to accompany the delights of the Tuscan table. Pan-seared rockfish or sea bass served with a mushroom risotto provides ample testimony to the wisdom of pairing this Vermentino with Mediterranean seafood. Lightly grilled octopus or calamari served with a dipping sauce and fresh spring rolls offer additional satisfying accompaniments. Smoked trout and wood-fired oysters served with sautéed spinach, naturally cured bacon, and a creamy cheese sauce over a bed of organic greens also earn two thumbs up. Flatbread pesto pizzas with shrimp or chicken also make excellent dinner companions to the delicious 2021 Le Colonne Costa Toscana Vermentino, as do grand salads such as a tasty Salade Niçoise. For those not beholden to seafood, consider Mediterranean Chicken Salad: grilled chicken served over a bed of organic greens with toasted walnuts, grapes, and wild herbs. Buon Appetito!
Tenuta Le Colonne has quickly become one of the stars of Tuscany's premier DOC. Under the shiny Tuscan sun and nestled closest to the cobalt-blue Tyrrhenian Sea in Tuscany's prized Bolgheri DOC appellation, this superb property consists of 64 hectares of vineyards in Bolgheri's most strategic location. Moreover, Le Colonne fashions one of Bolgheri's finest and most affordable red wines from Cabernet Franc, Merlot, and Cabernet Sauvignon – the Bordeaux grape varietals for which Bolgheri and the appellation's Super Tuscan reds are world-renowned. However, Le Colonne's Costa Toscana Vermentino IGT (this month's feature) is equally impressive as the estate's red Bolgheri and every bit deserving of accolades. It hails of course from Vermentino, Tuscany's most illustrious white grape variety.
Initially, Le Colonne's Bolgheri Rossos earned this impeccably run estate an international reputation, but Le Colonne is equally adept at crafting a delicious rosé, Rosato Toscana IGT as well as an exceptional white wine in their Costa Toscana Vermentino IGT. In the words of Alejandro Bulgheroni, Le Colonne's dedicated jet-setting proprietor, "the elegant Bolgheri Rosso alongside the fresh White and Rosé represent the epitome of wine-making in this corner of heaven, a place in Tuscany (Bolgheri) where beauty actually has a specific taste and passion becomes a recognizable fragrance." We couldn't agree more, but we invite you to taste and see for yourself.
Vermentino is one of Italy's finest yet least known white grape varieties. Although not nearly as ubiquitous as Pinot Grigio, Trebbiano, Malvasia, and other fair-skinned varietals, Vermentino flourishes in favored pockets of the Piedmont and along Italy's Mediterranean coastline where it produces fine, floral wines with crisp finishes. This is especially true in Tuscany and nearby Liguria, where in the latter it often takes the name Pigato, and in Piedmont where Vermentino bears the moniker Favorita. The islands of Sardinia and Corsica as well as the south of France are also excellent sources of Vermentino, though one would hardly guess that Vermentino thrives in France, as Vermentino is almost exclusively known as Rolle in France where it figures in many of the dry white wines of Provence. While Vermentino most often yields an aromatic, dry white wine in both Italy and France, the island of Sardinia fashions golden unctuous Vermentinos as well as dry complex renditions.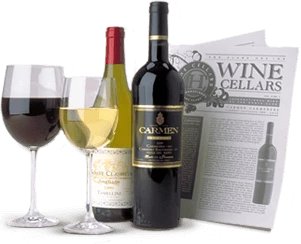 Enjoy Limited Production Estate
Bottled Wines
Discover limited production estate bottled wines such as Vergenoegd's internationally
acclaimed 2005 Cabernet Sauvignon, imported exclusively for our members.
DISCOVER OUR FOUR CLUBS