In tasting Le Clos, and perhaps even in anticipation of tasting this remarkable wine, we suggest putting aside all preconceived notions or previous experiences with Muscadet, favorable or unfavorable, because no other Muscadet comes close to matching the quality, individual style, or performance of Bernard Chéreau's Le Clos du Château l'Oiselinière. Produced from an ancient parcel of Melon de Bourgogne vines that average more than 100 years of age, the 2003 Le Clos could easily be mistaken for Premier Cru white Burgundy from France's fabled Côte d'Or. It offers a beautiful aroma that mingles supple scents of fruit and mineral, married to soft sea breezes. Definite, yet delicate; elegant, yet full-flavored, the 2003 Le Clos shines from the moment it is poured. However, what is most impressive about this Muscadet is the depth and richness it shows on the palate. Like its now legendary predecessor, the 2003 Le Clos is no ordinary offering from Sèvre-et-Maine. With abundant fruit and a long, lingering, perfectly balanced finish, the 2003 Le Clos is a tour de force in winemaking as well as a stunning Muscadet to drink. In this wine, one sees just how truly special old vine Muscadet can be when handled with the care and pride that Château l'Oiselinière puts into Le Clos. We suggest consuming this outstanding white wine moderately chilled (40º-45º F).
The 2003 Le Clos du Château l'Oiselinière Muscadet Sèvre-et-Maine provides the perfect aperitif. Yet, this most prestigious of Muscadets also gives stunning performances as the opening act to a great meal and as the sole companion to the freshest, most carefully prepared seafood entrées. Consequently, something as simple as Endive Spears filled with goat cheese; Roasted Butternut Squash Dip, served with homemade pita and roasted nuts; or filets of lightly grilled flounder or grouper become memorable experiences in the company of the 2003 Le Clos du Château l'Oiselinière. Seared Atlantic Sea Scallops and Maine Lobster, served with truffle butter; Steamed New Zealand Green Lipped Mussels, prepared in a tomato fennel broth with crème fraîche; and Jumbo Lump Crab Meat, with marinated Portobello mushrooms, truffles, bacon, and leek-infused cream are just a few other seafood specialties that can offer memorable companionship to the 2003 Le Clos. For those seeking grandeur, we suggest placing the 2003 Le Clos in the hands of an accomplished seafood chef as this Muscadet can dazzle the glass out of Bacchus' hand. Enjoy!
Le Clos du Château l'Oiselinière is a very special limited production wine made by the venerable house of Chéreau-Carré, the most prestigious of all producers of Muscadet. Chéreau-Carré is a family owned property, whose holdings occupy the most privileged position in the entire Nantes region of France. This family owned property dates back to the 15th century. Presently, Chéreau-Carré's vines cover more than 267 acres of the highest quality soil in the most prized region of Muscadet known as Sèvre-et-Maine. Chéreau-Carré is managed by Bernard Chéreau, whose family's connection to wine dates back to the eleventh century. Bernard's passion for Melon de Bourgogne – Muscadet's premier grape – is evident in the quality of all of his wines, but none more so than in Le Clos. Bernard runs three separate estates under the umbrella of Chéreau-Carré: Chateau de La Chesnaie, whose wines originate from a 25 year old parcel in the heart of Sèvre-et-Maine; Comte Leloup de Chasseloir, a selection of pre-phyloxerra vineyards dating back to the turn of the last century; and Le Clos, a small single vineyard of 100 year old Muscadet vines that are grown on schist soils. Bernard is passionate about the location of his vines as well as the handling of each individual parcel within each vineyard. Using only indigenous yeast and extended lees contacts, Bernard Chéreau has repeatedly demonstrated his preeminence as the region's finest producer of Muscadet. Furthermore, he continues to push the envelope in terms of quality and consumer expectations for Muscadet. The 2003 vintage marks only the second vintage release of Le Clos, Bernard Chéreau's master work. Le Clos hails from a unique site, entirely separate from other vineyards. Moreover, Les Clos is aged for at least 31 months on its lees and bottled unfiltered.
Muscadet has the only classified vines in Brittany. This large appellation lies near the mouth of the Loire River, just to the south of the city of Nantes. Sèvre-et-Maine, which occupies the hills above the two rivers from which it draws its name, is the finest part of the sprawling Muscadet appellation. Two grapes, both white, have traditionally been associated with Muscadet: Gros Plant and Melon de Bourgogne. The latter was brought to Muscadet in the 17th century and was once a permitted variety in Burgundy as its name implies. Melon de Bourgogne is a far superior grape to Gros Plant and is now the only variety allowed in Muscadet wines that bear the Sèvre-et-Maine appellation.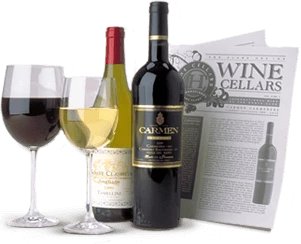 Enjoy Limited Production Estate
Bottled Wines
Discover limited production estate bottled wines such as Vergenoegd's internationally
acclaimed 2005 Cabernet Sauvignon, imported exclusively for our members.
DISCOVER OUR FOUR CLUBS