No one in New Zealand makes tastier, more palate pleasing Gewurztraminer than Lawson's Dry Hills. Ross Lawson took special pride in producing small quantities of world class Gewurztraminer – the winery's smallest and costliest offering. And under Barbara Lawson's tutelage the quality of the winery's Gewurztraminer has only continued its meteoric rise, as the winery's 2010 vintage will attest. Although consistently ebullient, racy, and rich, the 2010 Lawson's Dry Hills Gewurztraminer is in our experience the winery's finest, most gratifying Gewurztraminer to date. It's packed with the usual cornucopia of scents and savors: rose petal, lichee fruit, and oriental spice tones gleefully soar from the glass. And with each sip, one encounters the savory welcome of Gewurztraminer, a well-spring of ripe exotic fruits mingled with cinnamon and cardamom that fill the mouth and satiate the senses. However, we found the added complexity and supreme balance of the 2010 Lawson's Dry Hills Gewurztraminer to be the tipping point. The wine lingers on the palate and haunts the senses long after it has been swallowed, but it is not the usual hint of residual sugar on this varietal that waves goodbye but a bright, balanced acidity, which we found nearly irresistible. We suggest serving the 2010 Lawson's Dry Hills Gewurztraminer moderately chilled (about 40º F).
Gewurztraminer is one of the wine world's finest and most distinctive grape varieties. However, for some it is much like caviar or single malt scotch – an acquired taste. We believe Gewurztraminer is the most unique white varietal on the planet and one of the tastiest, too, but a fine example such as the 2010 Lawson's Dry Hills is not a wine to be served indiscriminately. Consequently, unless you are a true Gewurz aficionado (and there are a growing number of such erudite individuals) we suggest you serve the 2010 Lawson's Dry Hills Gewurztraminer with cuisine as spicy and individual as the wine itself. Chinese, Indian, and Thai specialties provide ideal companions to Gewurztraminer, so why not consider a Kurobuta Pork Chop, served Hong Kong style with pineapple-jasmine rice; Curry Scented Mahi, served with a savory rice, three pepper stir fry, sweet chili glaze, and fresh crab rolls; Pad Thai; Sautéed Eggplant and Scallions, smothered in a sweet, spicy garlic sauce, or any number of Indian specialties. For those who prefer meat to heat, we suggest pairing Lawson's award winning Gewurztraminer with foie gras and country pâtés as is the custom in Alsace, the ancestral home of Gewurztraminer. For a different kind of treat, why not pour a glass of Lawson's heady Gewurztraminer into two halves of a ripe Crenshaw or Honeydew melon, allow the two to marry overnight, and serve the melon as an appetizer the following evening at dinner. Last but not least, for devotees of the varietal, Lawson's 2010 Gewurztraminer provides a truly meditative experience to be pondered and savored to the last drop. Enjoy!
Lawson's Dry Hills is one of Marlborough's pioneering wineries. Moreover, it is a true family winery that consistently fashions the highest quality wines. Lawson's was founded in 1992 by Ross and Barbara Lawson, a charming, witty couple with tremendous energy and a great sense of timing, not to mention a knack for knowing what consumers like in wine. Lawson's Dry Hills winery was one of the first small boutique wineries in Marlborough to receive international acclaim for estate bottled wines. Ross Lawson passed away a few years ago, but plucky Barbara Lawson continues to lead the winery to even greater heights, especially in regard to the estate's renowned Gewurztraminer.
Committed solely to the production of premium Marlborough wines, the Lawson's have from the beginning of their fledgling winery distinguished themselves as serious producers of full-flavored, fruit driven wines of renown. And with the Lawsons around, you could be sure there was nary a dull moment at Lawson's Dry Hills: a visit some years ago with Ross and Barbara at their Dry Hills winery remains one of the highlights of a trip we took to New Zealand.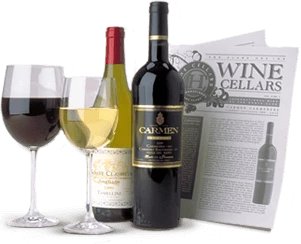 Enjoy Limited Production Estate
Bottled Wines
Discover limited production estate bottled wines such as Vergenoegd's internationally
acclaimed 2005 Cabernet Sauvignon, imported exclusively for our members.
DISCOVER OUR FOUR CLUBS