The 1999 Lawson's Dry Hills Sauvignon Blanc is a tangy, palate pleasing Sancere-style Sauvignon Blanc. In the nose, the first impressions are of herb, grass, grapefruit and flint, reminding us of some very expensive French renditions. As it opens, gooseberry, passion fruit and finally, pineapple begin to permeate the bouquet and flavor of this expressive, mouth-filling wine, each adding depth and dimension. On the finish, this Lawson's Dry Hills is long and lingering, lasting more than thirty seconds in the mouth after consuming it. Without a doubt, the little extras that Mike Just adds: partial malolactic and oak barrel fermentation, wild yeasts and gentle handling, all contribute to the complexity and enhancement of this very impressive Sauvignon Blanc. We look forward to more good things from this guy. Serve chilled.
As it has been said so often before: "Summer was made for Sauvignon Blanc." In our opinion, no truer words were spoken, so break out the seafood and bring on the sunshine, fire up the grill and crank up the beach music. Party! Plenty of shrimp, oysters and clams are our top choices for the 1999 Lawson's Dry Hills Sauvignon Blanc. Steamed oysters or clams, Clams Casino, Oysters Rockefeller and Mussels Mariniere all make wonderful complements to this wine. Lobster with drawn butter is another one of our favorite choices. Does life get any better than this? Soft shell crabs are also terrific, but alas, the season has probably come and gone. In that case, (did somebody say they had a case of this wine?) A good Maryland-style crab cake wouldn't disappoint either. Tuna Steaks in simple marinades and grilled sea bass are some more tasty offerings. Seafood kebabs are another way to celebrate summer and Sauvignon Blanc. Have a party, and enjoy!
Lawson's Dry Hills is a state of the art winery in Marlborough, New Zealand's leading appellation. Founded in 1992 by longtime grape growers, Ross and Barbara Lawson, Lawson's Dry Hills is committed solely to the production of premium Marlborough wines. In only eight years of production, this winery has compiled an enviable record with all of its wines, having won gold medals in major national and international wine shows and competitions. Devoted to traditional cool climate varietals; Gewurztraminer, Riesling, Chardonnay, Sauvignon Blanc and most recently Pinot Noir, German trained winemaker, Mike Just, feels right at home. In only a few years, he has landed New Zealand's finest fruit on the world's wine map. Already, critics are comparing Lawson's Dry Hills to the legendary Zind Humbrecht, France's greatest producer of Alsace wines. In addition, many of France's finest restaurants, veritable temples of gastronomy, presently feature Lawson's Dry Hills wines - no mean feat for a New Zealand winery. The only downside to all of this is the limited availability of this estate's wonderful wines.
Mike Just: Not Just Another Winemaker Mike Just is not just another winemaker, he is, New Zealand's premier maker of Sauvignon Blanc. In less than four years he has catapulted Lawson's Dry Hills to the top of the heap in the competitive, quality-driven race to produce New Zealand's finest Sauvignon Blanc. After garnering back to back first place trophies for his 1998 and 1999 Sauvignon Blancs in New Zealand's prestigious Liquorland Top 100 Wine Competition, there can be no doubt that more than luck is astride the tanks and casks at Lawson's Dry Hills. Just learned his craft in Germany where he spent three years working in a number of wineries, ranging from small to very large. There he picked up the skill as well as the feel for producing white wines in a cool climate. With centuries of experimentation and tradition, Germany also afforded Just the perfect perspective and background for a young, aspiring New Zealand winemaker. So what makes Just so good? We believe that it is more than just training, it's intuition and daring allied to experience. For Mike Just, that means being a bit unconventional in a very conventional world. At a time when most winemakers want to express the singular aspect of one grape varietal from a specific vineyard or terroir, Mike Just believes strongly in blending Sauvignon Blanc from several different soils and climates within an appellation. "Each contributes its own individual character to the blend," says Mike. "A coastal vineyard is moderated by sea breezes to ripen late and produce wine with a strong gooseberry, leaf and herbal flavors. We get riper passion fruit and pineapple flavors from a stony vineyard in the Rapawa area. A cooler, more exposed hillside site also makes wine with herbal and tobacco leaf flavors...blending is critical to the development of our wine quality and style." As most European winemakers know, and New World winemakers struggle to discover, blending does not mean homogenizing a wine; rather blending the finest ingredients of varying plots is the key to complexity, as well as consistency. Each component adds its own character and a dimension that is integrated into the whole. In addition to his knack for blending, Mike Just is a bit of a perfectionist. In 1999 for example, Just had 140,000 liters of Sauvignon but only bottled 90,000 liters, preferring to sell off more than a third of the production in bulk in order to maintain the quality focus he desires. Is there any wonder why Cuisine magazine chose the 1999 Lawson's Dry Hills Sauvignon Blanc as their number one choice in their annual Sauvignon Blanc tasting? Innovation and experimentation are Mike's other strong suits. He takes a very hands-on approach to working in the winery but prefers minimal intervention in the actual making of the wine. He uses gravity for racking the wines rather than pumps, which he says are too rough on the wine. He also employs a percentage of wild yeasts and a partial oak barrel fermentation, unlike most of his competitors. Each technique is designed to add nuance and complexity to the finished wine without compromising the wine's natural varietal flavors. Clearly, Mike Just knows how to make Sauvignon Blanc, and a host of other wines, too. If only we could get enough of them... it would be "just"great.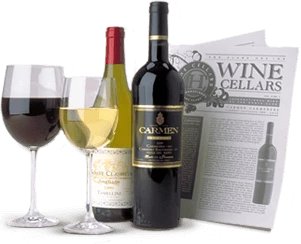 Enjoy Limited Production Estate
Bottled Wines
Discover limited production estate bottled wines such as Vergenoegd's internationally
acclaimed 2005 Cabernet Sauvignon, imported exclusively for our members.
DISCOVER OUR FOUR CLUBS