Lush! Lush! Lush! The 1999 Lawson's Dry Hills Marlborough Chardonnay is about as hedonistic as dry white wine gets. Loaded with the scents of pineapple, mango and assorted tropical fruits, this wine is a feast for the senses. In the mouth, this delicious Chardonnay is so fat and long that it drips with butter, ripe exotic fruit, and a lovely cachet of spice that adds complexity and depth to its buxom beauty. And if all the essence of Chardonnay and the overt decadence of pure ripe fruit in French oak aren't satisfying enough, the Lawson's Dry Hills possesses good, crisp acidity along with its ample fruit; the acidity beautifully frames the wine, adding definition, a pleasantly dry finish, and plenty of zip. If there had been wine in the Garden of Eden, we're sure it would have tasted a lot like the 1999 Lawson's Dry Hills Chardonnay. Enjoy this pleasure packed Chardonnay moderately chilled and often.
"Heck, who needs food - this wine's a meal in itself," commented one taster, rather aptly, summing up the bottom line. Certainly, the 1999 Lawson's Dry Hills Chardonnay doesn't need food, but then again there is a vast gap in our culture between need and desire. So, we chose to indulge ourselves. Carmelized Sea Scallops over Angel Hair Leek Pasta, served with a tropical fruit – vanilla reduction was enough to convince us that need is definitely not everything. Roasted Halibut with an artichoke caper relish is another fine dish with the Lawson's Chardonnay, and more ample evidence that need is a lot less exciting than desire. Even simply prepared, flavorful seafood; poached salmon, steamed lobster or boiled crab legs accentuate the hedonistic pleasure of the 1999 Lawson's Dry Hills Chardonnay, so why not indulge yourselves, and enjoy!
Presently, no white wine producing viticultural region or country produces consistently the quality and value inherent in the white wines of New Zealand, particularly those from the Marlborough appellation. Nearly every Marlborough estate that exports to the United States turns out admirable examples of Chardonnay, Gewurztraminer, Riesling and Sauvignon Blanc, but few can compete with the outstanding selections from Lawson's Dry Hills. After tasting through Lawson's Dry Hills portfolio of fine white wines, we are simply hard pressed to find better quality and value, anywhere. Consequently, we are pleased to offer The International Wine of the Month Club subscribers the opportunity to acquaint or re-acquaint themselves as the case may be with one of the finest estates and most astute young winemakers in New Zealand. Lawson's Dry Hills was founded in 1992 by longtime grape growers, Ross and Barbara Lawson when they decided to open a state of the art winery on their property in Marlborough. Committed solely to the production of premium Marlborough wines, the Lawson's have quickly established themselves as serious producers of world class wines. In only nine years of production, Lawson's Dry Hills has compiled an enviable record of awards and medals with its wines, winning gold medals in major national and international wine shows and competitions. Devoted to traditional cool climate varietals; Chardonnay, Gewurztraminer, Riesling, Sauvignon Blanc and most recently Pinot Noir, German trained winemaker, Mike Just, has catapulted this estate to the top echelon of wineries in a very competitive, quality driven appellation. Wine critics already compare Lawson's Dry Hills to Zind Humbrecht, France's greatest producer of Alsace wines. Like Zind Humbrecht, Lawson's has built its reputation on the production of a half dozen great white wine varietals, excelling equally with each in turn. What makes Mike Just so good is a combination of training, intuition, experience and "terroir" (Marlborough is simply one of the world's best viticultural regions for white wines.) Yet, Mike is not content to be simply good, he is an expert blender and an ardent proponent of experimentation. In fact, Mike is considered to be one of the world's most artful blenders, selecting one varietal from different vineyard sites with varying characteristics in order to add complexity and depth to each of his varietal offerings. Mike also employs a high percentage of wild yeasts in his wines and a partial oak barrel fermentation, especially for his Chardonnay. Each of these practices adds nuance and complexity to the finished product, accentuating rather than compromising the wine's natural flavors. Just learned his craft in Germany where he spent several years working in a number of wineries, both large and small. There he picked up the skill as well as the feel for producing world class white wines in a cool climate. With centuries of experimentation and tradition, Germany afforded Mike the perfect perspective and background to pursue greatness in New Zealand. We look forward to many more great wines from Lawson's Dry Hills under Mike's tutelage. The only problem we foresee with Lawson's will be finding enough of their wines; Lawson's estate wine is already strictly allocated, so drink up while you may!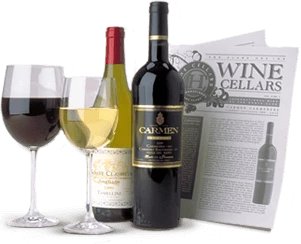 Enjoy Limited Production Estate
Bottled Wines
Discover limited production estate bottled wines such as Vergenoegd's internationally
acclaimed 2005 Cabernet Sauvignon, imported exclusively for our members.
DISCOVER OUR FOUR CLUBS