A soft, gentle, fulfilling Champagne, the non-vintage Laurent-Perrier L-P Brut is justly renowned for it elegance as well as its flavor. Wearing an authentic champagne colored robe and exhibiting a very tiny, delicate perle or bubble, the L-P Brut appears as the epitome of elegance and sophistication. But wait, the best is yet to come! L-P's aroma carries the seductive scents of white fruits and freshly baked bread. And on the palate, L-P really works its magic. It is fresh, round and supple, offering up a multitude of delicate flavors and a creamy texture to tantalize the senses. Never biting or acidic, Laurent-Perrier's L-P Brut finishes round and lovely with a sensual wave. Enjoy this premium Champagne moderately chilled (40°-50° F).
Given the finesse and balance of Laurent-Perrier's L-P Brut, it offers to all those who are fortunate enough to partake a remarkable aperitif. Some might even say it constitutes the perfect aperitif, and we could only nod our heads in agreement. Alone, L-P shines as the entrÉe to a great evening or festivity. However, it would be a shame to relegate Laurent Perrier's flagship wine to a singular role. Consequently, we suggest you, also, serve the convivial L-P with food, especially fish and delicately seasoned shellfish, or even poultry. Salmon mousse offers an exquisite accompaniment to L-P as does poached or grilled sole, flounder, or trout. Cheese based canapÉs offer other glorious choices. Meanwhile, poultry is a particular favorite with L-P Brut at Laurent-Perrier, so may we suggest Suprême de Volailles aux Champignons (Chicken Breasts with Mushrooms and Cream) or other favorite poultry recipe. SalutÉ!
Editor's Note: Champagne is a wine that is under pressure. It should always be well chilled before opening. Always exercise caution when opening a bottle of sparkling wine. Point the bottle away from people and objects. Use a clean towel or clothe to firmly grip the bottle. Gently remove the wire stopper while firmly holding the cork in place. Then with thumb and forefinger, remove the cork slowly from the bottle. Do not let the cork fly. Enjoy! Laurent-Perrier is one of the top ten Champagne houses. Founded in the picturesque village of Tours-sur-Marne in 1812 by Alphonse Pierlot, a former cooper and bottler of Champagne, the house quickly gained recognition for outstanding quality and innovation. Moreover, all of Tours-sur-Marne's Champagne vineyards are classified as Grand Cru. Bequeathed upon Pierlot's death to his longtime cellar master Eugène Laurent and Laurent's wife Mathilde-Emilie Perrier, the Champagne house of Laurent-Perrier acquired its present name and garnered international acclaim, along with many famous clients. Upon the death of Mathilde-Emilie Perrier in 1925, Laurent-Perrier was purchased by Marie-Louise Lanson de Nonancourt, who saved the house from extinction during World War II by hiding 10,000 cases of Laurent-Perrier Champagne behind a false wall, while her two sons were fighting the Nazis under Generals De Gaulle and Leclerc. Sadly, only Bernard de Nonancourt survived the war. His older brother Maurice died in a Nazi concentration camp. Bernard de Nonancourt assumed control of Laurent-Perrier in 1949 and remains to this day the Director of the house. Under his passionate leadership Laurent-Perrier has thrived. Moreover, Laurent Perrier remains one of the few remaining independent and family owned and run Champagne houses among the major producers. However, Bernard's philosophy, which is roughly translated as "The quality of the wines is equal to the quality of the people" sheds some light upon his achievement and the success of Laurent-Perrier. Unlike many other sons and daughters of Champagne producers, Bernard worked in every facet of the Champagne business for neighboring houses to gain experience and understanding, before assuming control of Laurent-Perrier. He is assisted by his perfectionist cellar master Alain Terrier, who has helped him guide the firm since 1975. The flagship wine of Laurent-Perrier is the house non-vintage Brut Champagne, referred to simply as L-P. A blend of Chardonnay, Pinot Noir, and Pinot Meunier from several vintages and up to 55 different crus, L-P is one of the world's preeminent non-vintage Champagnes. Laurent-Perrier, also, fashions Ultra Brut, a non-vintage Brut without any dosage; Demi-Sec; Vintage Brut; RosÉ Brut; Alexandra RosÉ, a special vintage rosÉ Champagne first released in 1987 to celebrate the marriage of Bernard de Nonancourt's eldest daughter Alexandra; and Grand Siècle, the firm's exquisite luxury brand of Champagne that is second to none. Since 1996, Laurent-Perrier has been the official Champagne of The Motion Picture Academy of Arts and Sciences and it is the only Champagne served at the Oscars. Laurent-Perrier is, also, a partner with the prestigious Relais et Châteaux group, an organization of many of the finest independently owned restaurants and inns around the world – all renowned for their outstanding cuisine and service. Cheers! Champagne: More Than a Wine Champagne is an ancient province of France, a pastoral land of meadows and streams and most importantly chalk hills upon which some of the world's choicest grapes are grown. Champagne's boundaries are delimited by law and its wines strictly regulated by the laws of Appellation ContrôlÉe as to permitted grape varieties (Chardonnay, Pinot Noir, and Pinot Meunier), yield, production, and quality. Yet, Champagne is more than a place; it is also a wine. In fact, Champagne is several different wines – only the most recognizable of which is white and bubbly. Although Champagne can be still or sparkling, white or red, and even rosÉ, the wine the world has come to know as Champagne is always sparkling. So synonymous now is the name Champagne with sparkling wine that the nomenclature has been applied generically and indiscriminately to any wine that bubbles, much to the regret of the Champagne producers themselves. Authentic Champagne comes only from the Champagne district of France and meets all the approved legal requirements and standards of production, including absolute adherence to the painstaking Methode Champenoise, which requires that secondary fermentation take place in the bottle for sparkling Champagne. Since the 17th century several historical personages have contributed to the development of Champagne. However, none is more renowned than Dom Perignon, the legendary blind monk and cellar master of the Champagne Abbey of Hautviller. Although Dom Perignon is often credited with the development of sparkling Champagne itself, the truth is he probably learned the rudimentary technique in southern France from the Benedictine monks at the Abbey at St. Hilaire. However, Dom Perignon was renowned as a master blender and he is credited with capturing the bubbling magic of Champagne by his introduction of wire wrapped cork stoppers and heavier, specially made bottles that contained the pressure of Champagne. Until his improvements were instituted, sparkling Champagne was known as vin diable (the devil's wine) because of its propensity for exploding its container – a potentially lethal proposition that surely rendered more than one monk blind. Moët Chandon's luxury brand of Champagne, Dom Perignon, is named in honor of the legendary monk. Thanks to centuries of improvements and some of the first true brand name marketing, Champagne enjoys today a special place in western culture. Champagne has been called the "Belle of the Ball," and it has come to symbolize conviviality, hope, and all that is good in life and love. What would a wedding or any other festivity be without Champagne? But why wait for an occasion? Champagne is the perfect way to start an evening, so what are you waiting for? Pop the cork and join in the fun!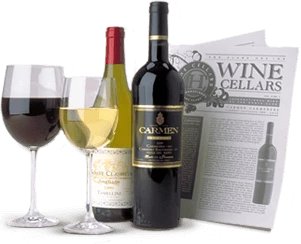 Enjoy Limited Production Estate
Bottled Wines
Discover limited production estate bottled wines such as Vergenoegd's internationally
acclaimed 2005 Cabernet Sauvignon, imported exclusively for our members.
DISCOVER OUR FOUR CLUBS