The 1997 Lanzerac Stellenbosch Cabernet Sauvignon tastes more like classified Bordeaux than most contemporary Bordeaux. Kudos to the winemaking team at Lanzerac for producing a deeply colored, highly extracted Cabernet that combines Old World charm with all the flavor and tactile advantage that modern winemaking can muster. This well aged beauty offers up a classic Cabernet nose: blackberry, cassis, and dark chocolate, along with hints of roasted coffee and the telltale cigar box scent that makes great Bordeaux reds so irresistible. Ditto this wine's olfactory goodness and add the weight and tactile feel of claret and voilà, the flavor of the1997 Lanzerac Cabernet Sauvignon rushes the palate. The wine finishes with just enough residual tannin to add a little zip to the finish and insure a few more years of successful ageing. We suggest you serve the Lanzerac Cabernet Sauvignon at no more than 68º F. Like all Bordeaux-style reds, it will lose some of its subtley and charm if served too warm.
Fine wine deserves fine food, need I say more, reiterated one member of our tasting panel. Indeed, this statement sums up the panel's feeling toward the 1997 Lanzerac Cabernet Sauvignon. Many of Lanzerac's tried and true pairings constitute our favorite accompaniments as well. Hence, we suggest you don your apron and begin practicing the culinary arts. Why not consider either a braised or slow roasted loin of lamb, served with fava beans and a Rouquefort cheese gratin, or three noisettes of filet mignon, served with three different classic sauces. Rib-eye Wellington is another favorite that brings out all the latent goodness that constitutes the 1997 Lanzerac Cabernet Sauvignon. If cooking is absolutely not your thing, be sure to check next month's outstanding selection of international cheeses for the best ready made and shipped accompaniments. Enjoy!
Lanzerac Estate is a jewel of a property, located in Stellenbosch, on the Cape of South Africa. Since its inception in 1692 (indeed, the South African wine industry has been around that long), Lanzerac has been one of the finest producers of wine in South Africa and enjoyed critical international acclaim. Lanzerac is the first South African wine estate to be featured by C&H because we believe it is the best of the scant few, bona fide wine estates in South Africa that consistently produce world class wine. In fact, this estate turns out exceptional wines of extraordinary value, which bodes well for consumers and the likelihood that we will see and taste more offerings from this property in the future. Under the leadership of Christo Wiese, who purchased the estate in 1991, Lanzerac has claimed its rightful place among the world's leading wineries. Weise upgraded all of the property's vineyards and built a new modern winery in 1996, just as South Africa was emerging from decades of political and economic oblivion under Apartheid. His efforts highlight the estate's excellent wines and showcase the enormous viticultural potential of Stellenbosch, not to mention all of South Africa. Set amid the stunningly beautiful scenery of the Cape, Lanzerac stands as a beacon of progress and a guide for other aspiring South African wine estates. Presently, it produces outstanding Chardonnay, Cabernet Sauvignon, Merlot and Pinotage for export. The Chardonnay and Cabernet Sauvignon have so far garnered the most fanfare, winning gold medals and four-star ratings from European publications. In addition to crafting fabulous wines, Lanzerac operates the only luxury five star hotel/winery in Africa.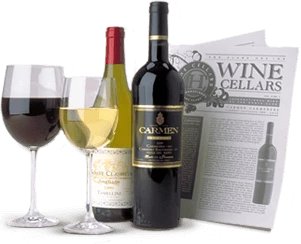 Enjoy Limited Production Estate
Bottled Wines
Discover limited production estate bottled wines such as Vergenoegd's internationally
acclaimed 2005 Cabernet Sauvignon, imported exclusively for our members.
DISCOVER OUR FOUR CLUBS