It is easy to like the 2013 Laderas de Cabama Rioja, an elegant, fragrant Rioja that brings out the feminine side of Tempranillo at the same time it offers balance and bold flavors. Luis Valentin's magic touch with Tempranillo shines through in the 2013 Laderas de Cabama, which earned 92 points from James Suckling and impressed our tasting panel greatly. Produced from 100% Tempranillo, this wine delights the nose with savory scents of woodland berries, pomegranate, dried leaves, and exotic spices. In the mouth, the wine displays a smooth, round feel that carries the wine's spicy cherry and blackberry flavors to a delightfully fresh conclusion. In true Rioja Alta fashion, the 2013 Laderas de Cabama unfolds beautifully in the glass, revealing layers of complex flavors and a freshness rarely seen in other Riojas. Once again, Valenciso has released a wine that strikes a perfect balance between fruit and structure that is ideal for drinking now. For optimal enjoyment, we suggest serving the balanced, flavorful 2013 Laderas de Cabama Rioja at cool room temperature (60º F) after 15-20 minutes of aeration.
The elegant, sophisticated 2013 Laderas de Cabama Rioja deserves accompaniments worthy of its pedigree. Artfully prepared tapas make splendid accompaniments. Better still, consider serving the delicious 2013 Laderas de Cabama Rioja with Steak Diane, topping a perfectly grilled filet and accompanying mashed potatoes with creamy mushroom sauce. Grilled lamb chops, served with wild mushrooms sautéed in olive oil, garlic, and herbs, gets our nod, too, as does a traditional stew, prepared a la riojana, with chicken or game birds, white beans, chorizo sausage, peppers, paprika, and tomatoes. Slowly braised pork shoulder served with tiny lentils also provides a memorable companion to the Laderas de Cabama Rioja. On a simpler note, duck confit or a plate of fine Spanish cheeses and a loaf of warm crusty bread offer tasty companionship to the 2013 Laderas de Cabama, as well. Salud!
Goat, sheep, and cow's milk cheeses offer simple, yet tasty accompaniments to the elegant 2013 Laderas de Cabama Rioja. Spanish cheeses such as Mahón, Manchego and Torta del Casar make especially fine companions to this wine as they do to almost any red Rioja wine. The savory notes in the wine and cheese complement each other with aplomb. To enjoy the finest in wine and cheese, visit us at www.cheesemonthclub.com. Salud!
Some winemakers seem to possess the Midas touch. Whatever wine they fashion, regardless of the vagaries of the vintage, comes out on top. Site, terroir, weather, and perhaps even a bit of luck play a part in making exceptional wine, but more often than not, talent and hard work make the real difference. Knowing one's vineyard and possessing the experience to handle the variables that each vintage brings to the cellar speak volumes. With that said, no one in Rioja consistently makes finer wine than Luis Valentin and Carmen Enciso of Compañia Bodeguera Valenciso. Laderas de Cabama, this month's feature, is the newest gem to emanate from the Valenciso winery, recipient of untold 90+ point ratings and the highest praise in addition to a Gold Medal at the 2018 Sommelier Wine Awards where the winery's 2010 Reserva was deemed the Finest Wine of the Show out of 2,000 entries. Valenciso's Rioja Blanco and 2013 Laderas de Cabama (this month's feature) are no less exciting.
Valenciso, a combination of the proprietors' two last names, came to fruition when Luis and Carmen left their respective positions at one of Rioja's oldest and most prestigious bodegas. With a shared a vision of creating a truly boutique Rioja in their own cellar, Luis and Carmen have created one of the finest and most seductive of all Rioja wines. Their dream comes to life each vintage in the outstanding Riojas that flow harmoniously from their bodega into our glasses.
The secret to the nearly instantaneous success of Valenciso is the criteria Luis and Carmen apply to making wines. Each relies upon the inherent greatness in old vine Tempranillo, the quintessential Spanish grape varietal that steals the heart and defines the soul of Rioja. Yields in the vineyard are kept draconically small in order to fashion wines of finesse, flavor, and symphonic harmony. In addition, all of Valenciso's wines are made in very small lots or cuvees in the cleanest, most impeccably run winery we have ever visited. Moreover, only small barriques are used for aging, a third of which are renewed annually. French oak predominates and all of their corks are classified as "flor" quality, the highest level possible. Yet, without expert winemaking, all of these measures would be of marginal value at best. With a string of successes that began with Valenciso's inaugural vintage in 2000, Luis and Carmen have made their dream come true, and ours, too. Until the recent release of Laderas de Cabama, the only one red wine made at Valenciso was Rioja Reserva. In traditional Rioja fashion, Valenciso will not release a wine until it has undergone a hiatus in the finest oak and is able to comport itself properly in the glass.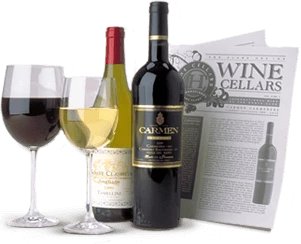 Enjoy Limited Production Estate
Bottled Wines
Discover limited production estate bottled wines such as Vergenoegd's internationally
acclaimed 2005 Cabernet Sauvignon, imported exclusively for our members.
DISCOVER OUR FOUR CLUBS