The 2014 La Vis Simboli Trentino Chardonnay sparkles in the glass, offering a glint of sunshine and a bright sunny color. Lovely aromas of spring flowers, ripe mountain apples, pears, pineapple, and quince delight the nose. Fresh and lively in the mouth, the medium-bodied 2014 La Vis Chardonnay offers pure fruit flavors and a gentle minerality, much like its French counterparts from the Mâconnais in southern Burgundy. No oak, no smoke, no buttery popcorn flavors in this clean, delicious white wine, only unadulterated Chardonnay fruit flavors and the distinct minerality of Italy's Trentino. Enjoy the 2014 La Vis Chardonnay often and moderately chilled (40° F).
The elegant, fresh 2014 La Vis Simboli Chardonnay makes a wonderful aperitif and an incomparable companion to a wide variety of cheeses, seafood, and poultry. For starters, consider serving the medium-bodied La Vis Chardonnay with smoked salmon with tomato, onion, and cream cheese on a warm sesame bagel; crispy oyster sliders; or a crispy tempura shrimp and duck confit. Follow-up with a grilled chicken salad with heirloom cherry tomatoes, roasted sweet corn, Parmesan croutons, and shavings of Parmesan and Romano. Baked pecan-encrusted trout with lemon beurre blanc, polenta, and seasonal vegetables offers another delicious accompaniment to the tasty 2014 La Vis Chardonnay. Panko crusted chicken stuffed with roasted red peppers, Mozzarella, and basil served over a mussel, andouille and crab jambalaya offers yet another wonderful pairing with La Vis's 2014 Simboli Chardonnay. Buon Appetito!
In the United States, Chardonnay is a grape most associated with California, the grape's burgeoning ex-pat enclave, and to a lesser extent its native France. Yet Italy's Trentino has been home to world-class Chardonnay for more than 100 years, far longer than California wineries have been growing Chardonnay and much longer than most Americans had ever heard of the grape or been able to pronounce its name.
La Vis, located in a village that shares its name, was officially established in 1948 as a cantina sociale, or cooperative. However, La Vis is no ordinary cooperative. Many of the world's finest cooperative wineries operate in northern Italy's Trentino and Alto Adige. Moreover, beginning in 1980 La Vis embarked on a program called Progetto Zonazione, a zoning project in conjunction with Italy's renowned enological institute, San Michele all'Adige, whereby each grower's vineyard and terroir were carefully evaluated for altitude, soil composition, precipitation, and exposure to determine the varietals most suited to each individual vineyard. With 800 growers and a richness and variety of terroir to choose from, La Vis was able to identify the ideal location for each varietal and institute changes to further improve quality, so that today many of La Vis's growers farm organically. The cantina's recently renovated winery has further pushed the envelope on quality.
La Vis produces a wide variety of indigenous grape varieties such as Pinot Grigio along with a cadre of international varietals from neighboring France. Chardonnay is a specialty of La Vis, as are the cantina's Cabernet Sauvignon and Pinot Noir. La Vis's Simboli line of wine highlights the Trentino's most important grape varieties and offers outstanding quality and value.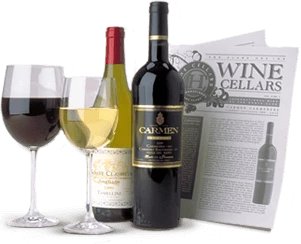 Enjoy Limited Production Estate
Bottled Wines
Discover limited production estate bottled wines such as Vergenoegd's internationally
acclaimed 2005 Cabernet Sauvignon, imported exclusively for our members.
DISCOVER OUR FOUR CLUBS