A bright cherry, strawberry-tinged robe foreshadows the gorgeous fruit and hedonistic bent of the 2000 Les Marcellins Chenas. Ripe and lush, without ever appearing sweet, this lovely Chenas embodies the essence of Grand Cru Beaujolais. This is a wine that is both fun and fulfilling, offering copious quantities of black cherry fruit along with its ample structure. The 200 Les Marcellins Chenas is one of those rare red wines that can be readily consumed without the slightest fanfare or layed down to gain strength and vigor, emerging in several years to resemble a Burgundy more than a Beaujolais. Enjoy this lovely wine about 60° F. Pop the cork and serve it immediately or let it breathe a while; both scenarios have their adherents, so why not try it both ways?
Stews, ham, and cheese platters, which include a variety of creamy, soft, high quality cheeses comprise some of the best accompaniments we know to the 2000 Les Marcellins Chenas. We also suggest turkey, complete with all of the trimmings, and of course Coq au Vin and the ubiquitous Boeuf Bourguignon. Other traditional Burgundian dishes also fare well with the Les Marcellins. Most other meat dishes and pastas, with the exception of those drenched in a acidic tomato marinara, will also provide excellent partners for this Chenas, so enjoy!
Les Marcellins was established as a premium negociant by the renowned Grand Cru Growers of Morgan, Marcel Lapierre and his nephew, Christophe Pacalet. Together they select a small number of growers and vineyard sights at the beginning of each growing season, mandating biodynamic (natural farming) principles and controlling all aspects of the "elevage" of the grapes. In the production of the wine, the same natural approach is espoused. Les Marcellins permits only the barest minimum use of SO², employs barrel fermentation and aging, and uses no fining or filtration in its wines. The end result is an array of classic Cru Beaujolais. The Chenas we offer you hails from a single five-acre vineyard, whose vines are nearly 50 years old. Grown on a vein of rich sandstone with a southeast exposure, the Les Marcellins Chenas offers all of the vibrant fruit and solid underpinning for which the great Chenas appellation is renowned.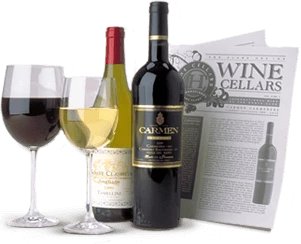 Enjoy Limited Production Estate
Bottled Wines
Discover limited production estate bottled wines such as Vergenoegd's internationally
acclaimed 2005 Cabernet Sauvignon, imported exclusively for our members.
DISCOVER OUR FOUR CLUBS