A deep, dark, brooding blend of Grenache and Syrah, the 1998 La Chance de Saint Luc Côtes de Rousillon is testimony to both the power and the promise of the Côtes du Roussillon Appellation as well as the consummate quality produced by the formidable team of Etienne Montes and Jean-Luc Colombo. Exhilarating scents of black fruits, aromatic woodlands, anise and bergamot, the La Chance de Saint Luc captivates the senses. Rich, deep fruits laced with violets, coffee and cedar dominate the flavor profile of this layered complex wine that seems to unfold hour after hour in the glass until plush velvet emerges from an iron glove. Solid, rich ripe tannins dominate the finish and frame the Chateauneuf-du-Pape like flavors of his fine effort. Considering the formidable raw materials, impeccable balance and the overall quality of the 1998 vintage in the south of France, the La Chance de Saint Luc is certain to repay further ageing - that is if you can exercise enough restraint not to consume it now. Whether you drink it now or later, be sure to allow this benchmark Côtes du Roussillon at least an hour, or even two, before consuming it - you'll be glad you did.
Undoubtedly, a host of traditional French fare as well as most meats and cheeses do justice to the 1998 La Chance de Saint Luc; yet, the "grand statement" and solid intense warmth of this lovely Côtes du Roussillon beg for simplicity. Simple, but fine cuts of beef, a crown roast of pork or lamb medallions in their natural juices would be preferable to fatty, less inspiring cuts of meat or highly spiced dishes, simply because the subtlety and nuance of the La Chance would be compromised. Certainly, the "La Chance" can hold up to almost anything you choose to throw at it, but like a fine Chateauneuf-du-Pape, less is more. This wine hardly needs food to make it shine. Give it some airing and enjoy!
La Chance de Saint Luc Côtes du Rousillon is the result of a unique collaboration between two of southern France's greatest wine legends: Etienne Montes, the longstanding vigneron of the Côte's finest grapes and Jean-Luc Colombo, the world renowned oenologist from the village of Cornas. Together they have fashioned the finest wine we have ever tasted from the Côtes du Roussillon. Côtes du Roussillon sets astride the Mediterranean in the foothills of the lofty Pyrenees, just north of the Spanish border. Originally planted by the Phoenician Greeks and later the Romans, the Côtes du Roussillon are one of the oldest continually cultivated appellations in the world. When devoted to the region's greatest varietals, Grenache and Syrah, the results are outstanding. Thanks to Jean-Luc Colombo and his friend Etienne Montes, we bring you over two thousand years of history and a modern day renaissance, all in the same bottle.
Introducing Jean-Luc Colombo Jean-Luc Colombo is a dynamic young Rhone winemaker who is as passionate about wine as he is about life. Born in Marseilles on the Mediterranean Sea, Colombo developed a passion for the nearby Rhone Valley and its wines as a young man. After graduating with degrees in pharmacy and oenology, Colombo and his wife Anne, also a pharmacist and oenologist, were seduced by the village of Cornas in the northern Rhone Valley, where they moved in 1983. Once famous for its wines, Cornas was languishing between its great neighbors: Hermitage and Côte Rotie. What Cornas lacked was an innovative champion to restore the prestige of its appellation. Critical of much of what he found, Colombo set up an oenological lab while preparing for the opening of his pharmacy, the first in the village. Before long, the wine consultancy became his primary focus, with the mission of helping local winemakers breathe new life into the region's wines. Today, the pharmacy has been sold, and both Colombos devote themselves entirely to wine with their team of 25 assistants. In the face of adversity to change from old fashioned ways, Colombo has brought renewed vibrancy to the wines of the Rhone with his focus on natural growing methods and balanced ripe fruit. Since 1987, Jean-Luc has been producing remarkable wines from his own vineyard in Cornas. And, while his reputation as a master winemaker continues to grow, his passion and commitment have won him a significant following. He is presently consultant to over 100 winemakers from the Alps to the Mediterranean and the leader of Rhone Vignobles, an organization of 15 elite winemakers in the Rhone Valley who share his belief in the importance of terroir, his profound respect for nature and his desire to establish the Rhone Valley and surrounding Languedoc Appellations like Côtes du Roussillon as the world's premier wine region. Colombo's wines have also been a hit with respected critic Robert Parker who has given ratings of 90+ to several of Colombo's wines; many of his wines appear on critics lists of "Highly Recommended" wines. Fortunately, the quality and momentum continue to emanate from Colombo's portfolio, increasing the likelihood that we will see more fine wines on this side of the Atlantic from this superstar.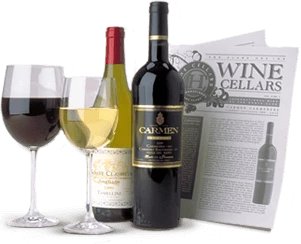 Enjoy Limited Production Estate
Bottled Wines
Discover limited production estate bottled wines such as Vergenoegd's internationally
acclaimed 2005 Cabernet Sauvignon, imported exclusively for our members.
DISCOVER OUR FOUR CLUBS