The 2005 Koonowla Cabernet Sauvignon is quintessential Clare Valley Cabernet: purple, aromatic, and richly fruity, it elicits both passion and purpose. For starters, blackberry, currant, and mulberry fruit aromas mingle with rose petal and smoke to tantalize the nose. Yet, it's in the mouth that Koonowla's Cabernet works its real magic. It coats the palate as it infuses silky, smooth berry flavors to every taste bud. Framed by gentle, dusty tannins that add both balance and definition to the wine, the textured 2005 Koonowla Cabernet Sauvignon makes a compelling case for Clare Valley as a premier source for bright, personality-filled Cabernet Sauvignon. Moreover, it is nearly impossible to believe this wine weighs in at 15% alcohol. With the 2005 Koonowla Cabernet there is no massive tannin to fight through, nor does one have to hunt for the rich, succulent flavors that only physiologically ripe Cabernet can offer. Much like the beauty of the Clare Valley, everything about the 2005 Koonowla Cabernet unfolds gracefully, up front and in your face. Enjoy this deep purple potion at cool room temperature (62º-66º F), with or without extended aeration.
The 2005 Koonowla Cabernet Sauvignon shares the Australian penchant for meat and almost anything else one can cook on the barbie, an affinity we share, which inevitably implores us to uncover the grill. After all, grilling is an Australian tradition, and the Koonowla Cabernet the perfect wine to accompany your favorite meat or vegetable dish. Lamb (chops, shanks, or kebobs) gets the local vote, but beef, chicken, kangaroo (yep, the Aussie's really do eat kangaroo), and venison on the barbecue also provide excellent opportunities to showcase Koonowla's finest Cabernet. And while you are at it, don't forget to put on some fresh vegetables, dabbed with a balsamic vinegar marinade, to complement the rich berry and smoke tones in the wine. The sweetness imparted to the vegetables by the grill tends to further concentrate this wine's plump fruit and provide for even greater enjoyment. An almond crusted chicken breast, stuffed with prosciutto and a rich fruit salsa and served over wild rice or a fried blue cheese potato cake, gets our nod as well. Enjoy!
Koonowla is an old property that was first settled in the mid 19th century, shortly after the first free settlers arrived in South Australia and pushed north into the Clare Valley. It is in the pastoral Clare, a rolling, open country reminiscent of the American West, that Colonel Barker settled and began farming and grazing. Vineyards and a winery followed some years later upon the sale of Koonowla to John Tothill in 1892. Koonowla was one of six original wineries in the Clare Valley, and it thrived until 1926 when a fire destroyed much of the winery's cellar and stock. The worldwide Depression followed and the property's dwindling vineyards quickly fell into disrepair. Koonowla languished until 1985 when the first new plantings of Cabernet Sauvignon were undertaken. Under the careful tutelage of current owners Andrew and Booie Michael, Koonowla has been completely resurrected. The Michaels have faithfully restored the old homestead and placed Koonowla back into full production. It now covers 120 acres – the same area that was originally under cultivation in 1896 – which makes Koonowla one of the largest and most up to date family owned wineries in South Australia. Moreover, Koonowla's wines now garner the highest praise from critics and consumers. Rich full-bodied Cabernet Sauvignon remains Koonowla's foremost claim to fame, but first rate Shiraz and Riesling prevail as well.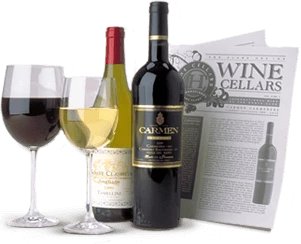 Enjoy Limited Production Estate
Bottled Wines
Discover limited production estate bottled wines such as Vergenoegd's internationally
acclaimed 2005 Cabernet Sauvignon, imported exclusively for our members.
DISCOVER OUR FOUR CLUBS