"Bold and beautiful," is how one panel member described the 2003 Koehler Santa Ynez Chardonnay. One could stop there, but that would be cruel. Besides, only three words would drive the layout guys crazy. How would they format a mere three words? No worries, we can rectify that. Koehler's Santa Ynez Chardonnay makes its appearance in a bright rich robe, with glints of golden sunshine. And like most serious Chardonnays, the Koehler begs for a little attention prior to consumption. Consequently, we suggest giving this wine a little aeration. Within ten or fifteen minutes of opening, a myriad of scents and savors rise from the glass and fill the olfactory. Butter, spice, and vanilla oak appear and wind around a core of open knit fruit that caresses with each sip. Providing one exercises a little patience, the 2003 Koehler Santa Ynez Chardonnay will more than fulfill its promise. Chilling this wine to approximately 40° F and then allowing it to unfold slowly in the glass will pay more than a respectable dividend. Enjoy!
Bold, open knit wines like the 2003 Koehler Santa Ynez Chardonnay beg for food of similar stature. So, whether it is fish or fowl, we suggest serving this wine with a rich sauce. Why not serve Haddock or Sea Bass, prepared with a fennel infused cream sauce, with the Koehler Chardonnay? Chicken and Walnuts, simmered in butter, onion, spices, and pomegranate juice provides another audacious treat. For a vegetarian venue, classic Fettuccine Alfredo offers plenty of interest as well. In fact, most cheese or cream rather than tomato based pasta sauces should yield similar results.
The Koehler Estate is located in the beautiful Santa Ynez Valley, which lies at the heart of the Santa Barbara wine country. Recently, this picturesque land has been referred to as Sideways country, after the award winning film of the same name. Here, in Santa Ynez on Foxen Canyon Trail (more than a few illustrious names are located along this route) Peter Koehler makes award-winning wines from sixty-seven acres of lovingly tended vines, many of which are approaching forty years of age. In 1997, Peter Koehler purchased the hundred-acre property upon which his vineyard thrives because of the area's diversity of microclimates and the property's reputation for supplying neighboring wineries with fruit they were fashioning into critical acclaim. So, why not just make great wine yourself from your own vineyard and enjoy the accolades as well as the work of your own hands? Today, Peter Koehler and his winemaker Michael Roth fashion a surprising number of wines from this small estate's vines, which they augment with an outstanding Monterey Pinot Noir. Not surprisingly, Chardonnay and Pinot Noir are the focus of the Koehler estate. According to many critics and oenologists, Chardonnay and Pinot Noir are the apparent raison d'être of Santa Barbara winemaking as well. Nevertheless, Koehler is successful, too, with Cabernet Sauvignon, Riesling, Syrah, Sangiovese, Sauvignon Blanc, Grenache, and Viognier on account of his property's unique microclimates.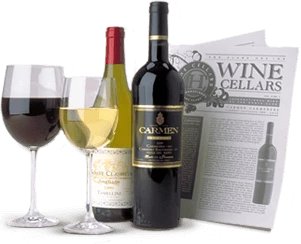 Enjoy Limited Production Estate
Bottled Wines
Discover limited production estate bottled wines such as Vergenoegd's internationally
acclaimed 2005 Cabernet Sauvignon, imported exclusively for our members.
DISCOVER OUR FOUR CLUBS