Members who have been with The International Wine of the Month Club or our new Bold Reds Wine Club have heard me say that we don't put much stock in gimmicks or catchy labels because after all is said and done none of us can drink a label or a price tag, only the wine in the bottle. With that said, we were at first a bit skeptical of the 2012 Klassen The Big Mouth Red with its cheeky name and label, but not for long. One taste of this wine and we looked at each other and said: "We're glad we stuck to our mantra." The 2012 The Big Mouth Red offers a captivating aroma of black fruits, licorice and violets, all of which happily follow through in the mouth and flow through into the wine's flavor beginning with the very first sip. Medium-bodied and velvety smooth, the 2012 The Big Mouth Red is one good, easy drinking red wine. Its fine grained tannins add structure, without so much as a hard edge. Enjoy this smooth Syrah-based red at cool room temperature (60°-65° F) after just a few minutes of aeration.
We have a few ideas as to what to serve with the 2012 Klassen The Big Mouth Red, but first let us pass on a couple of suggestions from the folks at Klassen Wines. Their recommended pairings include roast lamb and savory lamb or beef stews, suggestions we heartily endorse. Another one of our favorite pairings with this wine is a breast of Ashley Farms Organic Free Range Chicken served with buttered Chanterelle mushrooms over wilted kale and a side of roasted Acorn squash with nutmeg and pecan butter. We also enjoy The Big Mouth Red with hearty cheeses and roasted red pepper hummus. And there is no shame in pairing only a large clean glass with the 2012 The Big Mouth Red; this wine drinks just fine all on its own. Enjoy!
Klassen Wines & Craft Beer has established an enviable reputation for fashioning individual, hand-crafted wines that provide wine lovers the best of all worlds – great wines at reasonable prices. Klassen's most exciting new releases are Brian Klassen's The Big Mouth Red (comprised primarily of Syrah) and The Big Mouth White (exclusively from Chardonnay). Both wines are excellent choices for pairing with food or simply enjoying on their own. Klassen places an emphasis on accentuating each wine's aroma, structure, and terroir rather than relying upon high alcohol and residual sugar levels to mask minor flaws.
Each Klassen wine is a limited production, which affords Klassen the luxury of closely managing each lot for quality and consistency in order to produce memorable high quality wines at a price most folks can afford. In addition to The Big Mouth series, Klassen puts out a tasty Merlot, Sauvignon Blanc, Rosé, a Viognier-based aromatic white and a 100% Syrah red that they created for the band Los Lobos.
This month's feature, the newly released 2012 Klassen The Big Mouth Red, is only the second release of Klassen's The Big Mouth Red. It follows in the footsteps of the highly acclaimed 2011 vintage of this wine, which was highly praised in the San Francisco Chronicle and Wine Spectator. Fruit for the 2012 The Big Mouth Red originated from the same micro-climate as the 2011 edition, high up in the Sierra Foothills of California's Calaveras County. The Big Mouth Red is crafted solely from a single Northern Rhone variety of Syrah, which imparts a distinctive elegance and plenty of refined flavors to the wine, and a small amount of Grenache from Calaveras County.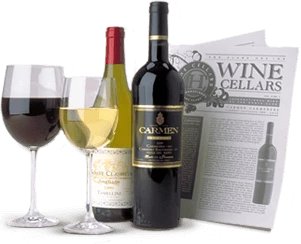 Enjoy Limited Production Estate
Bottled Wines
Discover limited production estate bottled wines such as Vergenoegd's internationally
acclaimed 2005 Cabernet Sauvignon, imported exclusively for our members.
DISCOVER OUR FOUR CLUBS