Sparkling with a glint of the Aegean sun, the 2015 Kir-Yianni Paranga White cuts a fine figure in the glass, adding eye appeal to the wine's olfactory and gustatory charms. And thanks to a delightful combination of Roditis (80%) and Malagouzia (20%), the 2015 Kir-Yianni Paranga White offers seductive aromatics, a round, soft mid-palate and good crisp acidity that aptly frames the wine's juicy flesh. Hints of apricot, peach and wild mint mingle with gentle mineral tones to delight the nose and palate, while a bright zesty acidity carries Paranga's endearing flavors through on the finish. Enjoy the youthful 2015 Kir-Yianni Paranga White now and over the next several years, as Roditis and Malagouzia grapes tend to age gracefully, taking on weight and a whole new dimension after several years in bottle. For optimal enjoyment we suggest moderate chilling of Kir-Yianni Paranga's elegant white wine to about 38° F. Εβίβα!
The 2015 Kir-Yianni Paranga White will delight lovers of crisp dry white wines, especially those who appreciate purity, body and flavor in a white wine rather than a preponderance of oak, which dominates many Chardonnays. For starters, the 2015 Kir-Yianni Paranga White makes a splendid aperitif. Paranga's vibrancy along with the unique flavors of the charming Roditis and Malagouza varietals provide the palate with a tantalizing touch of exotica, with or without food. Perhaps even more rewarding than enjoying Paranga as an aperitif is pairing the 2015 Paranga White with seafood, pastas, salads, and cured meats. Pan-Seared Scallops served with Zucchini pasta in a Carbonara cream sauce provides a wonderful accompaniment to this wine. Calamari tossed with a light wasabi glaze, and steamed littleneck clams with sautéed butternut squash, black beans, sweet corn and garlic simmered in a heady stock offer other tasty complements. Flat breads with Gorgonzola, crispy pancetta and roasted three-color tomatoes offer more satisfying accompaniments. Bouillabaisse and the seemingly endless varieties of fish soups that abound throughout the Mediterranean pair beautifully with this wine as well. Steamed shrimp and pork dumplings also provide tasty pairings to the elegant, yet flavorful Paranga White. Jamón ibérico or prosciutto wrapped around a ripe honeydew melon offers plenty to revel in with a glass of Kir-Yianni's delightful Paranga, too. Enjoy!
Yiannis Boutaris was one of the leading figures in the Greek wine industry in 1997 when he left the Boutari Wine Group, the renowned family wine company that his grandfather established in 1879, to found Kir-Yianni among the rugged slopes of Macedonia. After twenty years of innovation, respect for Greece's unique grape varietals, and certification by the Organization of Certification and Supervision of Agricultural Products (AGROCERT), Kir-Yianni stands as a beacon of excellence and quality in what remains far too often a sea of commercial, underperforming wines from Greece – the very nation that popularized the symposium and the consumption of fine wine.
The principles of sustainable farming along with the experience and knowledge of Greece's indigenous grape varietals truly sets Kir-Yianni apart. Stellios Boutaris, Yiannis son, now directs Kir-Yianni and continues his father's work, excelling in the fashioning of refined wines with rich aromas, bright acidity and the ability to age gracefully. We invite you to taste and enjoy Kir-Yianni's Paranga White, a delightful blend of Roditis and Malagouzia, two of Greece's finest indigenous grape varietals.
Roditis is a stylish pink grape that owes its name to its fashionable rose color. Roditis is indigenous to the mountainous areas of northern and central Greece. When its yields are kept in check Roditis produces an exceptionally charming and elegant white wine, especially on the steep mountain slopes of Macedonia and throughout Attica, Thessaly and Peloponnese. Roditis was an especially prized grape before the advent of phylloxera, and it is presently enjoying renewed popularity due to the grape's propensity to preserve acidity and vitality even in hot climates. Fine aromatics and a long, flavorful finish are its hallmarks. Roditis is often blended with other indigenous varietals such as Malagouzia and Savatiano.
Malagouzia is an important white grape variety indigenous to western and northern Greece. Malagouzia, a highly aromatic grape known to produce enticing aromas of citrus, wild herbs, orchard fruits, and exotic flowers, was nearly extinct until winemaker Evangelos Gerovassiliou and Domaine Porto Carras brought it back from the brink in the 1980s with extensive plantings at Porto Carras on the Gulf of Torone. Today Malagouzia thrives primarily in Macedonia and in isolated vineyards in Attica and the Peloponnese where it is occasionally made into a varietal wine or, more commonly, blended with other premium white Greek varietals to add body and enhance a wine's aromatic profile.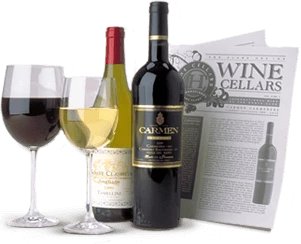 Enjoy Limited Production Estate
Bottled Wines
Discover limited production estate bottled wines such as Vergenoegd's internationally
acclaimed 2005 Cabernet Sauvignon, imported exclusively for our members.
DISCOVER OUR FOUR CLUBS