The 2005 Kim Crawford Unoaked Marlborough Chardonnay is New Zealand's answer to Pouilly-Fuissé, and a darn good one at that. It possesses a pretty robe and a soft seductive nose that reminds us of fresh apples, spring flowers, beeswax, and fresh baked bread straight from the oven. It is pure and gentle, but oh so flavorful. From the first sniff to the very last sip, the 2005 Kim Crawford Unoaked Marlborough Chardonnay makes one wonder why it took so long for Americans to discover the glory of unoaked Chardonnays. This wine has all the charm and ethereal beauty of the finest Macon wines, plus a good mélange of flavors that capture the very essence of the Chardonnay grape. Pretty and downright seductive, this is one good drinking wine. Enjoy it light to moderately chilled (40°-55° F), and as often as you can.
Seafood and summer were made for the 2005 Kim Crawford Unoaked Marlborough Chardonnay, so how about some steamed New Zealand mussels, Scallops au gratin, or oysters on the half shell? Shellfish is one of this unoaked Chardonnay's very best friends. However, most fish and other fruits of the sea will find a faithful companion in this wine as well. We have also enjoyed it with white meats, cheeses, and pasta. In particular, the Kim Crawford Unoaked Chardonnay provides splendid accompaniment to Fettucine Alfredo and Pasta Primavera. It is also shines as an aperitif, so as you like it.
Kim Crawford is New Zealand's most celebrated winemaker. A two time recipient of the prestigious Winemaker of the Year Award, Kim is the first New Zealander to be so honored. In any winemaker's book, these are hefty accolades and honors, but they are especially meaningful to a guy who grew up on a farm in Waikato, the heart of dairy country, far from any grapes. Moreover, some twenty odd years ago Kim had no idea what he wanted to do with his university degree in Botany and Microbiology. Fortunately, Kim had an erudite professor at college in the early 1980's who not so casually suggested that Kim consider New Zealand's then fledgling fine wine industry. Wisely, Kim took his mentor's advice and loved what he saw. Four years later he returned to New Zealand with a graduate degree from Roseworthy College, Australia's most prestigious School of Oenology, and several years experience making wine in Australia, California, and South Africa. Within a year of returning to New Zealand, Kim was the head winemaker for Cooper's Creek Winery, which he propelled to the top of the charts in New Zealand. The Kim Crawford brand was conceived when Kim and his wife Erica were in London. They are fond of saying that the impetus to start a winery and a family coincided over a glass of wine. In 1996, the Kim Crawford winery was born and so was the Crawford's first child. Kim's style of wine has remained true to his initial philosophy and vision. Kim is fond of saying that it was his youthful self-righteousness that helped him start the winery and conceptualize the kind of wine he wanted to make. He says that he decided early on that the world needed a clean, top quality, fruit driven Chardonnay devoid of the heavy oak used at the time, and he made it. He has extended that same award winning philosophy to Sauvignon Blanc, Pinot Gris, and Pinot Noir – all of which he fashions into more award winning wines.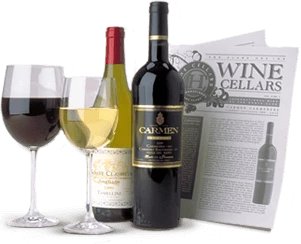 Enjoy Limited Production Estate
Bottled Wines
Discover limited production estate bottled wines such as Vergenoegd's internationally
acclaimed 2005 Cabernet Sauvignon, imported exclusively for our members.
DISCOVER OUR FOUR CLUBS