The cool climate conditions of the Russian River Valley make it one of perhaps only four regions in California where the delicate Pinot Noir grows well. Produced from vineyards where the rocky soil and the ocean's cooling influence create the ideal conditions for growing Pinot Noir, the 1999 Kenwood Russian River Valley Pinot Noir offers up enticing scents of cherry and vanilla, mingled with the delicate aroma of an orchard in bloom. This medium-bodied Pinot Noir follows through with a fine array of wild berry, plum, and cherry flavors, all in an silky, easy to drink format. About 10% of the fruit was whole-berry fermented to preserve the bright Pinot Noir fruit, and then the entire cepage was aged in French oak barrels for a year so one can enjoy this delicious wine now with a little breathing time, or lay it down for a year or two for added nuance. Serve cool, but not chilled.
This refreshing, fruit driven Pinot Noir is wonderfully versatile on the table and can be served with a wide range of foods, including pork, chicken, duck, lamb and garden salads. However, we must confess to a special passion for serving the Kenwood Pinot Noir with a roast turkey with onion, sage and sausage stuffing. This Pinot Noir makes an incomparable companion to traditional holiday fare. The savory splendor of this feast brings out the latent hedonism in the wine, marrying pure fruit and spice to moist succulent meat, rich gravy and plenty of stuffing. Turkey soup, Curried turkey dishes, and even leftover turkey make admirable accompaniments to the Kenwood Pinot Noir, so why not pour yourself a glass or two, you'll be thankful that you did? Enjoy!
Kenwood Vineyards was founded in 1970 at the beginning of the great wine Renaissance in Sonoma County when Mike Lee and two other wine enthusiasts from the San Francisco Bay area refurbished and modernized the former Pagani Brothers Winery. The estate is ideally situated in the heart of Sonoma Valley, a picturesque valley that the Miwok Indians called "the valley of the moons", as the moon seemed to rise several times each evening, appearing among various mountain peaks to the east. Named after the town of Kenwood, this estate presently is committed to producing premium wines that reflect Sonoma County's finest vineyards and define the region's grape varieties in their true character and style. The Kenwood winery sits on a beautiful twenty-two acre estate amid some of Sonoma County's finest vines. To supplement its acreage, some wine is also produced from fruit sourced from a number of Sonoma County's best vineyards. Using the "cuvee" winemaking method, the harvest from each vineyard is handled separately to present its individuality and true character. Such "small lot" winemaking allows Winemaker Mike Lee to bring each lot of wine to its fullest potential. Housed in the original winery buildings that were established in 1906, Kenwood produces classic varietal wines: Cabernet Sauvignon, Chardonnay, Pinot Noir, Sauvignon Blanc, Zinfandel, Gewürztraminer and Merlot. The Kenwood Vineyards leading selling line of premium wines is the Sonoma Series, which features all seven of the winery's classic varietals, including their award-winning Russian River Pinot Noir. This estate also produces several Single Vineyard and Reserve Wines and a very limited production of a Cabernet Sauvignon dubbed the Artist Series. Past Artist Series labels have included the artwork of Sam Francis, Pablo Picasso and Joan Miro. These wines have become collector's items since their first vintage release in 1975. Another distinctive product line in Kenwood Vineyard's portfolio is the Jack London Series, named in honor of the famed writer, adventurer and Sonoma County grape grower. Kenwood has the exclusive rights to harvest the grapes from the historic, lava terraced vineyards of the Jack London Ranch located in Glen Ellen, California. Today, Kenwood plants, farms and harvest the historical, lava-terraced vineyards of Jack London's ranch, producing Cabernet Sauvignon, Zinfandel, Merlot and Pinot Noir wines. Made only from Jack London vineyard grapes, these four wines are savored for their mint-accented berry flavors and smooth finishes. The dramatic Jack London label-a replica of the wolf's head Jack London used as his signature stamp—has created tremendous consumer interest and recognition in the wines.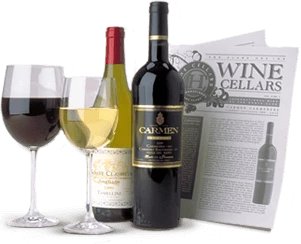 Enjoy Limited Production Estate
Bottled Wines
Discover limited production estate bottled wines such as Vergenoegd's internationally
acclaimed 2005 Cabernet Sauvignon, imported exclusively for our members.
DISCOVER OUR FOUR CLUBS