It is evident from the outset that Kenwood has fashioned another award winning Cabernet Sauvignon in the 2004 Jack London. Beginning with a richly endowed robe and a haunting aroma, replete with blackberry, currant, eucalyptus, and mint, the newly released 2004 Jack London Cabernet Sauvignon captures this terraced vineyard's unique terroir: the red-lava earth of Mount Sonoma, the warm eastern sun, and the cooling afternoon sea breeze much like the author's stories invoke all the physical and elemental sensations of nature. And remarkably, with only fifteen or twenty minutes of breathing time, this young, but well-balanced Cabernet delivers to the palate all that it promises in the olfactory. From the very first sip, succulent, complex Cabernet flavors fill the mouth: blackberry, cassis, menthol eucalyptus, and currant, all beautifully imbued with oak. And once again, this Jack London's elegant ripe tannins are beautifully integrated into the wine, as are all twenty-four months of ageing that every Jack London Cabernet spends in French oak barrels. Certainly, some aeration improves the impressive 2004 Jack London Cabernet Sauvignon, but one of the real charms of this wine is not having to wait an hour or more for elemental drinking pleasure. Enjoy this youthful Cabernet at no more than 66° F and as often as you can. Anticipated maturity: 2008-2019.
A fine young Cabernet Sauvignon, such as the 2004 Kenwood Jack London, is ideally paired with rich, rewarding fare. Consequently, a prime cut of filet mignon, grilled over an open flame, lightly coated with a wild mushroom sauce, and served next to creamy mashed potatoes, remains one of our favorite pairings with this wine. Prime Rib of beef and leg of lamb provide other excellent tried and true accompaniments, but given this wine's connection to Jack London we suggest you dare to be adventurous. Consider tapping into the wild past of North America and sample what sustained many Native American tribes and the earliest Rocky Mountain men, buffalo, in the form of a nutrition-rich coffee-crusted bison filet. If you take this route, pay attention to the cooking time and temperature since bison provides a lean, quick-cooking cut of meat. Most cows' milk cheeses offer excellent companionship to this flagship wine as well. And when a vegetarian mood strikes, a spicy four-bean chili will satiate any appetite. Fortunately, an unadorned glass of the 2004 Kenwood Jack London is such a pleasurable experience, too. Enjoy!
Jack London infuses his best literature with palpable tension and excitement. Time and again London captures our imagination in a literary vice-grip that holds us suspended between the physical sensations of elemental nature and the refinements of civilization. In essence London impels us in his writing to consider the value of each. Similarly, the winemakers at Kenwood consistently offer the taster extraordinary sensory pleasure along with clean, artfully crafted flavors in the vineyard's Jack London Series Cabernet Sauvignon. London's life mirrored the polar pulls of the physical and the civilized. In his early years, London worked as an oyster pirate, he shipped on a seal-hunting expedition, and he joined the Yukon Gold Rush in 1897. At the turn of the century, however, London found literary success. As America's best-selling author, he acquired a significant fortune and in 1905 began acquiring farmland in Sonoma Valley to form Beauty Ranch. In contrast to his adventurous youth, London was committed to experimental and progressive farming techniques, such as controlling erosion and designing labor saving farm buildings. So, although deeply drawn to the native beauty of his land, London spent his final years fabricating a haven of comfort and civilized living at Beauty Ranch, which included some of Sonoma County's finest wines. After London's death in 1916, his sister managed the ranch until World War II when she was forced to let the land lie fallow. Thirty years later, London's grandson, Milo Shepard, replanted 130 acres of the vineyards, and in 1976 Kenwood Vineyards obtained exclusive rights to produce wine from the fruit of Jack London Ranch. Kenwood, founded in 1970, is committed to seeing that all of its Jack London wines are made exclusively from fruit produced on London's former estate.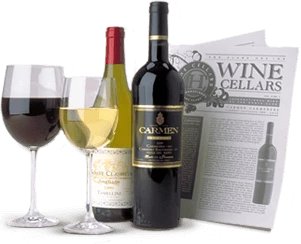 Enjoy Limited Production Estate
Bottled Wines
Discover limited production estate bottled wines such as Vergenoegd's internationally
acclaimed 2005 Cabernet Sauvignon, imported exclusively for our members.
DISCOVER OUR FOUR CLUBS