Joseph Perrier continues to craft traditional Brut Champagne and age it to perfection. While other Champagne houses have cut back on the ageing of their Brut Champagnes and have in many cases homogenized their blends, Joseph Perrier has stayed the course. The result is a creamy, sensuous, and eminently drinkable Joseph Perrier Cuvée Royale Brut, a full flavored exquisite Champagne crafted for an intimate evening. It is a special Champagne imbued with a golden glow and a delicate mousse of tiny sensual bubbles that crown the glass. Cuvée Royale is indeed Brut Champagne fit for kings and queens. Soft scents of acacia, daffodil, and citrus peel tantalize the nose. In the mouth, Cuvée Royale caresses the palate with balanced precision as it offers hints of apple and hawthorn that meld imperceptibly with the savor of freshly baked bread. However, what may be most ingratiating about Joseph Perrier's Cuvée Royale is its luxurious finish. Crisp but not acidic, Cuvée Royale makes its exit with regal dignity, and imparts to all participants in the spectacle the desire for the evening not to end. For optimal enjoyment, we initially suggest chilling Cuvée Royale Brut to 40º F or less and then allowing it to blossom in the glass as it sheds its chill and reaches towards ambient temperature. Enjoy!
Champagne is the wine of celebration, festivals, and feasts, and premier Champagnes such as the Joseph Perrier Cuvée Royale Brut need no other accoutrements than a clean, clear fluted glass to work their magic. Yet, delicate morsels and artfully prepared dishes enhance even the finest of Champagnes. Hors d'oeuvres such as canapés; smoked salmon with capers and cream cheese; exquisite sushi rolls made with salmon or sea bass, seaweed, cream cheese, and papaya; and blue crab mousse on French rounds all provide excellent accompaniments to Cuvée Royale Brut. Crawfish cocktails, crab claws, lobster, scallops, and Tahitian style salads complement this wine with aplomb, too. Light tempuras and most creamy, cow's milk cheeses offer good companionship as well. With Champagne the simplest preparation of the finest ingredients is often the best, so it is best to avoid hot, spicy, garlic laden sauces that can obliterate the delicacy, finesse, and unique flavor of Champagne.
Editor's Note: Champagne is a wine that is under pressure. It should always be well chilled before opening. Always exercise caution when opening a bottle of sparkling wine. Never use a corkscrew. Point the bottle away from people and objects. Use a clean towel or cloth to firmly grip the bottle. Gently remove the wire stopper while firmly holding the cork in place. Then with thumb and forefinger, remove the cork slowly from the bottle. Do not let the cork fly. Enjoy!
The Champagne House of Joseph Perrier was founded in 1825 at Châlons-sur-Marne by Joseph Perrier. Since its founding, this small prestigious maker of high quality Champagne has been in great demand among kings and connoisseurs. A favorite of Queen Victoria and Edward VII, Joseph Perrier can now be found only in select restaurants and wine shops. In France, many of the country's most renowned restaurants, including those awarded multiple stars by Michelin, consider the exquisite wines of Joseph Perrier to be a must for their demanding clientele.
Unlike most Champagne houses, Joseph Perrier grows a high proportion of its own grapes. The remaining grapes come from 30 select crus from the renowned Montagne de Rheims and La Côte des Blancs that have supplied Joseph Perrier from father to son for three and four generations. Cuvée Royale is the house's flagship wine and most traditional offering. It is a blend of 35% Pinot Noir, 35% Chardonnay, and 30% Pinot Meunier. In addition to Cuvée Royale, Joseph Perrier fashions small quantities of Blanc de Blancs, Rosé Brut, Demi-Sec, and vintage selections, including Cuvée Joséphine. All of Joseph Perrier's Champagnes are aged before release a minimum of three years and disgorged only upon demand.
Champagne is an ancient province of France, a pastoral land of meadows, streams and, most importantly, chalk hills upon which some of the world's choicest grapes are grown. Champagne's boundaries are delimited by law and its wines strictly regulated by the laws of Appellation Contrôlée as to permitted grape varieties (primarily Chardonnay, Pinot Noir, and Pinot Meunier), yield, production, and quality. Yet, Champagne is more than a place; it is also a wine. In fact, Champagne is several different wines – only the most recognizable of which is white and bubbly.
Although Champagne can be still or sparkling, white or red, and even rosé, the wine the world has come to know as Champagne is always sparkling. So synonymous now is the name Champagne with sparkling wine that the nomenclature has been applied generically and indiscriminately to any wine that bubbles, much to the regret of the Champagne producers themselves. Authentic Champagne comes only from the Champagne district of France and meets all the approved legal requirements and standards of production, including absolute adherence to the painstaking Méthode Champenoise, which requires that secondary fermentation take place in the bottle for sparkling Champagne.
The magic of Champagne (at least the bubbly kind that now encompasses the overwhelming majority of wine produced in Champagne) comes from encapsulating the bubbles in the very bottle in which the wine starts its life. In the old days, long before the advent of technical wine equipment, temperature control, and central heating, the slow fermentation of grapes in the cool Champagne autumn was often interrupted by winter's chill. With the onset of winter, fermentation would stop completely or at least appear to cease, so the wine was bottled and prepared for distribution. However, the following spring temperatures would rise and the fermentation process would begin anew. This delayed completion of fermentation is known as secondary fermentation. Secondary fermentation produces the beautiful bubbles and tiny streams of carbon dioxide that have come to enchant several centuries of well-wishers and hedonists. What began as serendipity is now one of the wine world's highest art forms.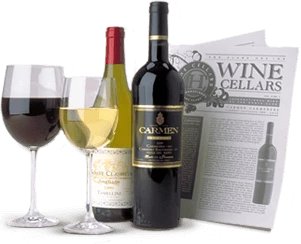 Enjoy Limited Production Estate
Bottled Wines
Discover limited production estate bottled wines such as Vergenoegd's internationally
acclaimed 2005 Cabernet Sauvignon, imported exclusively for our members.
DISCOVER OUR FOUR CLUBS