A ripe, gentle, personality-filled Chablis, the 2006 Joseph Drouhin Premier Cru Chablis hits all of the high notes in an impeccably balanced, pristine format. From its light, golden green glow and pure refreshing aroma of fresh-picked apples, coriander, orange zest, and minerals to its creamy texture and clean, racy finish, the 2006 Drouhin Premier Cru Chablis reveals the subtle complexity and ultimate charm of authentic Premier Cru Chablis. The true beauty of this Premier Cru lies in its balance; it is ripe but not overblown, fresh but not sharp, and so very easy to drink. It is lovely wine now but will continue to deepen in flavor and improve in bottle for several more years. For optimum enjoyment, we suggest serving this Premier Cru Chablis only moderately chilled at least initially (no more than 40º F), and then allowing it to shed its chill as you sip it over time. Patience will repay the taster and reveal all the charm inherent in this authentic Chablis. For the overzealous, and we understand the tendency in the face of temptation, we strongly recommend you have a second or third bottle on hand.
Premier Cru Chablis is perhaps the planet's greatest still aperitif, but having made such a bold proclamation we believe it is equally true that Premier Cru Chablis and seafood are practically synonymous. Among world-renowned chefs and serious food aficionados there is an unwritten rule that states that Chablis and seafood were made for one another, and with the 2006 Joseph Drouhin Premier Cru Chablis we see no reason to play the contrarian. Considering this wine's origins in Kimmeridgian soil from atop an ancient sea bed, it should come as no surprise that the fruits of the sea, especially shellfish, provide a vast array of gastronomic delights to accompany Drouhin's Premier Cru Chablis. Steamed lobster or King Crab served with drawn butter is one of our most memorable pairings. Raw, steamed, or sautéed oysters, clams, and mussels constitute equally impressive accompaniments. Scallops provide a myriad of complements, too. Caviar offers yet another impressive marriage. However, as exquisite as seafood can be for those who love it and can eat it, the wonders of the sea need not constitute the sole partners with this wine. This Premier Cru Chablis shines with chicken and simply prepared game birds, too, as well as with creamy cow's milk cheeses. Brie, Camembert, and other crusted cheeses offer splendid accompaniments and require very little preparation. Salut!
Joseph Drouhin is one of the most respected names in the world of wine. Founded in 1880 by Joseph Drouhin, this prestigious Burgundy firm is presently being run with great critical and commercial success by the fourth generation of the Drouhin family: Frédéric, Laurent, Philippe, and Véronique Drouhin are firmly at the helm. They have taken over for their legendary father, Robert, who retired in 2003. A négociant (wholesale merchant) and domain grower and producer, Maison Joseph Drouhin fashions many of Burgundy's greatest red and white wines, including several spectacular Premier Cru and Grand Chablis, and the celebrated Marquis de la Guiche Montrachet, a wine that has been called "the world's greatest white wine." Furthermore, the tremendous critical acclaim Drouhin's wines have received across the board in recent years underscores just how terrific the entire Drouhin portfolio is from top to bottom. Beholden of 150 acres of prime Burgundy vineyards, which are spread throughout the region's top communes, plus 125 acres in Oregon, one could spend a lifetime discovering the wines of Burgundy and the lure of Chardonnay and Pinot Noir, without ever leaving Maison Drouhin. Equally adept with Chardonnay and Pinot Noir, Maison Drouhin possesses some of the finest vineyards in Chablis and Chassagne-Montrachet for white wines and equally superb holdings for reds on both the Côte de Beaune and Côte de Nuits. All of Drouhin's estate wines are grown and produced using sustainable methods of agriculture. The Drouhin fields are plowed and natural compost is spread; and wild grass still grows between the vineyard rows, which means no chemical fertilizers or herbicides are ever used. Moreover, Maison Drouhin has for years used the most natural weapons against insects and vine diseases by introducing natural bacteria and predators into the vineyards, rather than resorting to systemic control through chemicals. All of Maison Drouhin's grapes remain hand harvested and, for the estate's red wines, only natural, wild yeasts are employed during fermentation. The results are simple: Drouhin produces only the best at every level of quality. Chablis Chablis is a distinct part of Burgundy as well as one of the world's finest white wines. Since the 12th century, when Cistercian monks introduced Chardonnay into the region, the name Chablis has been synonymous with outstanding white wine. No wonder, then, that so many generations of California producers tacked the name Chablis onto their inferior generic wares, hoping to elevate their simple white wines in the eyes of consumers. Today, all authentic Chablis is derived exclusively from Chardonnay grapes that are grown in Chablis' chalky, limestone-rich soil known as Kimmeridgian. The name Kimmeridgian is in reference to an identical landmass that scientists identified in England's Kimmeridge Bay. Chablis possesses one of the world's greatest terroirs for the cultivation of white grapes; the Chablis appellation (A.O.C.) sits upon what was once the floor of an ancient sea bed dating from the Second Jurassic Period (also known as Kimmeridgian) that now feeds the region's Chardonnay vines. Because of this special terroir, Chablis yields unique, dry, mineral rich wines of considerable finesse and flavor. The French National Institute of Appellation d'Origine Controlée (A.O.C.) recognizes four distinct areas of Chablis: Petit Chablis, Chablis, Chablis Premier Cru, and Chablis Grand Cru. All offer the taster a special experience. However, in recent years it is the Chablis and Premier Cru appellations that have come to fore, producing some of the region's finest quality and value. In total all four districts of Chablis cover just 7,000 hectares (15,400 acres). The best parcels typically occupy the region's hillsides, making such choice parcels in Chablis and the surrounding Premier Cru and Grand Cru vineyards the most apt to yield the region's fullest, most complex wines.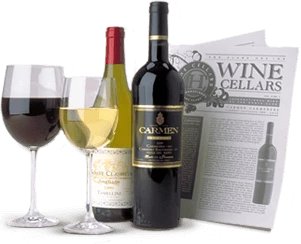 Enjoy Limited Production Estate
Bottled Wines
Discover limited production estate bottled wines such as Vergenoegd's internationally
acclaimed 2005 Cabernet Sauvignon, imported exclusively for our members.
DISCOVER OUR FOUR CLUBS