The 2005 Joseph Drouhin Chorey-les-Beaune is a tour de force in winemaking and perhaps the finest Chorey-les-Beaune ever made. From Drouhin's own holdings, this dandy exudes the essence of Côte de Beaune Pinot Noir. It is bright, pure, and packed with juicy fruit. Cherry and almond tones caress the nose and mingle in the wine's pinpoint center, while for added pleasure the 2005 Drouhin Chorey-les-Beaune is further endowed with the scent of Oriental spice. The latter displays itself in the form of cinnamon, nutmeg, and clove – flavors that pervade only the finest examples of Burgundian Pinot Noir in the best of vintages. And while imbued with plenty of charm and flavor, this sprightly Côte de Beaune retains a lightness and finesse that set it apart. From beginning to end, this red Burgundy is both fulfilling and refreshing. Moreover, the 2005 Joseph Drouhin Chorey-les-Beaune could easily double as the poster child for Pinot Noir. Drink this exemplary Chorey-les-Beaune now and for as long as you can get your hands on it. Anticipated maturity: 2007-2012.
Food? Who needs food with the 2005 Joseph Drouhin Chorey-les-Beaune? No one, more than likely, but why settle for half the fun when you can have double the pleasure? A glass of Drouhin's outstanding 2005 Chorey-les-Beaune with a simple, well-prepared meal and there is no limit to life's goodness. And certainly traditional Burgundy favorites, such as Coq au Vin and Boeuf Bourguignon, offer the promise of gastronomic delight with this wine, but one need not be trained in the art of French country cooking to field a meal fit for this Burgundy. Drouhin's Chorey-les-Beaune will shine equally well in the company of a roast chicken or turkey, especially one that has been dressed with a savory bread and sage stuffing. A simple veal stew, quiche, onion and leek tart, or even just a loaf of good French bread with a full cream, un-crusted cheese will fill the bill with this magical Chorey-les-Beaune, so . . . bon appétit!
Joseph Drouhin is one of the most respected names in the world of wine. Founded in 1880 by Joseph Drouhin, this prestigious Burgundy firm is presently being run with great critical and commercial success by the fourth generation of the Drouhin family: Frédéric, Laurent, Philippe, and Véronique Drouhin. They have taken over for their famous father Robert, who retired in 2003. Both négociant (wholesale merchant) and domain grower and producer, Maison Joseph Drouhin fashions many of Burgundy's greatest red and white wines, including Marquis de la Guiche Montrachet, a wine that has been called "the world's greatest white wine." Furthermore, the tremendous critical acclaim Drouhin's wines have received across the board in recent years only underscore just how terrific the entire Drouhin portfolio is from top to bottom. Beholden of 150 acres of prime Burgundy vineyards spread throughout the region's top communes, plus 125 acres in Oregon, one could spend a lifetime discovering the wines of Burgundy and the lure of Chardonnay and Pinot Noir without ever leaving Maison Drouhin. Equally adept with Chardonnay and Pinot Noir, Maison Drouhin possesses some of the best vineyards in Chablis and Chassagne-Montrachet for white wines and equally superb holdings for reds on both the Côte de Beaune and Côte de Nuits. All of Drouhin's estate wines are grown and produced using sustainable methods of agriculture. The fields are still plowed, natural compost spread, and wild grass still grows between the vineyard rows, which means no chemical fertilizers or herbicides are ever used. Moreover, Maison Drouhin has for years used the most natural weapons against insects and vine diseases by introducing natural bacteria and predators into the vineyards, rather than resorting to systemic control through chemicals. All of Maison Drouhin's grapes remain hand harvested and for the estate's red wines only natural, wild yeasts are employed during fermentation. The results are simple: Drouhin produces only the best at every level of quality.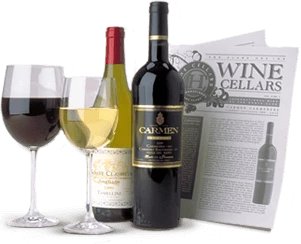 Enjoy Limited Production Estate
Bottled Wines
Discover limited production estate bottled wines such as Vergenoegd's internationally
acclaimed 2005 Cabernet Sauvignon, imported exclusively for our members.
DISCOVER OUR FOUR CLUBS