Josep Grau's bold-flavored 2017 Vespres Monstant provides ample testimony as to why Grau's wines are consistently among the appellation's finest. Born of old vines of Garnacha (Grenache) and Samsó (Carignan) in a 4-1 ratio, many of which are 100 years of age, the 2017 Vespres bears a purple, nearly impenetrable color, and a delightfully sensual aroma of woodland berries, wild herbs, and exotic spices infused with a hint of wood smoke. In the mouth, the wine satiates the palate with deep-down fruit flavors, an intriguing hint of Montsant's mineral-rich soils, most notably the black llicorella, and plenty of firm tannins to guarantee a decade of fine drinking. For optimal enjoyment, we suggest affording Josep Grau's full-bodied 2017 Vespres Montsant an hour of aeration, preferably in a decanter, before consuming it at cool room temperature (no more than 58°-62º F). Enjoy!
Big, bold Montsants such as Josep Grau's 2017 Vespres are made for the table. Fine cuts of meat, hearty country cooking, and heady sauces make fines companions to Josep Grau's 2017 Vespres. Roast Leg of Lamb, prepared with a marinade of rosemary, thyme, olive oil, garlic, pepper, and lemon juice; Beef Tenderloin, broiled to perfection; Loin Veal Chops, served with shitake mushrooms and an herb pilaf; and Roasted Quail, stuffed with apple-smoked bacon and mushrooms served over a corn based risotto, all provide wonderful companions to Josep Grau's full-bodied Montsant. Cassoulets and other regional Mediterranean specialties such as Chicken with Black Olives and Capers, Parmesan Risottos, and Porcini Mushroom Crepes also make splendid accompaniments. Buon Provecho!
Josep Grau founded Vespres more than a decade ago in the venerable Priorat region of Spain's Catalonia. Grau purchased old vines of Garnatxa (Grenache) and Samsó (Carignan) in the traditional Priorat villages of Marca, Cacanes, and Falset. Many of these vines are over 100 years of age. Subsequently, Montsant, the equally intriguing horseshoe shaped appellation that encircles the original Priorat D.O., received its own status as a D.O., or appellation. Priorat and choice parts of Montsant, too, share a unique soil called llicorella, the Catalan word for licorice, chosen to describe the black, somewhat shiny rocky substrate that permeates the region. The special terroir of these appellations is high in mineral content, which allows for a refined interplay between ripe, flavorful fruit and subtle minerality, a winsome combination in Grau's outstanding Montsant.
Grau is an engaging, passionate man who obviously loves his work. We have had the pleasure of visiting Montsant and spending time with Grau at his winery and charmingly restored bed and breakfast, surrounded by vineyards and in plain view of the forbidding mountains that encircle the appellation. Two things impressed us most about Josep: his modesty and his willingness to experiment with all of the appellation's varietals in order to fully express the distinction and ultimate greatness of Montsant. And Josep's recently completed winery has helped him push the envelope even further on quality, placing him among the top producers in Montsant.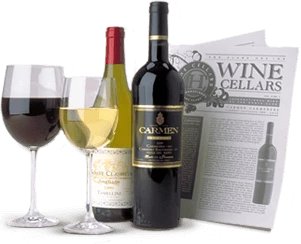 Enjoy Limited Production Estate
Bottled Wines
Discover limited production estate bottled wines such as Vergenoegd's internationally
acclaimed 2005 Cabernet Sauvignon, imported exclusively for our members.
DISCOVER OUR FOUR CLUBS