Only 216 cases of Josep Grau's complex, sensual La Florens was produced in 2014, which is the average annual yield from the ancient century old Garnacha vines used for La Florens. The result is a Montsant of incomparable finesse and impeccable pedigree. The 2014 La Florens sports a brilliant ruby robe with flashes of violet, but more importantly, it possesses an alluring set of aromatics and flavors that offer a subtle but an entrancing array of forest woodlands, wild blackberries and exotic spices as well as a gentle deep down minerality that provides flavor as well as impeccable balance. Ripe but well-integrated tannins add structure and counterpoint to the tender aspects of this young wine, while La Florens' year-long stay in large Stockinger oval barrels of Austrian oak allows the wine to retain its fruit, an incomparable freshness, and a certain suavity and complexity – attributes that are noticeably absent in lesser Montsants. As a young luxury Montsant that is loaded with flavor, the 2014 La Florens will benefit from some time to breathe. For optimal enjoyment we suggest at least 30 minutes or longer in a decanter before enjoying it at cool room temperature (about 62º F).
A flavorful, sophisticated wine such as the 2014 Josep Grau La Florens Montsant begs to be paired with foods of equal pedigree, or nothing at all. The finest cuts of meat, complex sauces, and simple dishes made from the freshest ingredients provide all that the 2014 La Florens needs to please the palate. Roast Leg of Lamb, prepared with a marinade of rosemary, thyme, olive oil, garlic, pepper, and a touch of lemon juice; Beef Tenderloin, broiled to perfection; Loin Veal Chops, served with shitake mushrooms and an herb pilaf; and Roasted Quail, stuffed with apple-smoked bacon and mushrooms, served over a corn based risotto, all provide wonderful companions to Josep Grau's complex, mineral driven 2014 La Florens Montsant. Regional Mediterranean specialties such as Chicken or Pork with Black Olives and Capers, Parmesan Risottos, and Stuffed Porcini Mushroom Cepes offer more tantalizing options with which to enjoy the 2014 La Florens. Enjoy!
Josep Grau founded his estate, formerly known as Celler Dosterras, in the venerable Priorat region of Spain's Catalonia. Beginning in the late 1990s, Grau purchased old vines of Garnatxa (Grenache) and Samsó (Carignan) in the traditional Priorat villages of Marca, Cacanes, and Falset. Many of these vines are over 100 years of age. Subsequently in 2002, Montsant, the equally intriguing horseshoe shaped appellation that encircles the original Priorat D.O., received its own status as a D.O. or appellation. Priorat and choice parts of Montsant, too, share a unique soil called llicorella, the Catalan word for licorice, chosen to describe the black, somewhat shiny rocky substrate that permeates the region. The special terroir of these appellations is high in mineral content, which allows for a refined interplay between ripe flavorful fruit and subtle minerality, a winsome combination in Grau's outstanding Montsants. Especially intriguing is Grau's La Florens Montsant, the estate's flagship offering made from 100% Garnacha from a single plot of vines over 100 years of age.
Grau, an enologist, is an engaging, passionate man who obviously loves his work. On a visit to Priorat several years ago, we had the opportunity to spend quite a bit of time with Grau and to speak to him at length about his wines while we stayed at the winery turned charming bed and breakfast in the midst of Grau's vineyards and in plain view of the forbidding mountains beyond that encircle Montsant. Two things impressed us most about Josep: his modesty and willingness to experiment with all of the appellation's varietals in order to fully express the distinction and ultimate greatness of Montsant.
In addition to La Florens, Grau fashions two other delicious Montsants: Vespres, a traditional Montsant made from a blend of the region's three main grapes, and Volador, a tasty early drinking Monstant also made from the region's traditional grapes whose vines are between 30 and 50 years of age.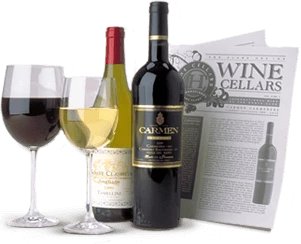 Enjoy Limited Production Estate
Bottled Wines
Discover limited production estate bottled wines such as Vergenoegd's internationally
acclaimed 2005 Cabernet Sauvignon, imported exclusively for our members.
DISCOVER OUR FOUR CLUBS