Wines express not only the personality of the vineyard, they also reveal the character of the winemaker. This is certainly true of Josef Jamek's 2021 Stein am Rain Grüner Veltliner Federspiel (93 Points – Wine & Spirits). The handiwork of a great winemaker and the extraordinary 2021 vintage, the 2021 Josef Jamek offers crystalline intensity and laser-like precision. Lightly fruity with green apple, pear, and lemon zest, Josef Jamek's Stein am Rain Grüner Veltliner Federspiel is racy, delightfully fresh, and increasingly complex. Great minerality adds additional vivacity and an explosive finish. Intense and long in the mouth, Jamek's youthful 2021 Stein am Rain Grüner Veltliner Federspiel is a joy to drink now, yet it will continue to mature and evolve in bottle for several more years. For optimal enjoyment we suggest serving Jamek's 2021 Stein am Rain Grüner Veltliner moderately chilled (40°-45° F). Anticipated maturity: 2023-2028. Enjoy!
With a wine of laser-like precision and crystalline intensity such as the 2021 Josef Jamek Stein am Rain Grüner Veltliner Federspiel, a clean glass is all one needs to enjoy this wine, but alas… that would be shortsighted. So, why not phone some friends, set the table, and prepare a special meal? Sea Scallops, sautéed in a delicate cream sauce with roasted pistachios; Stir Fried Vegetables with cashews; Poached Sea Bass, served with white asparagus and thinly shaved prosciutto; and Thai Chicken and Basil, served with a medley of lightly spiced vegetables are just a few of our favorite pairings with Jamek's 2021 Stein am Rain Grüner Veltliner Federspiel. A traditional Weiner Schnitzel provides another excellent accompaniment to this wine. Yet, whether seafood, traditional Viennese fare, a scrumptious pâté, Asian stir fry, or just persnickety vegetables such as artichokes and asparagus are on the menu, Josef Jamek's 2021 Stein am Rain Grüner Veltliner Federspiel is ready to stand and deliver. Prost!
In Austria, Josef Jamek is revered for the great quality of the wines that bear his name. A hidden hero for much of his life, Josef Jamek played a crucial role in the history of Austrian winemaking as one of the small number of pioneers in the 1950s who embraced quality wines and launched quality designations for dry, non-chaptalized wines with lower natural alcohol levels.
Located in the famed Wachau Valley, the fourth generation of Jameks are now in charge. They cultivate 25 hectares (nearly 62 acres) in the most renowned locations in the Wachau. From the estate's steep slopes high above the Danube, Josef Jamek's vineyards yield Grüner Veltliner and Riesling of extraordinary quality, resulting in cult status for their aromatic purity and complex flavors.
In addition to managing an iconic winery, the Jamek estate also runs a lovely restaurant next to the Danube in Joching, where regional specialties and the winery's exceptional wines delight the palates of those fortunate enough to be in the know.
Grüner Veltliner is Austria's most important white grape variety. Moreover, it has recently garnered iconic status as the magical varietal behind the wines of the same name, which are among the world's most unique. Grown in nearly all of the major wine producing regions of Austria, Grüner Veltliner is at its best atop the steep hillsides of the Wachau above the Danube River, around Vienna, and in Austria's Burgenland. In the hands of a skilled winemaker, Grüner Veltliner can yield a fresh, lively wine for near term consumption as easily as a concentrated, complex wine that is capable of long maturation. In either case, Grüner Veltliner offers tremendous flavor, lively fruit, spicy accents, and a citrus-like freshness that make it a perfect match for many difficult to pair dishes.
Along the Danube, as it passes out of the mountains and courses towards Vienna and the East, lies a fortuitous, idyllic set of curves in the river. Here the Danube widens and slows, passing smoothly and calmly by the small villages and mighty terraced hillsides known as the Wachau Valley. Renowned for centuries as a prime location for the growing of vines and tree fruits, as these enchanted slopes above the river provide access to long days of sunlight and fresh cool breezes from the forests just to the north, this small region has again in the past two decades vaulted to the forefront of quality in the production of Austrian wines.
It is in the Wachau where a group of growers founded the Vinea Wachau Nobilis Districtus, a growers' association to protect and promote the unique character of the region's wines. There are three categories of wine, each a legal designation and trademark: Steinfeder (meaning the lightest or "feather light") – which are easy-drinking wines that are mostly consumed locally; Federspiel (named for the instrument used in the call and tether aspect of falconry) – exemplary of a house style, these are the classic wines of the middle harvest that can be enjoyed young or after several years of aging; and Smaragd ("Emerald" for the small green lizards that live on the stone terraces of the vineyards) – the reserves, the "crown jewels" of the region, typically single vineyard designated wines of more than 12.5% alcohol that are capable of long term aging and development. They are typically higher in alcohol even than Federspiel, and they often contain residual sugar. Consequently, Federspiel wines with their laser-like precision are the most sought after of Austrian wines, especially on this side of the Atlantic.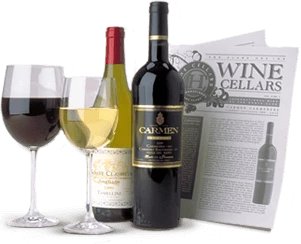 Enjoy Limited Production Estate
Bottled Wines
Discover limited production estate bottled wines such as Vergenoegd's internationally
acclaimed 2005 Cabernet Sauvignon, imported exclusively for our members.
DISCOVER OUR FOUR CLUBS