"It tastes like Puligny-Montrachet," quipped one panel member. "Are you sure this wine comes from Tasmania?" asked another. The 2014 Josef Chromy Tasmania Chardonnay does taste like Premier Cru white Burgundy and it is indeed from Tasmania, presently the source of many of the greatest Chardonnay, Pinot Noir and sparkling wines from the Land Down Under. The 2014 Josef Chromy offers up a brilliant robe, savory scents of ripe apple and peach along with hints of hazelnut, Asian spices and toasted oak, before entering the mouth with its cornucopia of flavors. On the palate, this young Chardonnay explodes, presenting copious quantities of fruit, spice, vanilla and plenty of polished oak tones. Medium to full-bodied, the 2014 Josef Chromy Chardonnay not only packs plenty of savory fruit and spice flavors, it possesses excellent minerality and bright acidity in the form of lime zest that lead to a long intense finish. This Josef Chromy offering is quite exceptional now, though very young. If previous vintages of this Chardonnay are any indication (all with above 90 point ratings and capable of long maturation), one could cellar the 2014 Chromy Chardonnay for at least a few more months, as patience will be greatly rewarded. And, given that Chromy's Chardonnay shares an affinity with young Puligny–Montrachet, it wouldn't hurt to wait even a couple of years before opening a bottle of Josef Chromy's flagship Chardonnay, as this long-lived white wine will continue to evolve. We suggest only moderate chilling of this exemplary Chardonnay (40º-50º F), as colder temperatures tend to numb the wine and rob it of its elegant, nuanced flavors. Anticipated maturity: 2015-2020.
Chardonnay complements a wide variety of foods from avocado to tahini and plenty of other foods in between. Made in the style of top-flight Puligny-Montrachet and with the care of the finest Sonoma County Reserve Chardonnays, the youthful, complex 2014 Josef Chromy Chardonnay provides the perfect foil to fresh-caught white fish, shellfish, poultry and salads. Matt Adams, Head Chef at Josef Chromy's restaurant, has gained renown by pairing fresh local ingredients to complement the winery's award winning wines. One of Matt's dishes to pair with Josef Chromy Chardonnay is fresh-caught fish served in a warm cider emulsion with mussels, leeks, apple, hazelnut, ginger and pearl barley. The spice elements in the wine ideally complement the complex notes in the dish. Some of our favorite tried and true accompaniments to serve with the 2014 Josef Chromy are French classics: Suprêmes de Volailles (Breast of Chicken with cream) and Escalopes de Veau (Sautéed Veal Medallions with mushrooms and cream). Both recipes have stood the test of time and make ideal accompaniments to the finest Chardonnay. They also bring out the potential and hidden secrets in the soul of Chardonnay. Enjoy!
A generation ago, fine wine was confined to a limited number of well-known wine regions, or at least that was the consensus of the world's self proclaimed wine connoisseurs and purveyors of fine wines. Today, few would be so bold or totally clueless to state that only Bordeaux produces great Cabernet Sauvignon and Burgundy top notch Chardonnay, or that exceptional Sangiovese hails only from Tuscany. Our tasting panels never know where the next great wine to delight members' palates will come from. One day it may be Uruguay in the guise of Tannat and the next day Tasmania in the form of exceptional Chardonnay and Pinot Noir.
Josef Chromy Wines in Tasmania, the cool, clean green island that forms Australia's smallest state, is the source of our latest wine. Josef Chromy is a man with an incredible history. Josef fled his war-ravaged Czech village in 1950 as a penniless 19-year-old after eleven years of Nazi and Soviet occupation. He escaped across borders guarded by minefields, dogs and soldiers, suffering five months of privation before immigrating to Australia. At the end of his odyssey, he settled in Tasmania where he used his skills as a master butcher to build one of Australia's leading food companies. In the early 1990s, he began investing his money in Tasmania's fledgling wine industry and has developed or owned some of Tasmania's leading wineries including Rochecombe (now Bay of Fires), Jansz, Heemskerk and Tamar Ridge.
At 76, when most people would be long past retirement age, Joe launched Josef Chromy Wines in December 2007. In less than decade, Josef Chromy has become not only one of Tasmania's leading wineries; it is now ranked among the top wineries in all Australia, garnering more than 184 trophies and medals for its wines. Chardonnay and Pinot Noir are the estate's most celebrated wines, though excellent Merlot and Gewurztraminer are also produced by Josef Chromy Wines.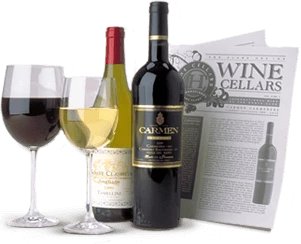 Enjoy Limited Production Estate
Bottled Wines
Discover limited production estate bottled wines such as Vergenoegd's internationally
acclaimed 2005 Cabernet Sauvignon, imported exclusively for our members.
DISCOVER OUR FOUR CLUBS