Joel Gott has once again created a stunning classic in his 2011 Oregon Pinot Gris. Gorgeous fruit, bright acidity, and subtle minerality in this offering add up to one easy drinking, spellbinding Oregon Pinot Gris. Gott's 2011 Oregon Pinot Gris outshines the vast majority of New and Old World wines made from this varietal. It's not buttery or complex, and for that we're thankful. Instead of smoke and mirrors, Gott's Pinot Gris displays plenty of natural spunk and verve as well as body and structure. As one would expect from Joel Gott, there's no trace in this wine of the vapid, lackluster commercial renditions of Pinot Gris or Pinot Grigio (its European counterpart) that abound in the market. Instead, supreme freshness, pure ripe fruit, subtle spice and a racy finish make this wine a downright pleasure to drink.
As Joel Gott's 2011 Oregon Pinot Gris goes down ever so easily, it doesn't need much to shine. We enjoyed it immensely as an aperitif and probably would have continued to do so, if various appetizers and entrees hadn't arrived in the nick of time. For the record, Shrimp Scampi and Chicken Saltimbocca pair nicely with Gott's fun filled Pinot Gris. A simple shrimp cocktail, spring roll, fish taco, or spinach salad provides good companionship, too. A slice or two of thin-crusted vegetable pizza pairs nicely as well. However, fish and shellfish may for many be the choice accompaniment to Gott's 2011 Oregon Pinot Gris. Clams on the half shell, fried oysters, and broiled scallops all make a splendid appearance with this wine, but then again so will almost any salad or uncomplicated dish. Enjoy!
Joel Gott is a legend at a young age.  The offspring of fourth generation California winemakers, Gott was riding a tractor at his family's farm at 4 years of age and has been involved in numerous wine and food enterprises since he was a teenager.  Gott also ran the now famous Taylor's Refresher drive up restaurant in Napa when noted wine critic Robert Parker Jr. named this eatery as the source of one his top ten meals of 1999, and in 2006 Taylor's was honored with a James Beard Foundation Award.  But these accolades are just the tip of the iceberg, or perhaps more appropriately in Gott's case the skin of the grape.
Gott has been making knock-out wines for nearly two decades.  A partner in several successful and highly acclaimed wine ventures, his most notable successes remain the production of bodacious red and white wines at the Joel Gott Winery.  Each year Gott produces a host of wines in small lots, with the most renowned offering being his Dillian Ranch Amador County Zinfandel from Tom Dillian's dry-farmed 20 acre vineyard in Plymouth, California.  Planted between 1920 and 1948, Dillian Ranch is a shy-bearing vineyard that produces each year as little as three quarters of a ton of fruit per acre and one of California's most memorable Zinfandels.
However, Gott's Dillian Ranch Zinfandel is hardly his only claim to fame.  Equally impressive is his recent success with Oregon Pinot Gris (this month's feature) and Alakai, a knockout Rhône style blend of Grenache, Syrah, Mourvèdre, and Petite Sirah that outshines the vast majority of Côtes-du Rhône offerings.  Joel also fashions Monterey Chardonnay from low yield vines in a cool corner of Monterey as well as a bevy of other high quality affordable California varietals, including excellent Cabernet Sauvignon.  Is there anything this guy can't do?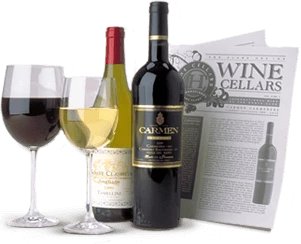 Enjoy Limited Production Estate
Bottled Wines
Discover limited production estate bottled wines such as Vergenoegd's internationally
acclaimed 2005 Cabernet Sauvignon, imported exclusively for our members.
DISCOVER OUR FOUR CLUBS