Joel Gott's 2008 Monterey Chardonnay remains a relative secret in spite of its growing reputation as one of California's best white wine quaffs. It was a huge hit with the tasting panel, too. With seven or eight bottles of Chardonnay up on the table, the one they all wanted to finish was Gott's Monterey offering. Bright, crisp, and oh so easy to drink, it makes us wonder why more California producers can't make Chardonnay like this. So aromatic, cool, and long on flavor, Gott's Monterey Chardonnay could almost be mistaken for a flamboyant French Chablis, which like Gott's Chardonnay spends no time in oak. What shines through are crisp intense aromatics that carry the breath of spring. Citrus, green apple, orange blossom and a whole lot more dazzle the nose and follow through on the palate with intense fruit and a full, dry, balanced finish. No oak, no smoke, no mirrors, Joel Gott's Monterey Chardonnay is just plain fun to drink, so enjoy! For optimal pleasure we suggest moderate chilling (40º-45º F).
As an aspiring American classic the 2008 Joel Gott Monterey Chardonnay is the ideal companion to serve as an aperitif or with great American fare. So, why not try this racy Chardonnay with fried catfish and hush puppies; barbecued chicken with Vidalia onion rings; or sizzling fajitas accompanied by a side of guacamole and hot corn chips? However, lest we pigeon hole this Monterey beauty, it will surely provide a superb foil to more eclectic fare as well. Delicate tempura favorites such as shrimp, scallop, calamari, and octopus will shine with this wine. Artfully prepared sushi and sashimi offer more rewarding choices. Ripe cow's milk cheeses and fresh tropical fruits such as mango and papaya won't disappoint either. Enjoy!
Although still on the shy side of 40, Joel Gott has become a legend in wine circles. The offspring of fourth generation California winemakers, Gott was riding a tractor at his family's farm at 4 years of age and has been involved in numerous wine and food enterprises since he was a teenager. Gott also ran the now famous Taylor's Refresher drive-up restaurant in Napa when noted wine critic Robert Parker Jr. named this eatery as the source of one his top ten meals of 1999, and in 2006 Taylor's was honored with a James Beard Foundation Award. But these accolades are just the tip of the iceberg, or perhaps more appropriately in Gott's case, the skin of the grape. Gott has been making knock-out wines for more than fifteen years. A partner in several successful and highly acclaimed wine ventures, his most notable success remains the production of bodacious wines at the Joel Gott Winery. Each year Gott produces a host of wines in small lots at his winery, with the most renowned offering being his Dillian Ranch Amador County Zinfandel from Tom Dillian's dry-farmed 20 acre vineyard in Plymouth, California. Planted between 1920 and 1948, Dillian Ranch is a shy bearing vineyard that produces as little as three quarters of a ton of fruit per acre and one of California's most memorable Zinfandels. However, the Dillian Ranch Zinfandel is hardly Gott's only claim to fame. Recently, Joel has begun fashioning a Monterey Chardonnay as impressive as his many memorable Zinfandel wines. Produced from low yield vines in a cool corner of Monterrey, Gott's Chardonnay is one of California's best kept secrets. To further the ante, Joel is making a name for himself among savvy consumers for a bevy of other high quality affordable California varietals, including Cabernet Sauvignon. Is there anything this guy can't do?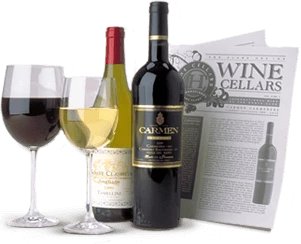 Enjoy Limited Production Estate
Bottled Wines
Discover limited production estate bottled wines such as Vergenoegd's internationally
acclaimed 2005 Cabernet Sauvignon, imported exclusively for our members.
DISCOVER OUR FOUR CLUBS