Jackson Estate is truly one of the most consistent wines estates we have encountered. In every vintage, this estate seems to have the uncanny ability to clone its sublime Sauvignon Blanc, and the 2002 Jackson Estate Sauvignon Blanc is no exception. It exhibits the telltale bouquet and flavor of tropical pineapple, fresh mown grass, gooseberry and ripe melon, infused with lichee and traces of other exotica. Reminiscent of a good French Sancerre or Pouilly Fume, the Jackson Estate is balanced by a crisp acidity. In short, the 2002 Jackson Estate Sauvignon Blanc is a distinctive and consistently delicious Marlborough Sauvignon Blanc a wine that captures all the finest attributes of Sauvignon Blanc and epitomizes the unique character of the region. Enjoying near cult status for its expressive, personality-filled wines, it's easy to see why this estate was awarded classic wine status in New Zealand for its work with Sauvignon Blanc. Serve moderately chilled.
In New Zealand, steamed mussels are considered the premier accompaniment to the 2002 Jackson Estate Sauvignon Blanc, and we certainly wouldn't take issue with that notion. In fact, just about any bivalve, prepared in a myriad of ways, makes us want to break out another bottle of this first class Sauvignon Blanc. Well-prepared Low Country dishes also provide other memorable pairings, especially a classic Charleston Shrimp and Grits. The Jackson Estate holds up beautifully to the tasso cream sauce in the Shrimp and Grits and highlights the myriad of flavors in this grand old recipe. A seared Ahi Tuna, served rare with a flavorful Tahini sauce is another winning combination with the Jackson Estate. Actually, most fish, light pastas and even sausage dishes will also provide rewarding accompaniments to the 2002 Jackson Estate Sauvignon Blanc. Enjoy!
It has been more than one hundred and fifty years since Adam Jackson grew bountiful crops of wheat, oats and barley on the rich river silt soils of Marlborough's Wairau Plain. Today, Adam Jackson's great-grandson, John Stichbury produces some of New Zealand's most lauded wines on that same block of land and Marlborough is New Zealand's most important and not surprisingly most innovative viticultural area. At Jackson Estate a lofty gum tree, which once provided welcome shade for Adam Jackson and his team of horses to rest from tilling the soil, now overlooks row upon row of pristine vineyard. The timeless silhouette of this image against a clear sky has become an emblem of the family's long link with the land, and appears on the estate's wine label. This silhouette also serves as a reminder of the loneliness of the pioneer and the isolation inherent in the pioneering spirit. Fired by the same enjoyment of adventure and challenge that prompted New Zealand's early settlers to leave home and hearth for a new life in the colonies, John Stichbury, and other gentlemen farmers in Marlborough ventured into the noble endeavor of grape growing. Tempering an innovative spirit with practical wisdom gained in years of growing agricultural crops, Stichbury planted his first grapevines in 1988 and never looked back. Moreover, in 2001 Stichbury and most other premium Marlborough producers made the bold and daring decision to begin using screw caps, instead of corks, on all of their estate bottled wines. (See our ongoing Ask the Panel feature in last month and this month's newsletter.) Experience and inspiration have proved to be a winning mix for Stichbury, whose Jackson Estate wines have gone on to consistently win many awards and medals both in New Zealand and abroad. And more importantly, Jackson Estate's reputation for consistent quality and full-of-fruit flavor means the bottles seldom spend long on the shop shelf. In fact, we once again had difficulty procuring enough of this estate's superb Sauvignon Blanc.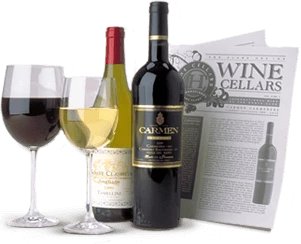 Enjoy Limited Production Estate
Bottled Wines
Discover limited production estate bottled wines such as Vergenoegd's internationally
acclaimed 2005 Cabernet Sauvignon, imported exclusively for our members.
DISCOVER OUR FOUR CLUBS