The 2005 Jack William Alexander Valley Sauvignon Blanc is a majestic example of California Sauvignon Blanc. In the words of one panel member, "it's a true Sauvignon Blanc drinker's Sauvignon Blanc." Furthermore, this blend of tank and barrel fermented Musque with other assorted Sauvignon Blanc clones makes an expert case for clone variation; at the same time it provides evidence that California has not forgotten how to make complex, dry, beautifully textured Sauvignon Blanc. Big and bursting with flavor, the 2005 Jack William weighs in at 13.9% alcohol. Yet, what shines through on the nose and palate is hardly alcoholic heat but a mélange of fig, melon, orange blossom, and tangerine, all of which are wedded to a smooth, textured body. Dry and refreshing to the last drop the 2005 Jack William could easily pose as the poster child for California Sauvignon Blanc. We suggest a good chill (about 40° F) on this youthful white, at least initially, before allowing it to evolve slowly in the glass as it strives toward ambient temperature.
Seafood and Sauvignon Blanc share a natural affinity and with a substantial portion of musque present in the 2005 Jack William Alexander Valley Sauvignon, the proclivity turns to downright attraction. Scallops, shrimp, lobster, and crab all provide wonderful accompaniments to David Ready Jr.'s premier release of Jack William. Clams, mussels, and most especially oysters pair superbly as well. The 2005 Jack William Sauvignon Blanc is the rare California Sauvignon Blanc that can match and even surpass the traditional French versions of Sauvignon Blanc (i.e. Sancerre and Pouilly-Fumé) when paired with shellfish. However, if seafood is simply not in the offering, pasta and poultry provide other tasty treats to serve with the young Jack William. Enjoy!
Jack William wines are a brand new wine venture created by David Ready Jr. David is the head winemaker for Murphy-Goode. David launched Jack William on his own in 2005 in response to his passion for producing small lots of handcrafted wines. All of the wines that bear the Jack William label have been made in an artisan manner from Alexander Valley's finest vineyards. In David's own words: "Jack William wines are my greatest passion. Named after my son, Jack William wines are representative of a legacy. My father passed on to me his love of wine and passion for the wine business, and I hope to pass on the same love and passion to my son. Nothing but the best will have Jack William's name on it. By focusing on small lots and by using exemplary vineyards I am able to handcraft wines that are able to stand the test of time." David Ready Jr. has been making wine in Alexander Valley for 18 years. David started his wine career as a cellar hand at Murphy-Goode. He is now one of California's most respected winemakers. The 2005 Jack William Alexander Valley Sauvignon Blanc is David's first release from Jack William. It is a combination of Murphy Ranch Sauvignon Blanc from the fabled Musque clone (56%) and Sauvignon Blanc from nearby Redwood Ranch. David has adeptly used both tank and barrel fermentation to produce a wine of extraordinary flavor and texture.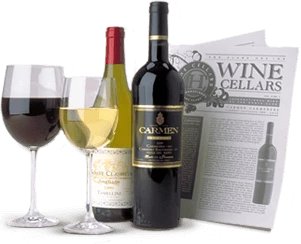 Enjoy Limited Production Estate
Bottled Wines
Discover limited production estate bottled wines such as Vergenoegd's internationally
acclaimed 2005 Cabernet Sauvignon, imported exclusively for our members.
DISCOVER OUR FOUR CLUBS