When done right, Petite Sirah is one of life's simple pleasures. There is nothing subtle about the varietal, just straight-ahead fruit on the nose and on the palate, with enough structure and spice to hold all that fruit in place for sensory enjoyment. In appearance, ripe Petit Sirah resembles purple or black ink, and in this regard the 2005 J. Rickards Brown Barn Alexander Valley Petit Sirah is certainly no exception. No wimpy Petit Sirah here at J. Rickards! In fact, the Brown Barn Sirah delivers exactly what you would expect from good Petite Sirah: lovely blackberry, blueberry, and earth notes on the nose, balanced with appropriate but noticeable oak overtones – a classic Petite Sirah profile. A sensuous mouthfeel is present as well, reinforcing the intensity of the flavors. Yet, in spite of loads of fruit, this wine is all muscle and bone with no flab. Although straightforward and accessible in a manner typical of the varietal, the 2005 J. Rickards begins to separate itself from run-of-the-mill Petite Sirah after just a few minutes in the glass. A second tasting following the initial impression yields subtle and surprising complexity. The once-sleepy tannins wake up and assert themselves and combine pepper and spice notes to the fruit to produce a complete, thoroughly enjoyable glass of wine that provides a big, thick, almost viscous, mouthfeel to enhance its bold, deep-down flavors. All of this bodes well for this young, single-vineyard Petit Sirah. Kudos to Alex Holman for fashioning a Petit Sirah that is both scrumptious now and capable of gaining further complexity and depth with additional bottle age. Before drinking this hedonistic delight, we suggest an hour of aeration for optimal enjoyment. Anticipated maturity: 2008-2013.
One of the finest attributes of a first-rate Petit Sirah is its ability to rise to an occasion or elevate almost any dish in the eye of the imbiber. Specifically, the 2005 J. Rickards Brown Barn Petit Sirah is as easily at home with hamburgers from the grill as it is with rack of lamb or venison tenderloin, served with a complex sauce. It is a natural with food. So, whether it is haute cuisine at an exclusive dinner party you are planning or simple barbecue fare with a couple of friends, you can count on this wine to stand up and deliver. Grilled ribeye steaks served with garlic mashed potatoes; wood-grilled double cut lamb chops, brushed with extra virgin olive oil and seasoned with fresh mint and rosemary; and Chicken or Veal Marsala are just a few of our favorite accompaniments with this bold, beautiful Petit Sirah. Southern Italian classics such as lasagna and manicotti do well, too. In addition, complex Northern Italian specialties that make use of mushrooms, truffles, and complex sauces make superb complements to this wine as well . . . so, as you like it!
The discovery of a brand-new winery and the tasting of that winery's premier releases are some of the most exciting and rewarding tasks in the world of wine, especially when the wines are as good as what Alex Holman has fashioned in his debut vintage at J. Rickards. Holman, a graduate of California State University and an accomplished oenologist, has teamed up with Jim and Eliza Rickards, long-time Sonoma County grape growers, to launch J. Rickards. The 2005 vintage is J. Rickard's first, an auspicious entrance by all accounts. It is becoming increasingly apparent that boutique operations such as J. Rickards are fashioning many of California's most compelling wines – flavorful, natural-tasting wines that are both interesting and just plain fun to drink. These wines are being made by a coterie of small boutique wineries that are dedicated to quality and individuality. Some are from long-time growers of superlative fruit who have decided to take a turn at winemaking, while others emanate from well-established winemakers and oenologists who have simply had enough of commercial formulas. J. Rickards combines the best of both worlds, with Rickards and Holman. The result is a dynamic portfolio of Petit Sirah from the Brown Barn Vineyard, two excellent Zinfandels, a succulent meritage offering, and more – all in limited quantities. If these first releases are any indication, we will no doubt be hearing a lot more about J. Rickards once the word is out.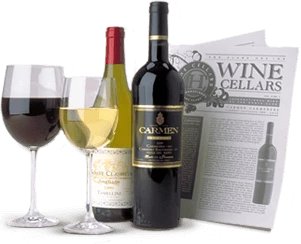 Enjoy Limited Production Estate
Bottled Wines
Discover limited production estate bottled wines such as Vergenoegd's internationally
acclaimed 2005 Cabernet Sauvignon, imported exclusively for our members.
DISCOVER OUR FOUR CLUBS