A saturated St. Emilion style wine, the 1999 J. Lohr Los Osos Paso Robles Merlot is no shrinking violet. A robust, purple robe begins the odyssey, while gobs of blackberry fruit and firm ripe tannins complete the journey. Yet, there is so much in between the pages of this wine one would have to keep a journal on the Los Osos in order to accurately describe it. Unlike the majority of California wines, which we believe, rarely require much airing, this J. Lohr selection acts more like its Bordeaux counterparts, benefiting enormously from at least a half hour open; its staggering center of cassis, blackberry, and complex earth tones comes together in a crescendo of flavor after some breathing, at the same time that the wine's tannic structure softens. Drink this excellent Paso Robles Merlot at cool room temperature after at least thirty minutes open, or lay it down for another year and watch mother nature work her magic. Either way, you are in for a treat. Enjoy!
Fire up the grill and bring out the meat, preferably a thick, juicy steak to accompany the 1999 J. Lohr Los Osos Merlot. Make mine a sirloin, did we hear someone say? Why not? Sirloin is one of the most flavorful cuts of beef and the most heart healthy as well. Let's not hear any moaning about it being too tough. Good sirloin, properly grilled and sliced (thin) is rarely tough. In fact, it's usually easier to chew than chicken, and it's a wonderful complement to Merlot. Besides, a little chewing won't kill you, providing you still have your own teeth or a good set of dentures. For a meatless treat with the Los Osos, we suggest a hearty risotto, with portabella mushrooms, herbs, and slices of dark truffle. Yum! Another treat with this full throttle Merlot is lamb, but we suggest you skip the mint jelly. Instead, grill the lamb with garlic, olive oil, butter and rosemary or pan roast it, making gravy from the drippings. Have no fear, the 1999 J. Lohr Los Osos will cut through any fat in the meat or gravy, and in turn the wine will become even broader and richer on the palate on account of the fat in the meat.
J. Lohr is one of the most important wine estates along the burgeoning Central Coast of California. With approximately two thousand acres of prime viticultural real estate in Monterey County and Paso Robles, J. Lohr is one of the largest family-owned wine estates in that part of California. Founded in 1972 by Jerry Lohr, the estate has grown into a storehouse of premium, estate-bottled varietals from Chardonnay to Valdiguie. A South Dakota farmer, turned Civil Engineer and real estate developer after graduating from Stanford University in 1959, the imposing Lohr still directs this family venture, and with veteran winemaker Jeff Meier he oversees all aspects of operation from viticulture to winemaking. Quality and pleasurable drinking are the key words here. Although J. Lohr produces many different wines under several labels (Ariel, Cypress as well as J.Lohr), it is the winery's Vineyard Series and estate produced red varietals, which offer the consumer the most extraordinary quality. Perhaps, the most recent of the estate's offerings, the Los Osos Merlot, is also the most compelling. The 1999 vintage marks only the third release for the rich, highly extracted J.Lohr Los Osos Merlot, but what a wine this is. Produced from two clones of French Merlot, with small additions of Cabernet Sauvignon and Cabernet Franc, the 1999 Los Osos marks a turning point in the history of Paso Robles Merlot. Long known for its great old vine Zinfandels and round blackberry flavored Cabernet Sauvignons, Paso Robles can now claim Merlot in its diadem of great red varietals, with the help of J. Lohr. The 1999 Los Osos establishes Merlot as the fullest, most concentrated of J. Lohr's estate bottled varietals, towering over the suave but much softer, less imposing Seven Oaks Cabernet Sauvignon. Moreover, it puts most other premium Merlot, even those from Napa Valley with more famous names, to shame. Undoubtedly, the perfect combination of terroir (the Los Osos Merlot is produced from well drained and situated chalk and gravel complexes in Paso Robles) and winemaking expertise went into making the 1999 Los Osos Merlot. The extraordinary 1999 vintage also lent a hand in producing such a compelling Merlot. The 1999 vintage will be remembered as one of the most exceptional red wine vintages along the Central Coast of California, says J. Lohr. This was a La Nina growing season when the Pacific Ocean waters off the coast of California cool, or transition from warm to cool - providing the most even and moderate temperature vintage, rivaling the great year of 1985. This vintage produced a small crop of some of the most concentrated and heavily pigmented red Bordeaux grapes that we have ever seen in Paso Robles. Such moderate, even growing conditions are perfectly suited to producing perfectly ripe Merlot grapes and complex flavorful wines. In addition to the exceptional Los Osos Merlot, J. Lohr produces other noteworthy estate offerings, including the very fine Seven Oaks Cabernet Sauvignon, the Riverstone Chardonnay, and the South Ridge Syrah, among others. J. Lohr also produces the venerable Bramblewood Zinfandel from a vineyard planted in Lodi in the 1930's. The small production Vineyard Series provide additional reasons for rejoicing. Three cheers to Jerry Lohr and Jeff Meier very consistently providing many compelling reasons to drink fine wine often.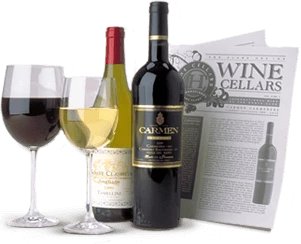 Enjoy Limited Production Estate
Bottled Wines
Discover limited production estate bottled wines such as Vergenoegd's internationally
acclaimed 2005 Cabernet Sauvignon, imported exclusively for our members.
DISCOVER OUR FOUR CLUBS