Inama's 2018 Vigneti di Foscarino Soave Classico is not your grandparents Soave, nor has Inama's Vigneti di Foscarino ever been anything but complex, unique, and age-worthy, all of which has earned it countless 90+ ratings. The Inama 2018 Vigneti di Foscarino Soave Classico (94 Points – James Suckling) is the ultimate Soave Classico and Inama's tribute to the heirloom Garganega grape and the venerable style of wine Garganega produced centuries ago. With a golden robe, haunting aroma of spring flowers, and deep down minerality born of Monte Foscarino's ancient volcanic soil, the 2018 Inama Vigneti di Foscarino captures the senses straight away. Moreover, a multitude of flavors play out on the palate where the wine's rich fruit flavors mingle with hints of chamomile, elderflower, and roasted almond. Although already multidimensional, the youthful 2018 Inama Vigneti di Foscarino Soave Classico has many more years ahead of it. For ultimate enjoyment, we suggest that it not be served too cold. Chilling it to 40° F and then allowing it to evolve slowly in the glass to a more ambient temperature will permit it to fully express all of its flavor and complexity. Anticipated maturity: 2021-2026. Enjoy!
Wine lovers in search of a complex, unique white wine will require nothing but a clean shapely glass in which to enjoy the 2018 Inama Vigneti di Foscarino Soave Classico. Nonetheless, we found Inama's Vigneti di Foscarino, with its complex multidimensional personality, to be a superb accompaniment to fish, poultry, veal, and many medium-flavored cheeses. Light hors d'oeuvres; smoked salmon with capers, cream cheese and onion; and all types of caviar provide excellent companionship to the 2018 Inama Vigneti di Foscarino. Creamy risottos, Chicken Fricassee, and Veal Scaloppini in a saffron cream sauce offer more delicious companions to the 2018 Inama Vigneti di Foscarino. Mild chèvre or Veneto's own unique cow's milk cheese, Asiago, makes for a splendid beginning or end to a fine meal in tandem with a glass of Inama's flagship Soave Classico. Add ripe freshly cut pears to double the pleasure. Buon Appetito!
The Inama estate is the most highly regarded estate in Soave, Italy's largest DOC. It is also an anomaly as it was founded as an azienda agricola (a private estate that grows and produces its own wine) by Giuseppe Inama in the 1960s at a time when most Soave grape growers were small farmers looking only to sell their grapes to cooperatives or large commercial ventures such as Bolla or Folonari. Very few Soave growers then, or now for that matter, made wine for commercial sale, let alone estate-bottled their production like Inama. And, unlike the multitude of Soave growers and the few bona fide estate producers in Soave, the Inama Azienda Agricola vineyard is located almost exclusively on Monte Foscarino, the premier vineyard site in Soave Classico.
Located in the heart of Soave Classico, Inama comprises approximately sixty-six acres. At Inama, the emphasis is strictly on the production of premium and super premium white wines, all of which spring from the appellation's ancient volcanic soils. Inama's most famous wine is its outstanding Soave Classico, but few consumers know that this premier producer also fashions small quantities of an exquisite single vineyard Soave Classico labeled Vigneti di Foscarino. Vigneti di Foscarino sits alone atop the zone's pinnacle of quality and redefines the quality quotient for all Soave Classico. This wine hails from the oldest vines from the finest part of the Monte Foscarino vineyard and is handled separately from the rest of the estate's production. Always special and quite unique, Vigneti di Foscarino exudes the redolence of fresh cut flowers and possesses a distinctive minerality on the palate that adds considerable complexity to the wine's long spate of flavors. This is a luxury offering that possesses distinct terroir, texture, and feel. Like the estate's excellent standard Soave Classico, Vigneti di Foscarino is made solely from the local Garganega grape that is unique to Soave.
In addition to cultivating Soave's fabled Garganega, the Azienda Agricola Inama also grows small quantities of Chardonnay and Sauvignon Blanc, which it crafts into wines of distinction. All of Inama's wines are made in the estate's modern winery. However, the Inamas are minimal interventionalists who believe strongly in the adage "less is better." As much as possible, the natural process prevails at Inama, with only the bare minimum of fining and filtration ever being employed. The result is a bevy of balanced, highly aromatic wines from organic grapes that exude great charm and flavor.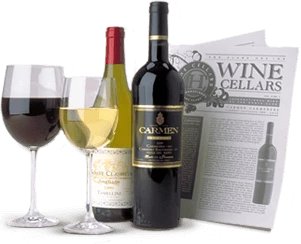 Enjoy Limited Production Estate
Bottled Wines
Discover limited production estate bottled wines such as Vergenoegd's internationally
acclaimed 2005 Cabernet Sauvignon, imported exclusively for our members.
DISCOVER OUR FOUR CLUBS