Inama has once again proven its prowess with the Garganega varietal and further solidified its reputation as the finest purveyor of Soave with the 2019 Inama Soave Classico (93 Points – James Suckling), which is simply knockout gorgeous. From the very first glimpse of its bright and sunny robe to its long, mineral-rich finish, the 2019 Inama Soave Classico shines like the sun and sets the standard for all other Soave Classicos. Spring flowers, soft alpine breezes, gentle fruit, and the radiant light of nearby Lake Garda all come together in the scent and flavor of the 2019 Inama Soave Classico. In essence, Inama's Soave Classico is the quintessential terroir-driven wine. It reflects the delicate nature of the Garganega grape as much as it mirrors the soil, climate, and sheltered Alpine environment from whence it comes. Moreover, the wine's seductive pear, stone fruit, and tangerine flavors are infused with laser-like precision from Soave's mineral-rich soil to provide one elegant, pure, extremely sophisticated glass of white wine. For optimal enjoyment we suggest chilling the 2019 Inama Soave Classico to about 40°-45° F, before allowing it to unfold slowly in the glass. As quaffable and satisfying as Inama's Soave is, you will also want to savor its many subtle charms… so you will want to have another bottle on hand. Enjoy!
The 2019 Inama Soave Classico provides a lesson on what it takes to be the quintessential aperitif as well as the finest Soave Classico DOC. This wine's elegance, charm, and vivacity make it slide easily down the throat, while simultaneously and rather surreptitiously it begs the brain and taste buds for more. Nonetheless, we have enjoyed Inama's exemplary 2019 Soave Classico equally with food. Delicate white fish make outstanding accompaniments. In particular, trout, perch, flounder, and sea bass provide ideal backdrops with which to highlight the 2019 Inama Soave Classico. Shellfish, especially clams and oysters, whether baked, fried, or on the half shell, make great companions, too. Caviar, chilled shrimp with an herb mayonnaise or light remoulade, risottos, vegetarian dishes made with coconut or almond milk, and soft ripe cows' milk cheeses provide other favorite accompaniments. Mild sheep and goats' milk cheeses offer flavorful accompaniments, too. Buon Appetito!
The Inama estate is the most highly regarded estate in Soave, Italy's largest DOC. It is also an anomaly as it was founded as an azienda agricola (a private estate that grows and produces its own wine) by Giuseppe Inama in the 1960s, at a time when most Soave grape growers were small farmers looking only to sell their grapes to cooperatives or large commercial ventures such as Bolla or Folonari. Very few Soave growers then, or now for that matter, made wine for commercial sale, let alone estate-bottled their production like Inama. And unlike the multitude of Soave growers and the relatively few bona fide estate producers in Soave, the Inama Azienda Agricola vineyard is located almost exclusively on Monte Foscarino, the premier vineyard site in Soave Classico.
Located in the heart of Soave Classico, Inama comprises approximately sixty-six acres. At Inama, the emphasis is strictly on the production of premium and super premium white wines, all of which spring from the appellation's ancient volcanic soils. Inama's most famous wine is its outstanding Soave Classico DOC (this month's feature), but few consumers know that this premier producer also fashions small quantities of an exquisite single vineyard Soave Classico labeled Vigneti di Foscarino. Inama's Soave Classico DOC and the estate's Vigneti di Foscarino sit alone atop the zone's pinnacle of quality in their respective categories and redefine the quality quotient for all Soave Classico. Inama's Soave Classico and Vigneti Foscarino are made solely from 100% Garganega, the local indigenous grape variety that is unique to Soave.
In addition to cultivating Soave's fabled Garganega, the Azienda Agricola Inama also grows small quantities of Chardonnay and Sauvignon Blanc, which it crafts into wines of distinction. All of Inama's wines are made in the estate's modern winery. However, the Inamas are minimal interventionalists who believe strongly in the adage "less is better." As much as possible, the natural process prevails at Inama, with only the bare minimum of fining and filtration ever being employed. The result is a bevy of balanced, highly aromatic wines from organic grapes that exude great charm and flavor.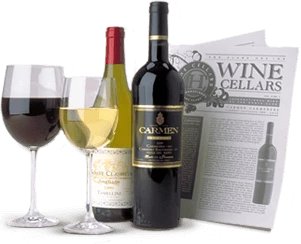 Enjoy Limited Production Estate
Bottled Wines
Discover limited production estate bottled wines such as Vergenoegd's internationally
acclaimed 2005 Cabernet Sauvignon, imported exclusively for our members.
DISCOVER OUR FOUR CLUBS