Sporting a bright cherry robe and the delicate fruit of classic Valpolicella, the 1999 I Gadi is a refreshing, hugable wine. Melded into a light to medium format are cherry fruit and the faint scent and flavor of almond that imbues all well made Valpolicellas with a certain charm and dignity, not to mention eminent drinkability. Aside from a few minutes breathing time, the I Gadi Valpolicella needs only to be cool to be fully enjoyed. The I Gadi, like all good Valpolicella, optimally displays its innate charm when slightly chilled (55-60 degrees Fahrenheit).
Light past dishes and unripe cheeses are the culinary complements of choice in Verona to Valpolicella, and who are we to argue with the tried an true? Pasta Primavera, porcini mushroom salads, and truffle infused risottos all make for splendid accompaniments to the 1999 I Gadi Valpolicella Classico. Veal, chicken and a variety of bean based dishes also lend themselves to memorable occasions with this wine, as does grilled fish with a tomato compote. If there were ever a light versatile red, it's Valpolicella, so feel free to indulge yourself at will with a wide variety of foods.
I Gadi Valpolicella is a lovely wine that is born on the last vestiges of the Alps as they slope down to the picture postcard resorts of Lake Garda and the cold flow of the Adige River as it sweeps through the legendary city of Verona. Produced in the "Classico"zone of Valpolicella by the Casa Vinicola Bennati, I Gadi is a real Valpolicella. It is produced from the classic blend of the local Corvina, Rondinella and Molinara grapes in the heart of the Classico district, where the richest, roundest and most elegant Valpolicellas are made. These are wines of finesse and distinction, not the commercial pretenders that many of the huge, better known producers crank out to put out on every store shelf. Sadly, the latter have all too often tainted the reputation of one of Italy's most enjoyable wines. At the Casa Vinicola Bennati, all of the grapes for the I Gadi Valpolicella are hand picked. Fermentation takes place at controlled temperatures and the resulting wine is allowed to rest for at least six months after bottling before being released. Just like the city of Verona itself, real Valpolicella exudes a certain magic, a blithe spirit and a friendly, warm character that travels well in the bottle. Enjoy!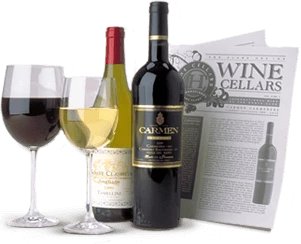 Enjoy Limited Production Estate
Bottled Wines
Discover limited production estate bottled wines such as Vergenoegd's internationally
acclaimed 2005 Cabernet Sauvignon, imported exclusively for our members.
DISCOVER OUR FOUR CLUBS