The 2002 Huia Chardonnay is a racy, elegant, Burgundian style Chardonnay that embodies the purity of New Zealand; yet, it exudes the elegance and panache of fine Côte d'Or white Burgundy. All of the grapes for this stylish wine emanated from Huia's own vineyard, the major portion of which is devoted to the highly touted Meursault clone of Chardonnay. In addition, only the vineyard's natural indigenous yeasts were used for fermentation, adding an extra degree of complexity to the resulting wine. Peach and creamy vanilla tones persistently haunt the nose, while the wine's palate is finely structured with ripe fruit, rich melon and citrus flavors, and traces of coconut, all of which are backed by subtle oak. All of this adds up to complex layers of texture and flavor that support a long elegant finish. Given this wine's supreme balance and the consummate quality of the 2002 vintage in Marlborough, we suggest that you not be in any hurry to consume this beauty or drink it to extinction, but you had better stock up soon. As fine as 2002 was for quality, it was not a generous vintage for quantity. We suggest serving the 2002 Huia Chardonnay fairly well chilled (40º F), and then allowing it to slowly bloom in your glass as it reaches toward room temperature.
So you would like a few suggestions would you? Well, for starters, the 2002 Huia Chardonnay, like most premium New Zealand whites, provides a superlative accompaniment to seafood. Whether you serve the seafood sautéed, steamed, baked, broiled or raw, you will find the Huia Chardonnay an exemplary partner. Some of our suggested pairings with the Huia are Smoked Salmon Tartare, Black Snapper Sashimi, Pan Seared Sea Bass, Tilapia Pacifico, a dish that calls for baking the tilapia with a crust of fresh golden kiwi and assorted tropical fruits, and Rockfish or just about any other mild white fish that is served with a light, saffron infused sauce. And if you are still hungry, why not consider the 2002 Huia Chardonnay with a Seafood Turnover, replete with scallops and shrimp, all topped with a lobster sauce. For those who prefer the land to the sea, we suggest you consider the Huia Chardonnay with a mild goat cheese or a rich, creamy cow cheese. Light, cream based pasta dishes are good, too. Enjoy!
When you meet Claire and Mike Allen and sit at their kitchen table, gazing out upon the stunning beauty of the surrounding Wairau Valley all covered with vines, and peer beyond to the silhouettes of lofty mountains bathed in rarefied air, you cannot help but understand how wine is made at Huia and why it tastes so pure and natural. In addition to the supreme terroir at Huia and the sustainable viticultural practices that are away of life at the Allen's budding wine estate, Claire and Mike also bring some of the finest winemaking credentials to their small domain along Rapaura Road in Blenheim on New Zealand's picturesque South Island. They have the distinguished honor of being one of the few husband and wife teams to have studied at Roseworthy in South Australia, one of the world's most prestigious schools of oenology. Moreover, they both helped establish the renowned and now legendary Cloudy Bay Estate, before establishing Huia in 1996. Each has also completed an extended stage in Champagne where they worked at Veuve Clicquot and Taittinger, respectively, in order to master the art of producing top-notch bubbly. When it comes to making expressive, individually styled white, red, and sparkling wines that exhibit flavor as well as panache, no one knows how to do it better than Claire and Mike Allen. The Huia estate is strung along a series of low hills and terraced slopes that were once an old riverbed. From the rock and mineral rich soil of this domain flows a plethora of award winning wines, most notably Chardonnay, Sauvignon Blanc, Pinot Gris, Riesling, Gewurztraminer, Pinot Noir and one of New Zealand's finest Champagne Method Brut sparkling wines. All of Huia's wines receive the spa treatment, meaning the grapes are hand harvested and receive kid glove treatment from start to finish. Yields are kept extremely low in order to allow each of the estate's varietals to garner the maximum amount of flavor and finesse to impart to the resulting wines. Huia also uses Seguin Moreau French barrels and puncheons for aging its wines, which impart flavor, depth, and an added dimension of age worthiness, without smothering the wines in the flavor of oak. All this adds up to excellence at Huia.
So What's a Huia? The Huia (who yah) was a unique New Zealand bird. It co-existed in pairs (male and female) and inhabited the dense forest canopy that once covered much of New Zealand. It is the only bird in the world in which the bills of the male and female birds are different in shape. This unique feature along with the bird's beautiful plumage generated great interest from international collectors and ultimately led to the Huai's demise. Highly prized by the local Maoris and Europeans, the Huia is believed to have been hunted to extinction. The last official sighting of the Huia was in 1907. However, there have been unconfirmed reports over the years of hearing the song of the Huia in isolated bush areas around Ureweras, so who knows we may one day catch a glimpse of this beautiful bird. In the meantime, we have Claire and Mike Allen and their beautiful wines to console us.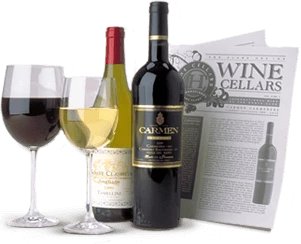 Enjoy Limited Production Estate
Bottled Wines
Discover limited production estate bottled wines such as Vergenoegd's internationally
acclaimed 2005 Cabernet Sauvignon, imported exclusively for our members.
DISCOVER OUR FOUR CLUBS