Bearing more than a passing resemblance to the great Syrah based wines of France's Rhône Valley, the 2002 Hope Estate Hunter Valley Shiraz sports a deep purple robe, an amplifying bouquet of black fruits and spice, and enough flavor for at least two wines. With a minimum of thirty minutes of breathing, and we do suggest ample airing of all young Shiraz, the redolent scents if ripe juicy plums, mocha, and even chocolate emerge from the glass and caress the palate. From the first sip to the last, sophisticated fruit and plenty of sprite acidity – two commodities lacking in many Australian Shiraz – complement and play off each other in the Hope Estate. From start to finish, the 2002 Hope Estate Shiraz delights the taster with its gentle warmth and perky, sophisticated flavors. As with most Syrah based wines, this Hope Estate offering is at its best when consumed cool. Consequently, we suggest serving it at an ambient temperature of no more than 68° F. It can also be served cool (about 55° F) in hot humid weather Enjoy!
Meat and spicy Mediterranean fare are often cited as the tried and true favorites in the company of Shiraz, and the 2002 Hope Estate Hunter Valley Shiraz can more than fill that bill. So, whether it's burgers on the grill, lamb kabobs, or Zucchini Parmigiana, the Hope Estate Shiraz is ready for duty. Texas Barbecue, baby back ribs, and Veal Pizzaiola (pounded veal sautéed in garlic and olive oil with calamata olives and a rich marinara sauce) provide other great accompaniments. Actually, the 2002 Hope Estate Shiraz will add splendor to almost any dining experience, including the leftover meatloaf or mid week casserole. Nonetheless, there is no need to typecast this beautiful Shiraz because it is more than an all purpose meat and potatoes kind of wine. Deep-sea fish provide excellent partners, too, particularly marinated tuna steak, especially when cooked over a sizzling mesquite fire. Bon appétit!
Wine has been called "nectar of the gods, a potent elixir, and nature's own medicine." For Michael Hope, a successful Sydney pharmacist turned vigneron, wine is all this and more. In 1994, Hope moved his family out of Sydney and up to the bucolic Hunter Valley, with the hope of raising his family in a more rural environment. Immediately, he purchased a pretty piece of vineyard land, and within a couple of years he acquired the adjacent long-shuttered Saxonvale Winery, along with all 200 acres of prime vineyard land. By 1999 Hope Estate had gained a reputation for fashioning some of Hunter Valley's most popular wines or as Hope himself is fond of saying, "nice, feel good, lifestyle wines that everyone can enjoy." Hope Estate is located some two and half hours north of Sydney in Australia's oldest wine producing region. The Hunter is Australia's Catskills, a dreamy pastoral land of far off Blue Mountains and plenty of legends and lore. It is also a weekend retreat for Sydneyites in search of a little slice of the bush as well as some fine food and a hearty taste of the grape. Hope Estate also offers an excellent restaurant, the Wollemi, which features modern country fare. Hope Estate wines are produced exclusively from Hunter Valley fruit, a rarity oddly enough in the oldest and most established of all Australian wine regions. Shiraz and Chardonnay are this winery's flagship offerings, but excellent Merlot, Cabernet Sauvignon, and Verdelho, are also grown and made here under the watchful eyes of Hope, Neil Orton, Vineyard Manager, and Peter Howland, the estate's Winemaker. No pun intended, we hope to see a lot more of this estate's wines in years to come.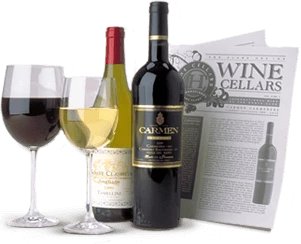 Enjoy Limited Production Estate
Bottled Wines
Discover limited production estate bottled wines such as Vergenoegd's internationally
acclaimed 2005 Cabernet Sauvignon, imported exclusively for our members.
DISCOVER OUR FOUR CLUBS