The 2008 Hope Estate Hunter Valley Chardonnay is no ordinary Australian Chardonnay, and we are thankful for that. It was produced from just ten blocks of estate-grown Chardonnay, and only natural wild yeasts were employed during fermentation. On the nose, this refreshing mouth filling Chardonnay offers subtle tropical fruit tones and excellent minerality, which reflect the estate's outstanding terroir. Absent is the over the top level of alcohol and copious quantities of raw oak that mar far too many Chardonnays from "Down Under." Instead, the 2008 Hope Estate Chardonnay provides an invigorating, balanced wine with excellent fruit, a creamy texture, and delicate complex tones. In both aroma and flavor, this Chardonnay remains distinctive and totally natural, right down to its refreshingly dry finish. In short, this wine offers more than a glimpse of the charming, individual side of Chardonnay – a side that is sadly much less prevalent today than it used to be. We hope other Australian winemakers will take notice. Enjoy this delightful Chardonnay moderately chilled (40˚-45˚ F), and often.
Since the 2008 Hope Estate Hunter Valley Chardonnay is not your typical Australian Chardonnay, it doesn't call for run of the mill accompaniments. In fact, this wine really doesn't need much in the way of accompaniments at all. The flavorful, subtle, fleshy nature of the Hope Estate Chardonnay provides plenty of easy drinking all by itself. Nevertheless, many interesting fish dishes as well as off beat spicy concoctions provide excellent companionship for the extroverted Hope Estate Chardonnay. Some of our favorite dishes with this wine include scallops with roasted pecans; grilled shrimp with whole wheat pasta, whole plum tomatoes, and red pepper sauce. For an even more intense variation of the last dish, we suggest substituting a light arrabiata sauce with the shrimp for the sweeter red pepper sauce. Ham, pork tenderloin and most soft, ripe cheeses offer other excellent complements to this wine as well. Freshly cut apples and pears add additional luster to a selection of perfectly aged cheeses. Bon appétit!
Wine has been called nectar of the gods, a potent elixir, and nature's own medicine. For Michael Hope, a successful Sydney pharmacist turned wine grower, wine is all that and more. In 1994, Michael Hope moved his family out of Sydney and up to the Hunter Valley, with the hope of raising his family in a more rural environment. He purchased a pretty piece of vineyard land, and within a couple of years he acquired the adjacent long-shuttered Saxonvale Winery as well as all 200 acres of Saxonvale's prime vineyard land. In 1997, Hope released his first wine. By 1999, with only two years of production under its belt, the Hope Estate had gained a reputation for fashioning some of the Hunter Valley's most popular wines or as Hope himself is fond of saying, "nice, feel good, lifestyle wines that everyone can enjoy." Hope Estate is located two and half hours north of Sydney in Australia's oldest wine producing region. The Hunter is Australia's Catskills, a dreamy pastoral land of far off Blue Mountains and plenty of legends and lore. It is also a weekend retreat for Sydneyites in search of a small slice of the bush, excellent country food, and a hearty taste of the grape. Hope Estate offers visitors all that and more. With the opening of the winery's highly touted Harvest Restaurant, Michael and Karen Hope now offer award winning cuisine to complement the estate's fabulous wines. Hope Estate wines are produced exclusively from Hunter Valley fruit, which oddly enough is a rarity in the Hunter, even though the Hunter is the oldest and most established of all Australian wine regions. Chardonnay and Shiraz are this winery's flagship offerings, but excellent Merlot, Semillon, and Verdelho are also grown and made here under the watchful eyes of Michael Hope and the astute coterie he has assembled at the Hope Estate. With no pun intended, we sincerely hope to see a lot more of this estate's wines in years to come.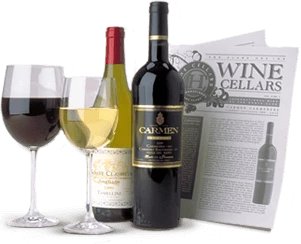 Enjoy Limited Production Estate
Bottled Wines
Discover limited production estate bottled wines such as Vergenoegd's internationally
acclaimed 2005 Cabernet Sauvignon, imported exclusively for our members.
DISCOVER OUR FOUR CLUBS