Exuberant and lush, the 1999 Heron Merlot has no difficulty living up to its reputation as the ultimate crowd pleaser. Deeply colored and endowed with the heavenly scent of summer berries, plum and subtle spice, the Heron is what real California Merlot ought to taste like, but rarely does – even at an exorbitant price! Loaded with satiny fruit and seductive charm, the Heron is pure and seamless from start to finish. Why so many California producers dump excessive amounts of tartaric acid into their Merlot in the mistaken belief that such acidification adds anything positive to a wine is beyond us? So is the notion that a wine will magically develop complexity and any meaningful longevity from such practices. Obviously, some vintners have forgotten that wine is the fruit of the vine and a reflection of soil, climate and the integrity of the people who make it. Many thanks to Laely Heron for eschewing the excesses of acidification and making an upfront, honest California Merlot at a sensible price. Bless you! Serve this wine at room temperature. After ten or fifteen minutes of airing this easy drink Merlot will give you all it's got.
The 1999 Heron Merlot is no prima donna. It's neither finicky not reticent, making it easy to pair with a wide variety of culinary delights. We've enjoyed the Heron with everything from plain pizza to fine filet mignon; and it all tastes good. Spicy food also makes a suitable companion to the Heron: its lush ripe flavors don't flatten or harden with a little piquancy. Rotisserie grilled chicken, either roasted with butter and garlic or bathed in southwestern spices, provides another good choice with this Merlot. However, the dish that drew the most votes from our panel was the traditional roast turkey and stuffing with all of the trimmings. Although, there is no wine guaranteed to please everyone, the Heron Merlot certainly comes close. Enjoy!
Laely Heron is the owner and founder of Heron Wines. She is a woman who has lived around the world, sharing cultures and experiences with her family and friends in many far-flung places. Through the course of these adventures, one of the things she has come to value most is the moment of sitting down at the table to share in food and wine and most important, the camaraderie of those around her. The most poignant conversations and moving memories for her have been shared over a glass of wine. It is for this reason that she has involved herself in making wine. "I cannot think of a more diverse, creative, and satisfying world in which to follow my passions," she says. After spending years in France deep in the study of the nuts and bolts of winemaking and oenology, Laely felt compelled to see the other end of the spectrum – how wines get from the vintner to the table. She began work at Lindeman's, helping them crack the US market and establish themselves as a leading importer of Australian wines in the United States; she then moved to Copenhagen, Denmark and began a small import business. From this venture she brought California and other New World wines to the Scandinavian market. Heron also opened a restaurant in Copenhagen that became known for its progressive menu, wine pairings, tastings, and wine education programs. This was a way for her to express her love of the experience of the table and to share her passion with others. Some time later, Laely returned to the States directed by another vision. She wanted to make beautiful, well-crafted wines that everybody could enjoy. The idea of creating special occasion wines at everyday prices was not new – but she was certain that she could do it better. She continued traveling, trying to locate the best of a combination of elements: great vineyards, great people and great prices. She found some like-minded souls in France and began her first producing adventure. To sell the wine she literally walked around San Francisco with a bottle of Heron Merlot in her purse, stopping in on restaurants and asking them to sit with her and try the wine. Since that small and exhausting start, Laely has grown her brand and expanded it to include a wonderful Chardonnay and California Merlot. "I still like to visit with those same wine lovers who have since become friends and mentors, she says "We sit over a glass of vino, and share in that experience I value the most." Fortunately, Laely's journey is far from over. She vows to continue bringing more fabulous wines to the market and to share with everyone the pleasures that wine can bring to the table. So this Thanksgiving, we are thankful for Laely Heron and the few like-minded souls in California who refuse to pass off an excellent $15 bottle of California Merlot on us for $50 – now isn't that refreshing?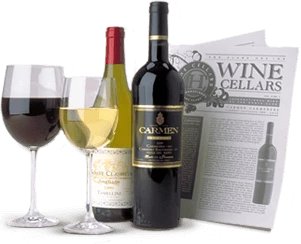 Enjoy Limited Production Estate
Bottled Wines
Discover limited production estate bottled wines such as Vergenoegd's internationally
acclaimed 2005 Cabernet Sauvignon, imported exclusively for our members.
DISCOVER OUR FOUR CLUBS