Superbly crafted from four traditional Portuguese varietals, namely 45% Trincadeira, 15% Alfrocheiro, 22% Alicante Bouschet, and 18% Aragonês (Alicante Bouschet is considered a traditional Portuguese varietal on account of its ancestry and introduction into the Alentejo soon after its appearance), the 2019 Herdade Aldeia de Cima Serra do Mendro Alentejo Reserva Tinto (92 Points – Wine Enthusiast) cuts a fine figure with its brilliant deep ruby and purple color, heavenly aromatics, and pure silky flavors. Scents of ripe summer cherries and deep forest berries infused with vanilla oak waft from the glass. In the mouth, Herdade Aldeia de Cima's 2019 Reserva Tinto caresses the palate with pure fruit flavors imbued with deft touches of vanilla and aromatic spices, all of which are carried on silky smooth tannins and lend a creaminess to this medium-bodied wine as it makes its exit. Elegant, flavor-filled, and utterly distinguished, the youthful 2019 Herdade Aldeia de Cima Reserva Tinto exudes class and a real sense of purpose on the part of the winery. Kudos to the team at Herdade Aldeia de Cima for fashioning this utterly charming Alentejo red wine. Afford this delicious young red wine an hour or more of aeration in a decanter before serving at cool room temperature (58°-64°F). Anticipated maturity: 2023-2027. Enjoy!
The elegant, food-friendly 2019 Herdade Aldeia de Cima Serra do Mendro Alentejo Reserva Tinto pairs beautifully with all kinds of meats, hearty risottos, grilled vegetables, and even some of Portugal's heartier seafood dishes. Portuguese Braised Veal (Vitela Estufada) with seasonal vegetables makes an especially fine companion to Herdade Aldeia de Cima's 2019 Reserva Tinto. A hearty, sophisticated version of Portuguese Bean Soup, a heady concoction of beans, sausage, potatoes, carrots, and almost anything else you care to add, provides another fine accompaniment. Marinated Pork or Lamb, bathed in red wine, onion, garlic, bay leaves and more, also gets our nod to accompany the 2019 Aldeia de Cima Reserva Tinto. If simpler, more familiar dishes are more to your liking, consider serving a perfectly grilled filet mignon or oven roasted beef tenderloin crowned with braised onions with this wine. Spinach Gnocchi with a vodka cream sauce and Vegetable Lasagna also make tasty accompaniments, but then most meat, vegetable, and cheese dishes will pair nicely with this wine. Bom Apetite!
Rarely does wine, even the finest of wines, emanate from such a special place, a place so unique in today's world and, yet, as timeless as human civilization. Herdade Aldeia de Cima is such a place. It lies deep in the heart of rural Alentejo, Portugal's largest and least visited province, where agriculture rules the land and the lives of the people who work with the earth. Herdade Aldeia de Cima (aka HAC) exists as a winery, and so much more.
Herdade Aldeia de Cima is the life-long dream of Luisa Amorim, scion of one of the world's largest cork producers. Her magnificent project comprises no less than 9,000 acres that flow up and down hills and dales covered with magnificent cork oak trees, fruit orchards, grazing sheep, cows, horses, and more earthly activities than any one person can imagine, all in harmony with the land as organic and sustainable practices prevail throughout. Herdade Aldeia de Cima is certainly more than a winery, a farm, or a place in tune with nature; it is a traditional commune, not a collective, but a community living in a village, a territorial entity and a special place that brings all types of people, skills, and artisans together with flora and fauna – much like the greatest monastic institutions of medieval Europe. And, of course, vines flourish and wine flows from this carefully tended place – very good wine, exceptional wine – and all of it is made from traditional Portuguese grape varieties in small lots using both contemporary technology and the finest traditional methods of winemaking, including a return to ageing in large amphorae. We invite you to taste and enjoy Herdade Aldeia de Cima's special fruit of the vine.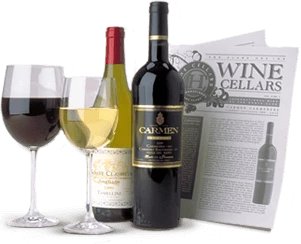 Enjoy Limited Production Estate
Bottled Wines
Discover limited production estate bottled wines such as Vergenoegd's internationally
acclaimed 2005 Cabernet Sauvignon, imported exclusively for our members.
DISCOVER OUR FOUR CLUBS