Hans Herzog's wines have always been in a class by themselves, but his 2007 Hans Marlborough Viognier truly ranks as one of the top five Viognier wines made anywhere in the world. It is the ultimate expression of the varietal and a tribute to its creator, as well as the fabulous terroir of Marlborough. The wine is intense, balanced, and as perfect an example of Viognier that we have ever had the pleasure to drink. Mesmerizing scents of pear, apricot, spice, and so much more tantalize the nose and absolutely explode on the palate. Deep, long, and positively enthralling, this Viognier dances and sings across the palate and then lingers for a minute or more after disappearing down the throat. The 2007 Hans Viognier hits all the high notes, and everything else in between. Drink this dry, complex, completely satisfying Viognier over the next two years and as often as you can afford it. As with all of Hans Herzog's wines, the 2007 Viognier was organically grown, hand picked from physiologically ripe fruit, and bottled without fining or filtration. It packs a wallop as it weighs-in in excess of 14% alcohol, but you would never guess that while drinking it. Enjoy!
Hans and Therese Herzog are two of New Zealand's finest restaurant hosts and the proud proprietors of the only five-star restaurant winery in New Zealand. One of the surest ways they know to begin a special meal or even a convivial evening with family or friends is to open a bottle or two of one of their impeccably made, estate bottled white wines. And unequivocally, Herzog's finest white wine to date is the estate's 2007 Marlborough Viognier. It is the rare, dry white wine that offers the taster a truly transcendental experience, either as an aperitif, or better still, after dinner with just a piece of ripe fruit. However, another glory of world class Viognier is its chameleon-like ability to adapt to its surroundings, and the 2007 Hans Viognier certainly takes no exception to the statement. Hans Herzog's Viognier is as much a food friendly wine as it is a great solo artist. Consequently, we suggest you double the pleasure of this outstanding Viognier by serving it with a variety of foods. Seafood, Chinese, Thai, and Vietnamese specialties all pair exceptionally well with the 2007 Hans Viognier. Smoked Scottish Salmon, served with capers, onion, and cream cheese; Scallops and Pistachio Nuts, prepared in a cream sauce with shallots and herbs; Shrimp Provencal; Soft Shell Crabs; and even Lobster Stuffed Ravioli in a creamy tomato sauce all attest to this wine's acumen with a wide variety of foods and flavors. Bon appétit!
Hans Herzog is unquestionably the maestro behind the artistry at his exceptional Marlborough estate. He is descended from one of Switzerland's most renowned families. However, his wines should not be confused with the Baron Herzog label: purveyors of inexpensive kosher wines who have sadly blocked Hans Herzog from ever selling wine in the United States ever again under his rightful name. Hans Herzog's family has proudly carried their surname for more than 500 years, but the Baron Herzog group has claimed legal right to the Herzog brand name under US law, and they are preventing Hans Herzog from using his own surname on the label. What is truly ironic in all this is that Hans Herzog is the real baron – so much for justice. Hans Herzog was once the proprietor of Zurich's most fashionable restaurant. Today, he and his wife Therese hold court at the small intimate restaurant on the Herzog property, which is actually part of their home. However, this is no rustic little affair. The Herzog Luxury Restaurant is an impeccably appointed temple of gastronomy that serves artfully prepared cuisine and equally impressive wines. This is the place to dine in New Zealand. "An epicurean heaven," is how one critic described the Herzog restaurant. And "I really can't recommend the restaurant too highly… without a doubt it offers the finest dining in New Zealand," is how Wine and Food critic James Halliday describes it. And then there is the wine. Hans Herzog is a master in the cellar as well as in the kitchen. His small, impeccably clean, well-appointed winery draws attention to its master. In fact, Hans Herzog's winery resembles more the atelier of an artist or master craftsman than it does a modern winery; testimony to the very hands on approach Hans takes to his wines and the passion with which he approaches wine – his labor of love.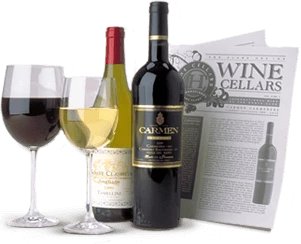 Enjoy Limited Production Estate
Bottled Wines
Discover limited production estate bottled wines such as Vergenoegd's internationally
acclaimed 2005 Cabernet Sauvignon, imported exclusively for our members.
DISCOVER OUR FOUR CLUBS