Sporting a beautiful bright copper-colored robe that is reminiscent of the finest Alsatian Pinot Gris and the increasingly rare, sublime examples of this varietal from Italy's Alto Adige, the Hans Marlborough Pinot Gris pushes the envelope on winemaking in New Zealand and makes the most compelling case of any New World producer for fashioning excellent, multi-faceted Pinot Gris. Fresh, vigorous, scented, and savory, there is nothing but pure drinking pleasure in this wine. One discovers in this magical Pinot Gris the allure of the grape as well as the wonder of great winemaking and tastes the freshness and purity of the hand-picked, physiologically ripe fruit fruit for which Herzog's wines are renowned, without a trace of residual sugar. This remarkable Pinot Gris, organically grown, cold fermented, and bottled unrefined and unfiltered, calls to fore the essence of spring, the freshness of the sea, and the ethereal, indescribable quality of a rare, patently elegant white wine. In short, one must taste this wine, drink it, and then ponder its purity to appreciate its true greatness because Hans Herzog's Pinot Gris is a monument to the varietal. You will enjoy this wine well chilled for its simple elegance, freshness, and purity of flavor; bu,t if allowed to open in the glass and achieve cool room temperature (60°-65° F), the 2007 Hans Marlborough Pinot Gris blossoms and portrays much more than overt charm and simple elegance. It writes the book on the varietal and reveals a whole new dimension in white wine. However, we must warn you: this wine slips ever so effortlessly down the throat, which makes it easy to miss the 14% plus alcohol that it embodies. Consider yourselves forewarned! Anticipated maturity: 2008-2011.
Hans and Therese Herzog are two of New Zealand's finest restaurant hosts and the proud proprietors of the only five-star restaurant winery in New Zealand. One of the surest ways they know to begin a special meal or even a convivial evening with family or friends is by opening a bottle or two of their 2007 Hans Marlborough Pinot Gris. We heartily concur, as the elegant, crisp, flavorful Hans Pinot Gris serves as an aperitif extraordinaire. However, this charming Pinot Gris also makes for a great starter. A plate of New Zealand's finest mussels or oysters, Wasabi Fried Oysters prepared with an anise sauce, Linguini with white clam sauce, Maryland Crab Cakes, and even a mildly Spicy Thai Shrimp all provide superb accompaniments to this substantial Pinot Gris. Yet there are so many enticing companions to serve with this wine: Grilled Trout prepared amandine with slivers of organic toasted almonds; and Sesame Seed Crusted Ahi Tuna served with sautéed cabbage, toasted almonds, and feta cheese over wasabi mashed potatoes, to name a couple. And, of course, sushi and tempuras provide memorable pairings, too. But why stop there? Besides, seafood hardly holds a monopoly on the companionship to Herzog's versatile Pinot Gris. So why not try a salad of organic greens with grilled chicken or pancetta? Pâté and pastas provide other rewarding choices, as well. Enjoy!
Editor's Note: It is rare that the International Wine of the Month Club offers two wines from the same winery in any calendar year, let alone two wines from the same estate in a given month. However, the beauty and rarity of Hans Herzog's wines compelled us to make an exception in the case of the Hans Marlborough Pinot Noir and Pinot Gris. Both wines constitute the finest examples of their type and exemplify the ultimate expression of Marlborough's fabulous terroir. We trust you will enjoy these very rare, exceptional offerings as much as we do. Hans Herzog is unquestionably the maestro behind the artistry at this exceptional Marlborough estate. He is descended from one of Switzerland's most renowned families (not to be confused with the Baron Herzog label, purveyors of inexpensive kosher wines, who sadly have blocked Hans Herzog from ever selling wine in the United States again under his rightful name. Hans Herzog's family has proudly carried their surname for more than 500 years, but the Baron Herzog group has claimed legal right to the Herzog brand name under US law, and they are preventing Hans Herzog from using his own surname on the label. What is truly ironic in all this is that Hans Herzog is the real baron . . . so much for justice.) Hans Herzog was once the proprietor of Zurich's most fashionable restaurant. Today he and his wife Therese hold court at the small, intimate restaurant on the Herzog property, which is actually part of their home. However, this is no rustic little affair. The Herzog Luxury Restaurant is an impeccably appointed temple of gastronomy that serves artfully prepared cuisine and equally impressive wines. This is the place to dine in New Zealand. "An epicurean heaven" is how one critic described the Herzog restaurant. And, "I really can't recommend the restaurant too highly… without a doubt it offers the finest dining in New Zealand," is how Wine and Food critic James Halliday describes it. And then there is the wine. Hans Herzog is a master in the cellar as well as in the kitchen. His small, immaculate, well-appointed winery draws attention to its master. In fact, Hans Herzog's winery resembles more the atelier of an artist or master craftsman than it does a modern winery; testimony to the very hands-on approach Hans takes to his wines and the passion with which he approaches wine – his labor of love.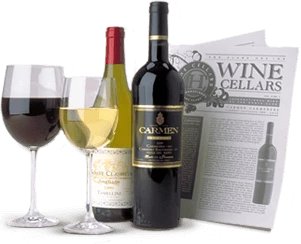 Enjoy Limited Production Estate
Bottled Wines
Discover limited production estate bottled wines such as Vergenoegd's internationally
acclaimed 2005 Cabernet Sauvignon, imported exclusively for our members.
DISCOVER OUR FOUR CLUBS