Hamilton Russell has made world-class Chardonnay for some time, but the 2019 Hamilton Russell Hemel-en-Aarde Valley Chardonnay (garnering 95 points from Tim Atkin, MW and 93 points from Decanter) appears to be this remarkable estate's finest effort to date. Once again, Hamilton Russell has fashioned in their 2019 Hemel-en-Aarde Valley Chardonnay a vibrant, complex wine that embodies the best in Old and New World Chardonnay. Medium to full-bodied, this vibrant terroir-driven Chardonnay offers a superb array of apple, pear, and stone fruit flavors, all of which are beautifully integrated into the wine's crisp acidity and delightfully complex mineral tones. Touches of lime and verbena along with hints of exotic spices further add to the keen interest and gustatory pleasure of the 2019 Hamilton Russell Chardonnay. Fresh, juicy, and vibrant, this youthful Chardonnay finishes with a bang. For optimum enjoyment, we suggest enjoying the 2019 Hamilton Russell Hemel-en-Aarde Valley Chardonnay moderately chilled (40°-45° F) after a few minutes of aeration. What else can we say to our members except: please lay a few bottles of this remarkable Chardonnay away to enjoy now and over the next several years! You won't be disappointed.
Let's put it right out there: Hamilton Russell's 2019 Hemel-en-Aarde Valley Chardonnay requires nothing but a clean glass and the opportunity of obtaining more of this estate's outstanding Chardonnay to convince any ardent lover of Chardonnay that heaven on earth exists. However, a wine as splendid as the 2019 Hamilton Russell Hemel-en-Aarde Valley Chardonnay is equally adept at elevating a simple ordinary mid-week meal to the status of a feast as it is holding court at a sumptuous state dinner. Seafood Chowder with scallops, sea bass, potatoes, cream, and a host of savory spices makes a wonderful first course companion to the 2019 Hamilton Russell Hemel-en-Aarde Valley Chardonnay. As a main course, Grilled Salmon or Sole Meunière in a delicate butter and white wine sauce will provide an equally memorable experience. Tarragon Cream Chicken bathed with a light Dijon mustard tarragon sauce provides another flavorsome accompaniment. A perfectly prepared Chicken Kiev also makes a splendid companion to the 2019 Hamilton Russell Chardonnay. For a tasty vegetarian accompaniment, consider a dish with marinated zucchini, roasted hazelnuts, ricotta cheese, and fresh mint – all tossed with a lively vinaigrette. Both the dish and the 2019 Hamilton Russell Hemel-en-Aarde Chardonnay will scintillate the senses. Bon appétit!
If you haven't already noticed, California holds no monopoly on world-class Chardonnay, nor does France, the ancestral home of the planet's most sought-after wine grape and the origin of the world's most popular white wine. All one has to do is look at Hamilton Russell's string of outstanding Hemel-en-Aarde Valley Chardonnays from South Africa's Western Cape for evidence that great Chardonnay is being crafted in South Africa. In fact, the white wines from South Africa's Western Cape are some of the finest in the world, bar none, and they can be enjoyed for far less than the astronomic and often ridiculous prices asked for French and other New World Chardonnays. Besides, the world's most respected wine critics and publications can't all be wrong, but here is the downside: what was once the wine world's best-kept secret is now out of the bag. South Africa makes both world-class red and white wines and Hamilton Russell is at the top of the class.
Hamilton Russell is the pioneer wine estate in the highly regarded Hemel-en-Aarde Valley, which means heaven and earth in Afrikaans. Hamilton Russell Vineyards lie close to the Cape of Good Hope and a mere 8 kilometers from the cool South Atlantic and the great fishing and whale watching port of Hermanus. Hamilton Russel was born in 1975 when Tim Hamilton Russell purchased the undeveloped land after an extensive search for South Africa's premier site on which to cultivate the best cool climate varietals, most notably Chardonnay and Pinot Noir. Tim's son Anthony took over the estate in 1991 and since 1994 has been fashioning South Africa's top Chardonnay and Pinot Noir, the only two varietals Hamilton Russell Vineyards produces.
All Hamilton Russell Vineyards estate wines reflect the property's unique terroir. Anthony Hamilton Russell, his wife Olive, winemaker Emul Ross, viticulturist Johan Montgomery, and their team are devoted to expressing the personality of Hamilton Russell's special terroir in the estate's Chardonnay and Pinot Noir. However, as Anthony Hamilton Russell has stated, "We are not so much using Hamilton Russell Vineyards to make Pinot noir and Chardonnay as we are using Pinot noir and Chardonnay to express the beauty and personality of Hamilton Russell Vineyards. Our terroir, in effect, 'chose' these varieties as its most individual and beautiful expression."
In addition to fashioning the finest Chardonnay and Pinot Noir in South Africa, Hamilton Russell Vineyards produces outstanding olive oil and honey, all of which are in short supply due to tiny yields, fabulous terroir, and great worldwide demand.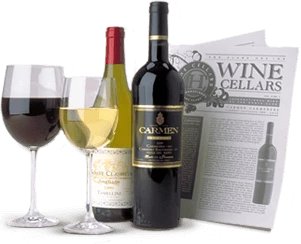 Enjoy Limited Production Estate
Bottled Wines
Discover limited production estate bottled wines such as Vergenoegd's internationally
acclaimed 2005 Cabernet Sauvignon, imported exclusively for our members.
DISCOVER OUR FOUR CLUBS