A wonderful forsythia color, rich aroma of buttery fruit: apples, pears, melons and mangos, followed by a long finish from its stay in toasted barrels, make the 1997 Hahn Monterey Chardonnay one of the most accessible and pleasing Chardonnays we have tasted in a long time. Having undergone Malo-Lactic fermentation, the process by which the hard malic acid in wine is transformed into the softer lactic acid, this 100% varietal Chardonnay is already balanced and beguiling, yet flamboyant in style.
The 1997 Hahn Chardonnay is as equally pleasing on its own as it is with fish or fowl. Roast chicken or turkey, oysters and salmon are some of our favorite accompaniments to the Hahn Chardonnay. Its flamboyance and flavor have quickly become a favorite with a pecan encrusted salmon that we enjoy, but we have received a number of votes from friends suggesting that we pair it with a pork tenderloin- so why not experiment?
Chardonnay: An Uptown Girl Of the world's great white wines, Chardonnay is the most sought after. Each year at harvest time in both its native France and in California, and throughout the wine-growing world, Chardonnay commands the highest prices and the most attention for its grapes. In tribute, Chardonnay produces the finest, most flavorful dry white wines in the world. Wine writers and connoisseurs devote countless columns and untold hours exalting its virtues and dissecting its flavors. Chardonnay is the yardstick by which all other dry white wines have come to be measured. From its home in the Burgundy region of France, Chardonnay has traveled the length and breadth of France. Not content to be a "stay at home lady," Chardonnay found its way to Italy in the last century and then to most of Eastern Europe before traveling the seas to Australia, Argentina, Chile, California, and New York. It is, however, only in her native Burgundy and Champagne, and in California, that Chardonnay shows her full potential and consistently produces truly great wines. The very best are stunning wines of breed, complexity and tremendous depth of flavor. In good years, the very best are full, rich, beguiling wines of golden robe and elegant, fulfilling fruit. Much of Chardonnay's character is indicative of the soil and climate from which it comes, as well as the oak barrel aging it receives. More often than any other white wine varietal, Chardonnay is fermented and /or aged in oak. The spicy vanilla qualities that one often associates with Chardonnay are usually the result of the extensive aging of Chardonnay in new oak barrels.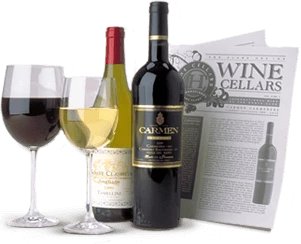 Enjoy Limited Production Estate
Bottled Wines
Discover limited production estate bottled wines such as Vergenoegd's internationally
acclaimed 2005 Cabernet Sauvignon, imported exclusively for our members.
DISCOVER OUR FOUR CLUBS